Cranberry Orange Bread makes a delicious fall breakfast or side for your Thanksgiving Day meal. It's moist, slightly tart from the cranberries and has a wonderful nuttiness from the walnuts, with a hint of citrus and balanced out with some sugar for sweetness.

Oh hello, November. You snuck up on us rather fast. But seriously, it's NOVEMBER. And there's only THREE AND A HALF WEEKS UNTIL THANKSGIVING. I'm sorry if you feel like I'm shouting at you with my excessive caps but I just can't get over how fast time is flying by. Didn't the school year just start? Wasn't it JUST Labor Day?
And not to throw you into a panic or anything, but there are only 7 weekends left before Christmas. Somebody posted it on my Instagram feed and I just about had a heart attack. 7 weekends left! SEVEN. Of course, I've got a nice little Christmas list ready but I haven't thought about anybody else. Ha! (This is an affiliate link but these shoes are at the top of my list, in case you were wondering. Ahem…Adam…mom *wink wink*)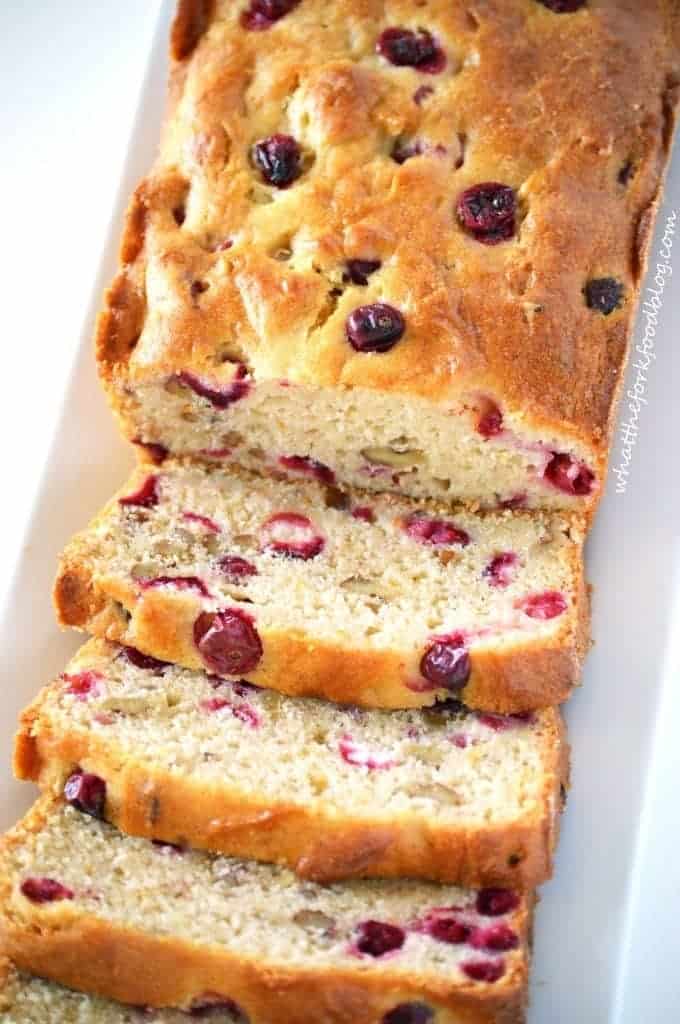 I feel like cranberries are one of those foods associated with holidays. I guess that can be said about a lot of food but cranberries always make their way to pretty much any Thanksgiving Day meal. They also hang on straight through the Christmas season.
Question, do people still string cranberries and popcorn? Is that still a thing? I know in my house, if we strung popcorn and cranberries, Kelsey and my dogs would be fighting over who could eat it faster. It would also probably motivate Mackenzie to crawl because girl loves to eat. So lets just stick with cranberry orange bread, shall we? Whether you make it for the holidays or year round, enjoy!
Yield: 1
Cranberry Orange Bread
Total Time
1 hour
10 minutes
Ingredients
2 C gluten-free all-purpose flour (or regular all-purpose flour)
1 1/2 tsp xanthan gum (omit if using regular all-purpose flour)
1/2 tsp fine sea salt
2 tsp baking powder
1 C fresh cranberries, roughly chopped
1/2 C chopped walnuts
1 C milk, room temperature
2 Tbsp white vinegar
1 egg, room temperature
1 tsp orange extract
1 tsp vanilla extract
zest of 1 orange
1 C light brown sugar, packed
1/2 C vegetable or canola oil
Instructions
Pre-heat oven to 350 degrees and grease a 9x5 inch loaf pan.
In a small bowl or measuring cup, add milk and vinegar. Stir together and let sit for 5 minutes.
In a large bowl, sift together flour, xanthan gum, salt and baking powder. Whisk to combine. Gently stir in walnuts and cranberries.
In a separate bowl, whisk together egg, the milk/vinegar mixture, orange extract, vanilla extract, orange zest, brown sugar and oil.
Add the wet ingredients to the dry ingredients and mix until just combined.
Transfer batter to the prepared baking dish and bake at 350 degrees for 50-55 minutes or until a toothpick comes out clean.
Notes
When following a gluten-free diet, be sure to use gluten-free ingredients.
be sure to follow me on instagram and hashtag #whattheforkfoodblog or tag @whattheforkfoodblog – i love seeing what you make!
if you love this gluten free cranberry orange bread, be sure to follow me on social media so you never miss a post:
sign up for my free newsletter subscription for new recipes and exclusive giveaways + my free ecookbook – recipes with chocolate
Looking for more ways to use fresh cranberries? Check out my recipe for Slow Cooker Cranberry Sauce!