Gluten free Samoas Cookie Cups are the best way to enjoy homemade Samoas! They're full of chocolate, coconut and caramel flavor and will satisfy that Girl Scout Cookie craving.

Gluten Free Samoas Cookie Cups
I've been planning on making some Samoas for a really long time. And by a really long time, I mean over a year. That's basically an eternity since it's pretty much the same length of time that Mackenzie has been around. I just haven't gotten around to it. Surprise, surprise. Seems like that always happens.
I wanted to wait to make them though until it was the right time of year, Girl Scout cookie time. So when all your friends and co-workers are enjoying their $5/box of 12 cookies, you can enjoy your gluten free version too!
I originally planned on making these into a cookie bar for a really easy way to enjoy these but then Pinterest started exploding with recipes for Samoas Cookie Bars. Once again, I'm late to the party. And I really didn't want to take the time to make individual cookies… all that rolling, cutting… too. much.work.
Plus, that's really difficult to do with one hand seeing as I'm pretty much making everything with a one-year-old attached to my hip. So I decided on these Samoas Cookie Cups and I am SO glad I did!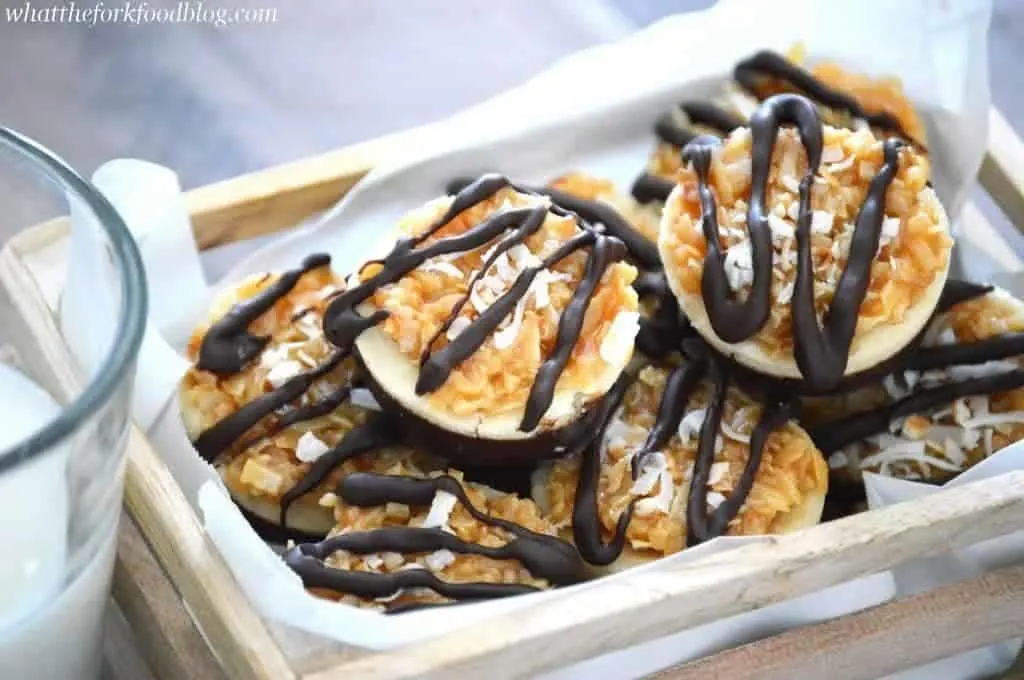 Not only are these pretty simple to make, they're amazingly delicious. And they taste just like the real thing. There are a few steps to these since they're layered and the layers need to cool before each new step. But trust me, it's well worth the little bit of effort. Anything with shortbread, caramel, coconut and chocolate are worth any kind of wait.
I was going to wait to share these with you until after St. Patrick's Day because I wanted to share some corned beef recipes and Gluten Free Irish Soda Bread with you first. However, these trump corned beef and soda bread all day every day.
If you're looking for more gluten free Girl Scout Cookie options, my friend Jessica from Bless Her Heart Ya'll has some killer gluten-free thin mint cookies! I also used this cookie cup idea, combined them with my fudgy gluten free brownies, and made some epic Gluten Free Samoas Brownies. They are out of this world good! Enjoy!
be sure to follow me on instagram and hashtag #whattheforkfoodblog or tag @whattheforkfoodblog – i love seeing what you make!
if you love this recipe for gluten free samoas cookie cups, be sure to follow me on social media so you never miss a post:
---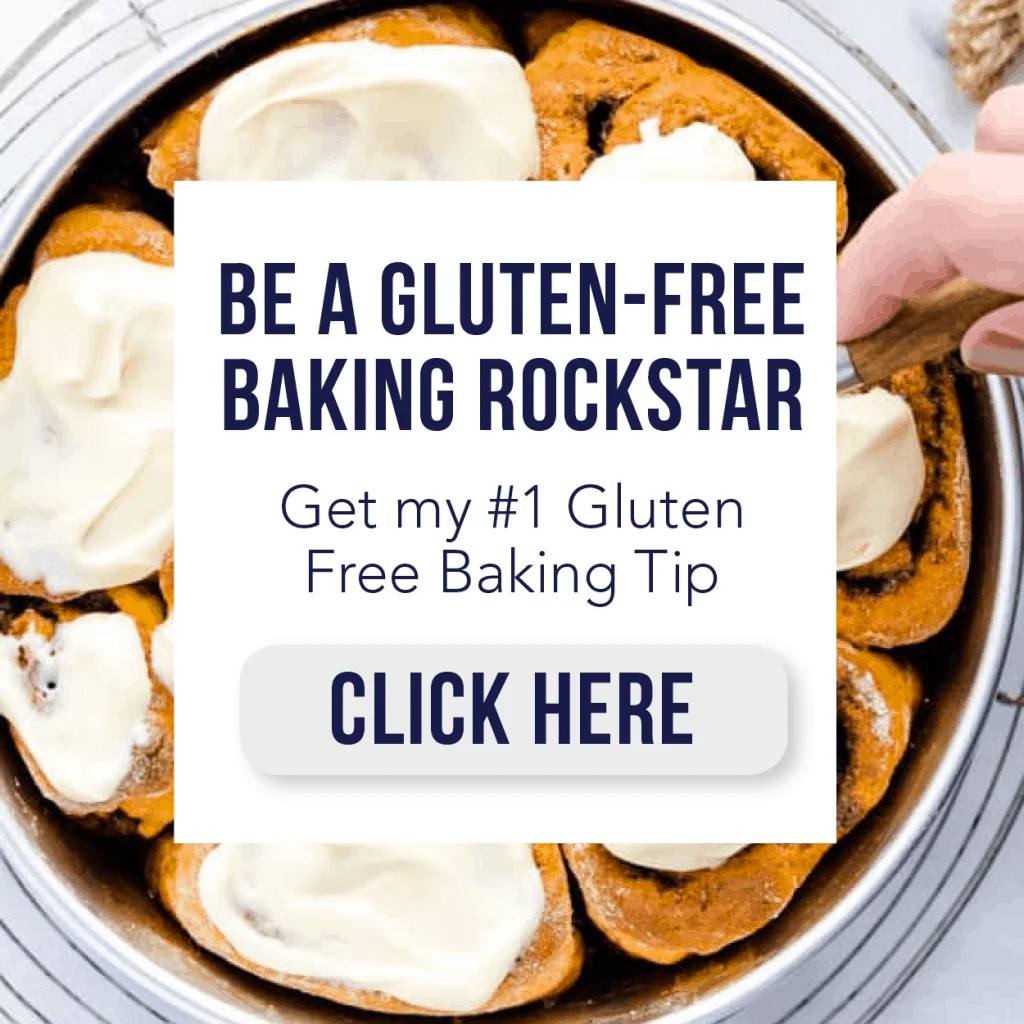 Samoas Cookie Cups
Gluten free Samoas Cookie Cups are the best way to enjoy homemade Samoas! They're full of chocolate, coconut and caramel flavor and will satisfy that Girl Scout Cookie craving.
Print
Rate
Pin
Ingredients
1

C

gluten-free all-purpose flour

1/2

tsp

xanthan gum

1/4

C

powdered sugar

8

Tbsp

butter

divided

1

tsp

pure vanilla extract

1 1/2

C

shredded coconut flakes

2

Tbsp

water

25

Kraft caramels

unwrapped

1

C

semi-sweet chocolate chips
Instructions
Preheat oven to 350 degrees. Lightly spray 2 small mini muffin tins (or one large) with non-stick spray.

In the bowl of a food processor, add the flour, xanthan gum, sugar, the 6 tablespoons butter (cold and diced) and the vanilla extract. Pulse until the dough is combined and forms into a ball.

Transfer the dough evenly into the 24 prepared muffin cups and press into the bottom. Bake for 10-14 minutes or until they start to brown slightly around the edges. When the cookies come out of the oven, use a rounded measuring spoon press a well into the cookie crust. Cool completely before adding the toppings.

While the shortbread is cooling, toast the coconut in a skillet over low heat until slightly browned. Keep an eye on it so it doesn't burn. Remove from heat and let it cool.

Unwrap the caramels and place them in a microwave safe glass bowl. Add the remaining 2 tablespoons of butter and the water. Heat the caramel for 1 minute and stir. Continue to heat at 20 second intervals until completely melted. Stir in the cooled coconut and evenly scoop the coconut/caramel mixture onto the cooled shortbread. Bake in the oven at 350 degrees for 3-5 minutes or until the caramel is slightly soft and melted. Be careful not to let it burn!

When the caramel is softened, remove from the oven and use a spoon to pack the caramel mixture down onto the shortbread. Cool completely.

Melt the chocolate chips in a microwave safe bowl at 50% power for 1 minute. Stir well and continue to melt at 50% power for 20 second intervals until completely melted.

Dip the bottoms of each of the cooled cookies in the chocolate. Wipe excess chocolate off on the side of the bowl and set on a wax paper lined baking sheet. Once all of the cookies have been dipped, transfer the remaining chocolate into a resealable sandwich bag. Snip off tiny part of the corner of the bag and pipe onto the tops of the cookies. Place the baking sheet in the refrigerator until the chocolate is set or until ready to serve.

Cookies are best served at room temperature.
Disclaimers
As an Amazon Associate and member of other affiliate programs, I earn from qualifying purchases.
Nutrition Facts are estimated and aren't always accurate. Please consult a doctor or nutritionist if you have special dietary needs.