These easy and simple Gluten-Free Biscuits are a GF version of my mom's biscuits. They are buttery, flaky, and fluffy. In addition, you can make these dairy-free and vegan!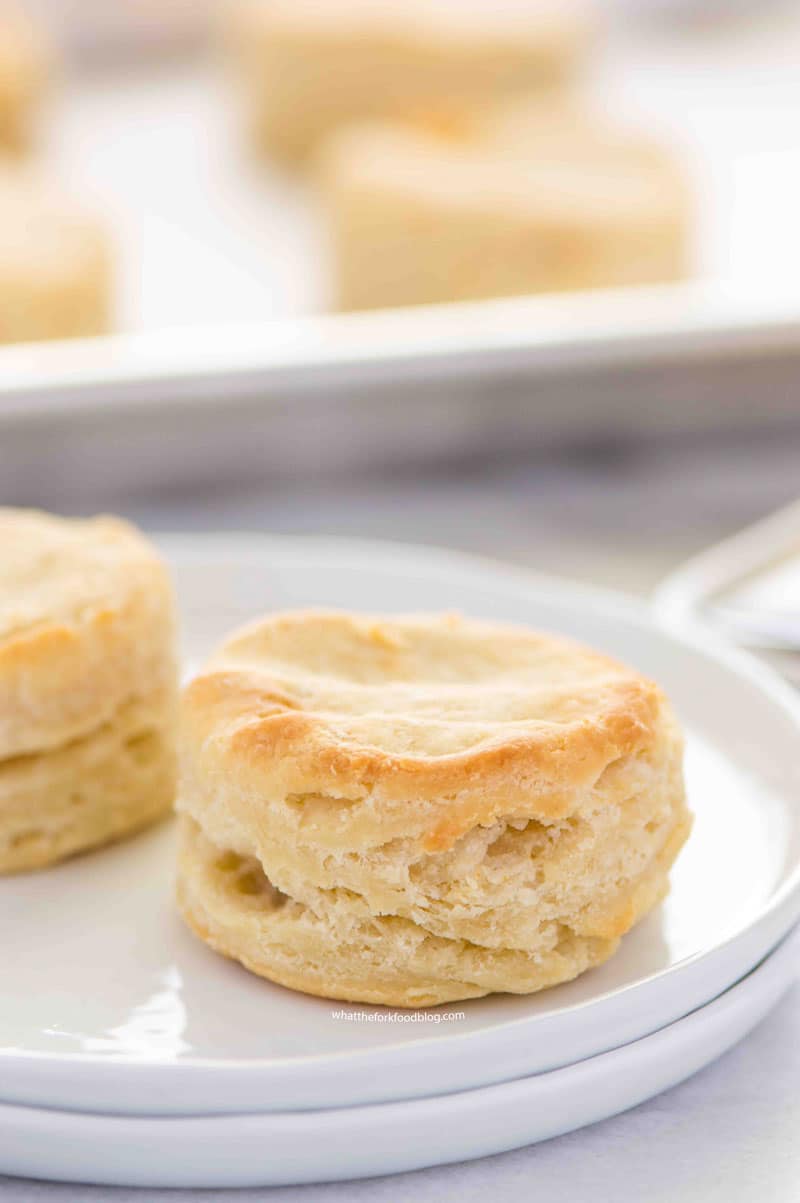 Gluten Free Biscuits
My mom has always made the best biscuits ever. They're flaky, they've got a little bit of crunch to the bottom and they taste amazing.
No, they're not southern biscuits. We're New Englanders so you won't find a southern biscuit here. But these do not disappoint.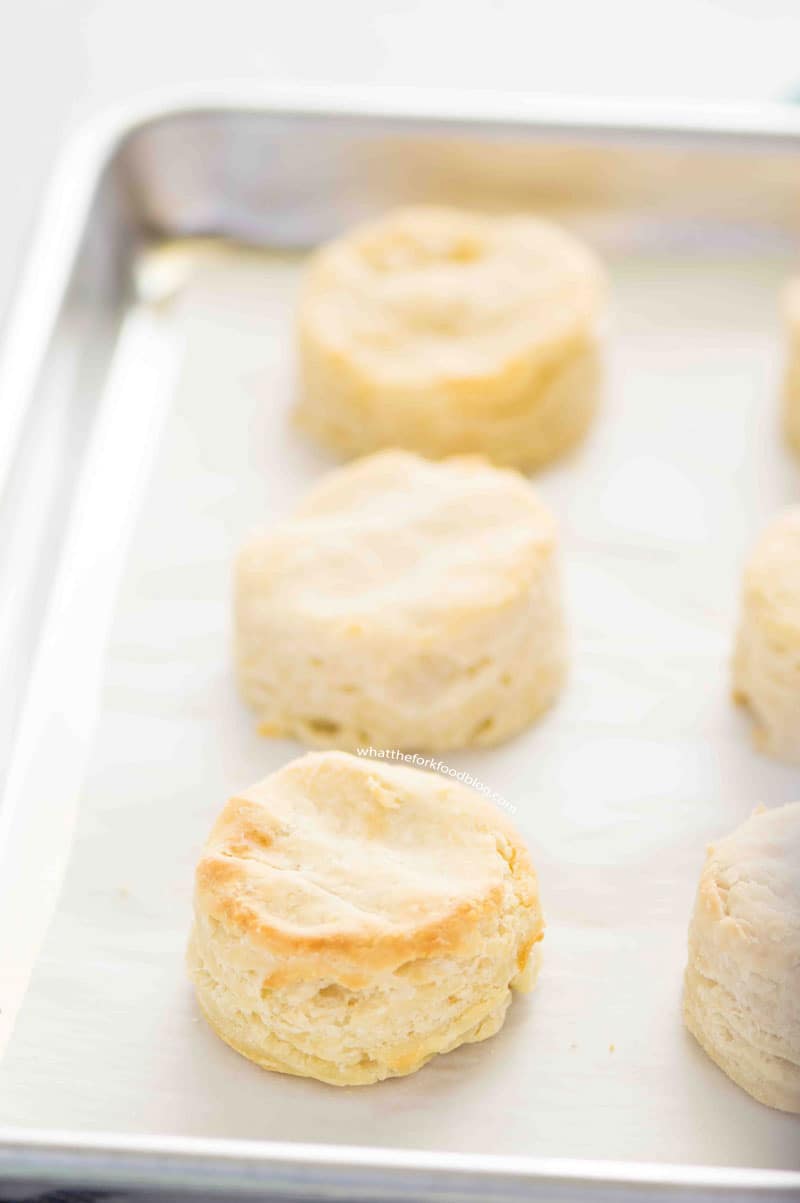 However, when my mom went gluten-free a few years ago, she stopped making these biscuits. Basically, she was punishing us. Just kidding.
She really did stop making them, just not to punish us. I'm just a tad bit dramatic…These days, she'll occasionally make her regular version of them for us gluten-eaters and she uses a gluten free box mix to make biscuits for herself and my husband.
But, since Adam missed my mom's regular biscuits so much, I've started using her recipe to make this gluten free biscuit recipe.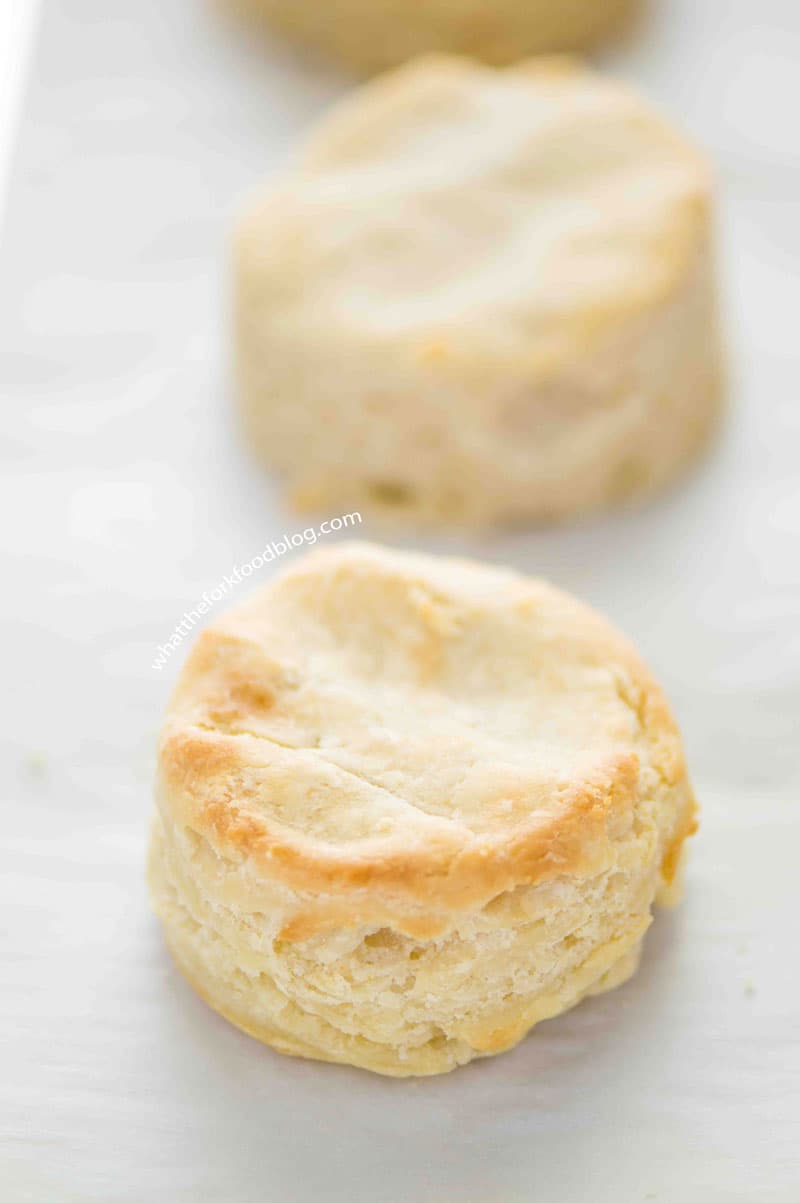 ---
Gluten Free Biscuit Ingredients
All purpose gluten free flour + xanthan gum (omit xanthan gum if using Bob's Red Mill 1:1). For THE BEST results, use Cup4Cup.
Fine sea salt
Baking Powder
COLD Butter, cubed
Milk
---
Equipment Needed
---
How to make Gluten Free Biscuits
Step 1. Preheat the oven to 425 degrees Fahrenheit. In a large bowl, whisk together the dry ingredients.
Step 2. Cut in the butter using a fork or pastry cutter.
Step 3. Stir in the milk until incorporated. Form the dough into a ball.
Step 4. Roll out the dough until desired thickness. (about 1 1/2 to 2 inches)
Step 5. Use a 2 inch biscuit cutter to cut out the biscuits.
Step 6. Place biscuits on ungreased cookie sheet (no parchment paper needed!) and refrigerate for 30 minutes before baking. Bake for 12-15 minutes or until done- think golden brown!
Note- You can make the dough ahead of time and refrigerate until ready to bake.

---
Properly measure your gluten free flour blend
One of the keys to good GF biscuits is properly measuring the flour. If you really want to be precise, you can weigh the flour. But if you don't have a digital scale, using measuring cups works just fine!
Plus, based on my reader survey, you guys all seem to be using many different flour mixes so giving a measurement by weight would be pointless unless you used my exact flour blend (see below for the one I use).
Before measuring my flour for any recipe, I give the flour a quick stir. Then I spoon the flour into the measuring cup and level it off with a straight edge, like the back of a knife or the handle of the spoon I used for scooping.
That way, I'm not using too much flour. USING TOO MUCH FLOUR WILL MAKE THESE BISCUITS DENSE.
You can download my guide to measuring flour here.
---
Best types of gluten free flour blends to use
I must say, I've had the best results with these gluten free biscuits when I use Cup4Cup or my Brown Rice Gluten Free All Purpose Flour Blend. Cup4Cup has milk powder in the mix so it's not dairy free.
But the extra protein from the milk is what makes the flour blend work so well.
You could use Bob's Red Mill 1:1 Gluten Free Baking Flour or King Arthur Gluten-Free Measure for Measure Flour but again, I find the other blends have the perfect consistency. You'd never know these were gluten free!
Note: Omit the xanthan gum called for in the recipe if you're using a blend that already contains it.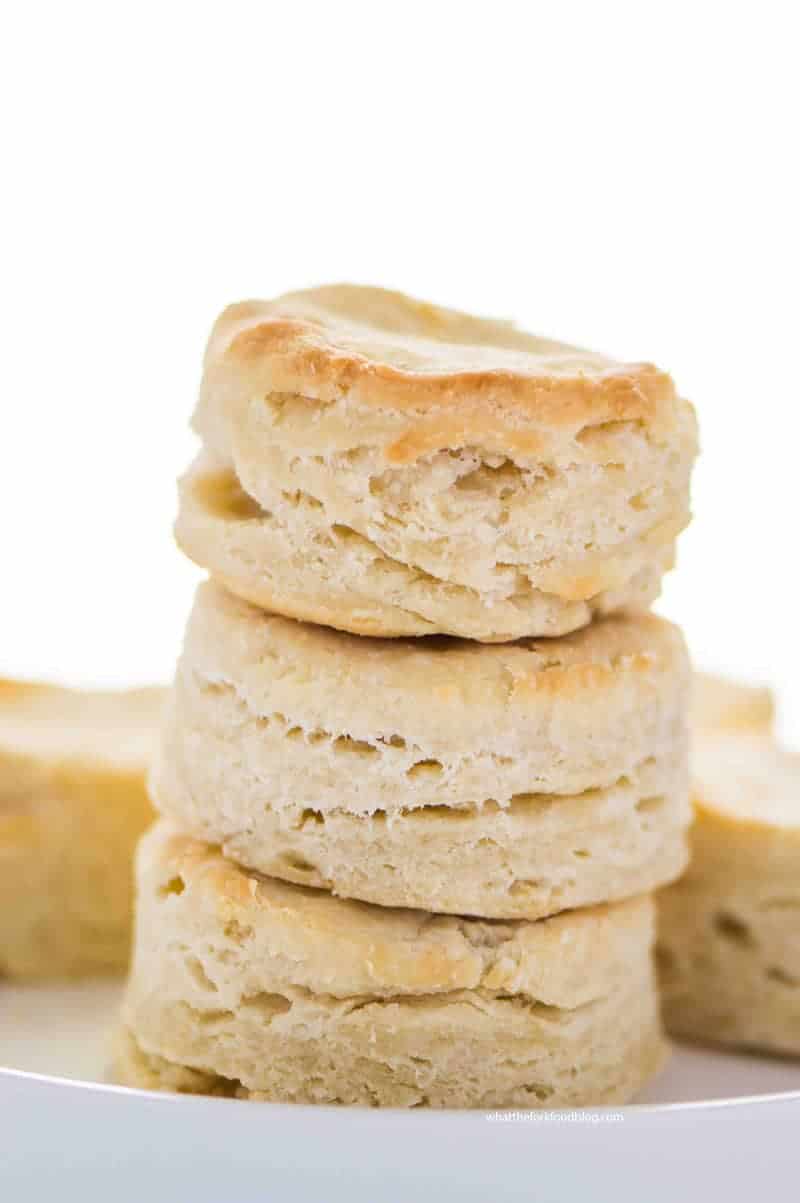 ---
Pro tips for making these GF biscuits so they are flaky
Another key to getting that beautiful flaky separation in these biscuits is chilling the dough after you cut them. Once I cut out all the biscuits, I place them on the baking sheet and put the whole sheet in the fridge for 30 minutes before baking. I've added that to the notes in the recipe as this is a new and improved step!
Also, try laminating the dough a few times before cutting. To do this, roll the dough out then fold in thirds. Roll out the dough again and repeat the process of folding and rolling 3-5 times.
This will help build the layers.
Then, when you "re-roll" the scraps, stack them and then flatten the dough instead of rolling them into a ball.
---
Can I make these biscuits dairy-free and vegan?
You sure can! For gluten free dairy free biscuits, I use Nutiva palm shortening (instead of butter) and unsweetened coconut milk in place of regular milk. I encourage you to read through the comments and see what others have tried when making these dairy free. Let me know if you have other suggestions as well!
---
Freezing the Biscuits
If you make a batch and want to save them for later, I highly recommend freezing them! Store them in a freezer bag (quart or gallon size- depending how many you have) or in an airtight container. When you're ready to eat them, you can leave them out to unthaw and reheat in the oven by wrapping them in aluminum foil and heating them in the oven.
---
Easy Homemade Gluten Free Biscuit Recipe
These gluten free biscuits are great as a bread product with dinner but I have an equal amount of love for them for breakfast. I love warming them up with a bit of butter and some honey or jam. Delicious!
Another version of these biscuits you might like are gluten free buttermilk biscuits. They surely will not disappoint! Craving gluten free biscuits and gravy? Try it with these! I've also got a great sausage recipe that would be great to make a gluten free biscuit sandwich with!
Gluten Free Garlic and Herb Biscuits, Cheddar Bay Biscuits, Parmesan Black Pepper Biscuits, and Cheddar Sage Biscuits are fantastic options for flavored biscuits as well.
So you guys can get rid of your boxed biscuit mixes now (ahem… mom…) and give this recipe a try. It's easy and the results are great! Try these gluten free drop biscuit recipe for a simple biscuit.
They're great for Gluten Free Strawberry Shortcake or Gluten Free Peach Shortcake!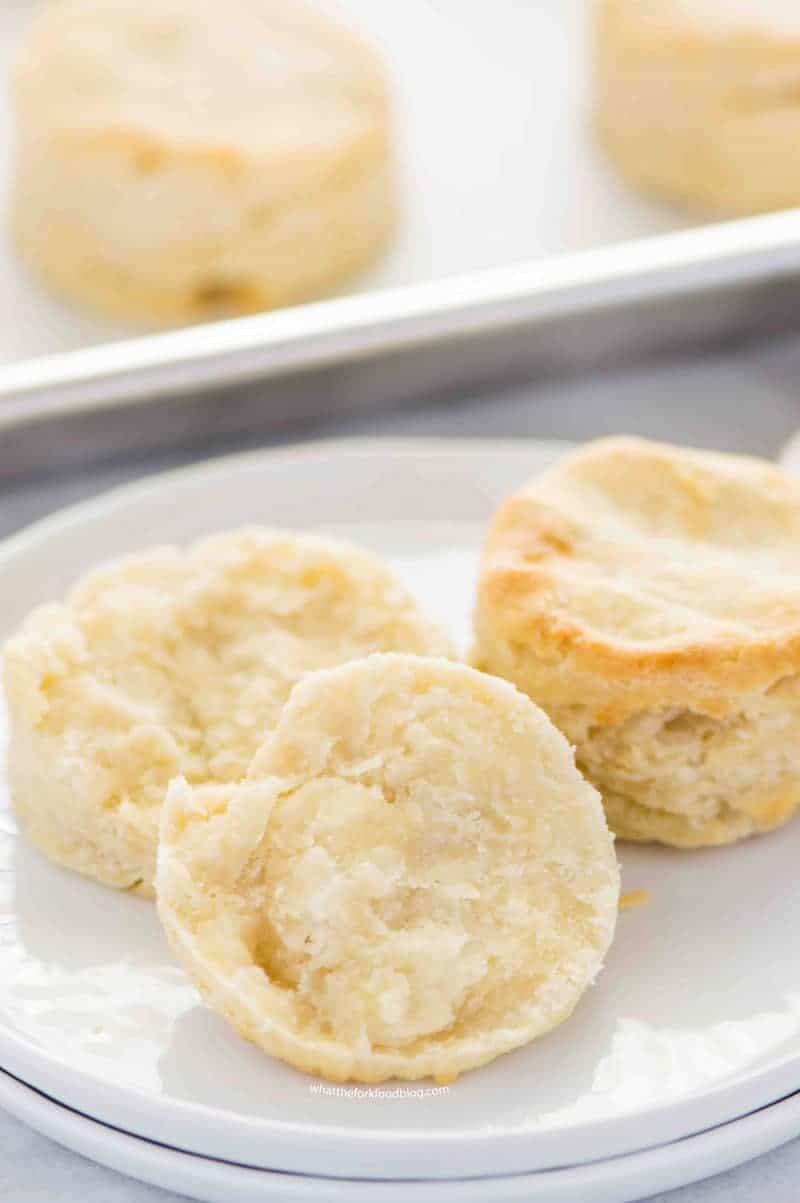 Enjoy!
Bonus – Be sure to watch the videoto see just how easy these are to make! You can also watch the video on Facebook where you can easily share it with your friends and family!
Did you try this biscuit recipe? Let me know in the comments!
---
be sure to follow me on instagram and hashtag #whattheforkfoodblog or tag @whattheforkfoodblog – i love seeing what you make!
if you love this recipe for gluten free biscuits, be sure to follow me on social media so you never miss a post:
---

Gluten Free Biscuits
These easy and simple Gluten-Free Biscuits are a GF version of my mom's biscuits. They are buttery, flaky, and fluffy. In addition, you can make these dairy-free and vegan!
Ingredients
2 cups All-Purpose Gluten Free Flour
1 teaspoon Xanthan Gum
1 teaspoon Fine Sea Salt
2 1/2 teaspoons Baking Powder
6 tablespoons Butter, Cubed and cold
3/4 cup Milk
Instructions
Preheat the oven to 425°F.
In a large bowl, whisk together the flour, xanthan gum, salt and baking powder. Use a pastry cutter to cut the butter into the flour mixture until it resembles coarse cornmeal.
Stir in the milk until incorporated. You may need an additional 1-2 tablespoons of milk to insure all the flour is moistened. Form the dough into a ball and knead about 10 times in the bowl.
Roll the dough out on a floured board to desired thickness (biscuits will not rise much while baking). I roll the dough to about 1 ½ - 2 inches thick. Use a 2 inch biscuit cutter to cut the biscuits. Gently re-roll dough as needed.
Place biscuits on an ungreased baking sheet and refrigerate for 30 minutes (uncovered) before baking. You can also make the dough a few hours ahead of time and leave refrigerated until ready to bake.
After 30 minutes chilling, bake 12-15 minutes or until done (cooking time will depend on thickness of the biscuit). Serve warm.
Store leftovers in an air-tight container or bag overnight or freeze.

Notes
For best results, use Sharon's Brown Rice Flour Blend. Using a blend with white rice flour will yield a denser biscuit.
For even better results, use buttermilk instead of regular milk or add 2 teaspoons of white vinegar to the regular milk 5 minutes before using.
See post for properly measuring the flour. Over-measuring the flour will result in heavy, dense biscuits.
Recommended Products
As an Amazon Associate and member of other affiliate programs, I earn from qualifying purchases.