This gluten free funfetti cake is perfect for birthday celebrations. The gluten free and dairy free white cake is light and airy and filled with colorful sprinkles. Finish it off with dairy free frosting and extra sprinkles for the ultimate funfetti experience!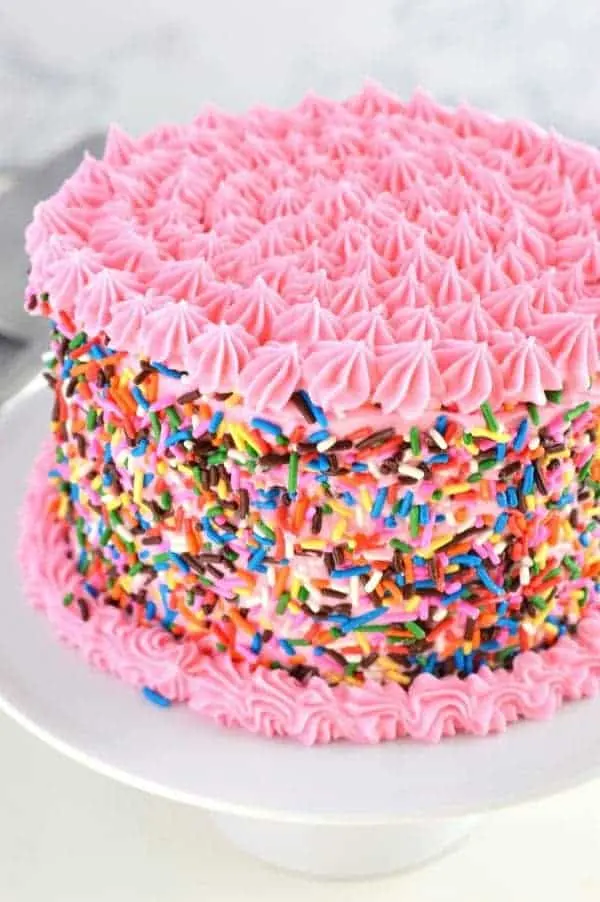 Today's post was sponsored by Collective Bias, Inc. and its advertiser. All opinions are mine alone. #SendSmiles #CollectiveBias
Gluten Free Funfetti Cake
You guys. I'm turning 30 this month. The big 3-0. I will no longer be able to say I'm in my 20's. So what better way to celebrate than with a gluten free funfetti cake, right? Who doesn't love funfetti??! Funfetti cake recipes rock in my book! Bring on the sprinkles!
So… 30. I have super mixed feelings about turning 30. It's the end of an era for me, well, decade. I had a blast in my early 20's. Graduated from college. Got my first real job. Got married. Added two dogs. Bought a house. Had 2 kids and became a stay at home mom. And had two pacemakers. That's a lot of change in a short amount of time. A whole lot of change with some major life events. All in a 10 year span.
In a way, I kinda hope things slow down a little bit in my 30's. I'm ready for more relaxing. Or will that have to wait until I'm 40 since there's no such thing as relaxing when you have two active young kids and a house to take care of and run?
Less rush, more fun. That'll be my new 30-year-old mantra.
Adam turned 30 a few months ago and still hasn't really come to terms with the fact that he's THIRTY. He does 30-year-old "old people" things though like listen to soft rock. Soft rock. For real. Like, my dad listens to soft rock. Every time I turn on my car after Adam's been using it, soft rock is on the radio.
I make fun of him so bad for it and tell him he's so old since he listens to soft rock. It's a joke but he's not a fan of being called old. He likes to remind me that I'm almost 30. I like to remind him that almost doesn't count.
P.S. remember that time I made the Chocolate Peanut Butter Cup Ice Cream Cake? The original was for Adam's 30th. It was an epic way to eat all the feelings. Then I made it again for my blog birthdaversary because it was that good.
P.S.S. I do know that 30 really isn't that old. It just feels old to me. Especially since I feel like I just graduated college yesterday even though it was actually 8 years ago. E-I-G-H-T. I can't even deal. I CAN'T EVEN.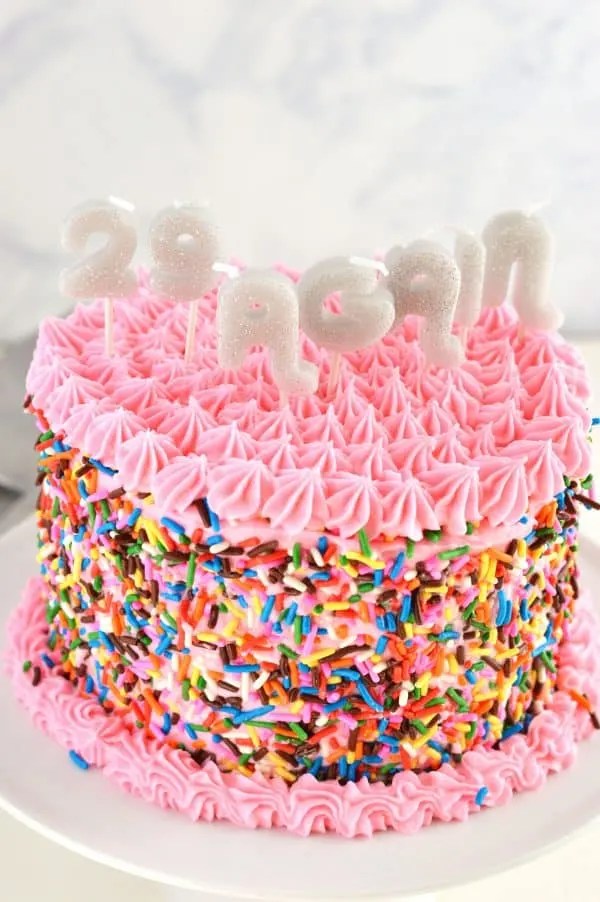 I should mention, my dad's birthday is two days after mine. I'm not sure how my dad feels about having an almost birthday crasher but I never minded it as I grew up. I always thought it was fun. But birthdays always mean cards, right? Have you guys noticed how expensive cards have been getting lately? It's hard not to spend at least $4/card these days.
Walmart has this great section of Hallmark cards starting at just 47 cents. 47 CENTS! At that price, you can pretty much buy all the cards and be set for the epic year of birthday celebrations. This also works in my favor because when I'm card shopping with Kelsey, she literally wants to buy all the cards. We usually end up with some obscure card that she'll decorate and send to her sister (who lives with her). Ha… to be 3 right?
(Seriously… can I get some time reversal magic here?) <– birthday wish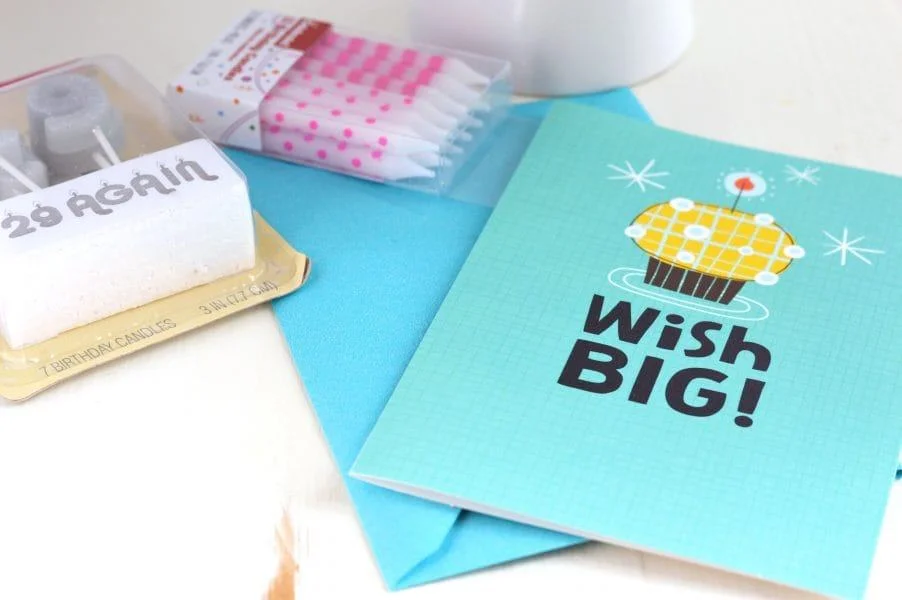 I picked up a bunch of the cards to cover everyone's birthdays throughout the year. I'm notorious for forgetting to give cards. No lie, I gave Adam his Valentine's Day card on Father's Day this year. Better late than never right?
But hey, at just 47 cents it's not a big deal! Also, those awesome "29 Again" candles were found at Walmart in the baking aisle. They're perfect and I'll be using them every year from now until eternity.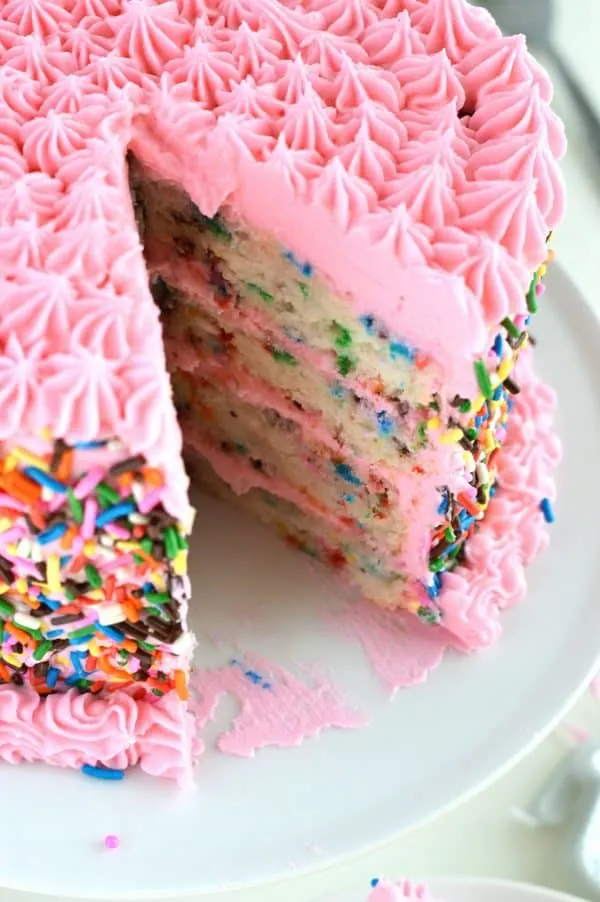 I made this epic gluten free funfetti cake as an early birthday cake. I should mention, we are experimenting with a dairy-free diet for Kelsey because her doctor suspects she's lactose intolerant. So not only is this homemade funfetti cake gluten free, it's dairy free as well. Boo to elimination diets. BUT… it's got sprinkles. Yay for sprinkles…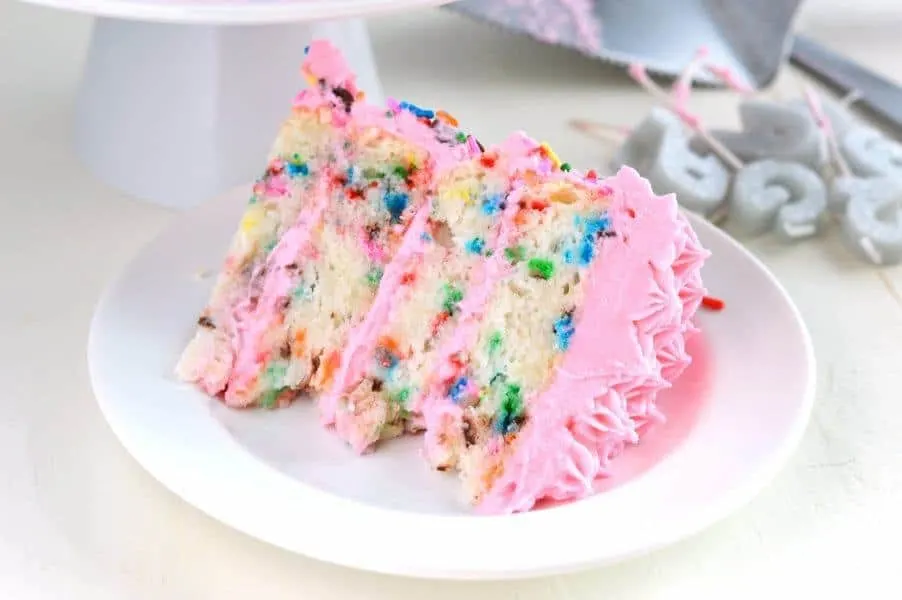 If you don't want to or you don't have to go totally dairy free, I'd suggest using my favorite vanilla buttercream with this cake. You can also use dairy milk in place of the non-dairy milk in the cake batter. Whichever way you choose to make this gluten free funfetti cake, enjoy!
And cheers to 30.
be sure to follow me on instagram and hashtag #whattheforkfoodblog or tag @whattheforkfoodblog – i love seeing what you make!
if you love this recipe for gluten free funfetti cake, be sure to follow me on social media so you never miss a post:
---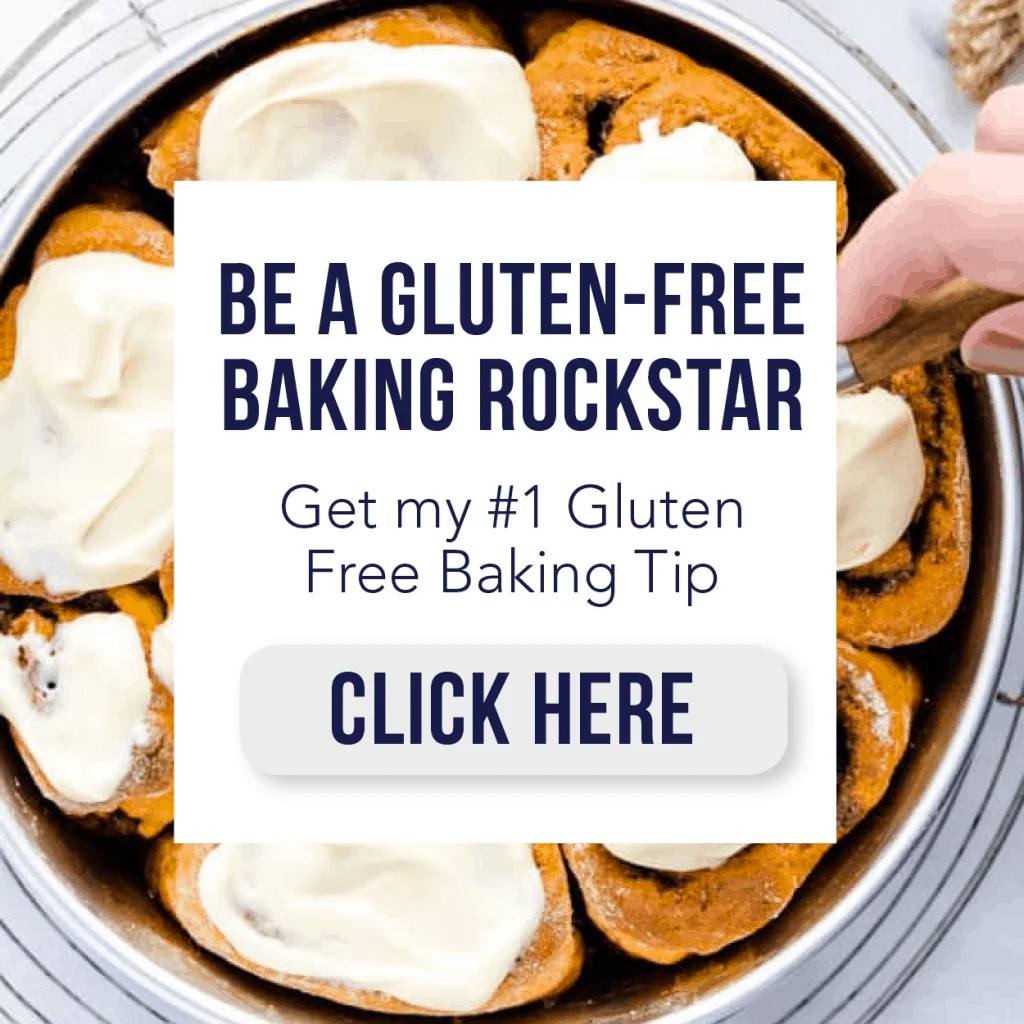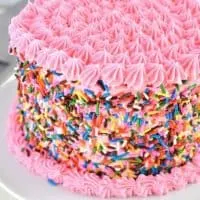 Gluten Free Funfetti Cake
This gluten free funfetti cake is perfect for birthday celebrations. The gluten free and dairy free white cake is light and airy and filled with colorful sprinkles. Finish it off with dairy free frosting and extra sprinkles for the ultimate funfetti experience!
Servings:
1
cake (serves 8)
Print
Rate
Pin
Ingredients
For the Cake
1 3/4

C

gluten free all-purpose flour

3/4

tsp

xanthan gum

2

tsp

baking powder

1/4

tsp

fine sea salt

2/3

C

granulated sugar

1/4

C

sprinkles

1

C

coconut milk

from a carton, room temperature

1/2

C

vegetable oil

1

tsp

vanilla extract

4

egg whites

room temperature
For the Frosting
1/2

C

shortening

1/2

C

dairy-free butter

3

C

powdered sugar

1

tsp

almond extract

2

Tbsp

coconut milk

food coloring

optional

sprinkles

for decorating
Instructions
For the cake:
Preheat oven to 325 degrees and spray 2 6-inch cake pans with non-stick spray and line them with parchment paper cut to fit the pan.

In the bowl of a stand mixer, sift together the gluten free flour, xanthan gum, baking powder, salt and sugar. Mix on low speed until combined. Mix in the sprinkles.

In a 2-cup liquid measuring cup, combine the coconut milk, oil and vanilla extract. Set aside.

In a medium bowl, use and electric hand mixer to whisk the egg whites until soft peaks form. Set aside.

Turn the stand mixer on low and slowly pour the milk mixture into the dry ingredients. Turn the mixer to medium and mix until combined, scraping the bowl as necessary.

Remove the bowl from the stand mixer and use a rubber spatula to gently fold half of the whipped egg whites into the batter. Repeat with the remaining egg whites until fully incorporated.

Gently pour the batter into the two prepared pans, dividing the batter between the two evenly. Bake at 325 degrees for 33-35 minutes or until a cake tester comes out clean. Cool in the pans for 10 minutes then remove them from the pans and cool completely on a wire rack before frosting.
For the frosting:
In the bowl of a stand mixer, cream together the shortening and dairy free butter until smooth. Add the powdered sugar and mix on low until lumpy. Increase the speed to medium-high and beat for about a minute until the frosting is smooth. Add milk, almond extract and food coloring and beat on medium speed for about 2 minutes. Scrape the sides and beat an additional 30 seconds, if necessary.
To frost the cake:
Use a serrated knife or cake leveler to level the top of the cakes and cut each cake layer in half to create 4 layers.

Place one layer on a cake stand and top with about 1/3 cup frosting. Smooth the frosting over the cake and stack another layer on top. Repeat with each layer. With the last layer, frost the tops and sides of the cake. Serve immediately or refrigerate until ready to serve. Let the cake come to room temperature before serving.
Disclaimers
As an Amazon Associate and member of other affiliate programs, I earn from qualifying purchases.
Nutrition Facts are estimated and aren't always accurate. Please consult a doctor or nutritionist if you have special dietary needs.
Funfetti Chocolate Chip Sugar Cookie Bars {Gluten Free} from Sunny Side Ups
Cake Batter Cookies {Gluten Free} from What The Fork Food Blog