This Fudge Pecan Pie is a classic dessert made better with the addition of chocolate. It's so gooey, sweet, and delicious you'll soon have a new favorite!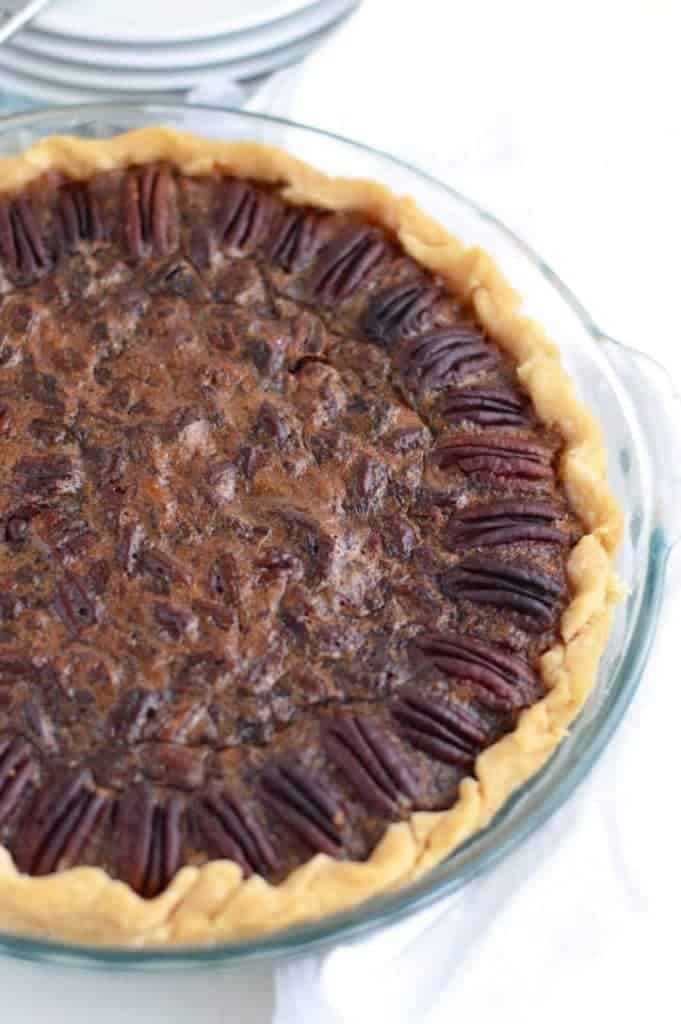 Here's the thing about fudge pecan pie. Once you add a little chocolate, you'll never go back to a regular old pecan pie again. And I mean never. It'll ruin pecan pie for the rest of your life. There's just something about that one little ingredient added in and it's like, your mind is blown.
How can adding chocolate to something just make it that much better? Well, because it's chocolate. It makes everything better.
Bad day? Chocolate.
Bad week? Chocolate.
Both your kids are sick and it's been the longest week ever? Chocolate plus booze.
Both your kids are sick and one has an allergic reaction to their antibiotic? Fudge pecan pie plus booze.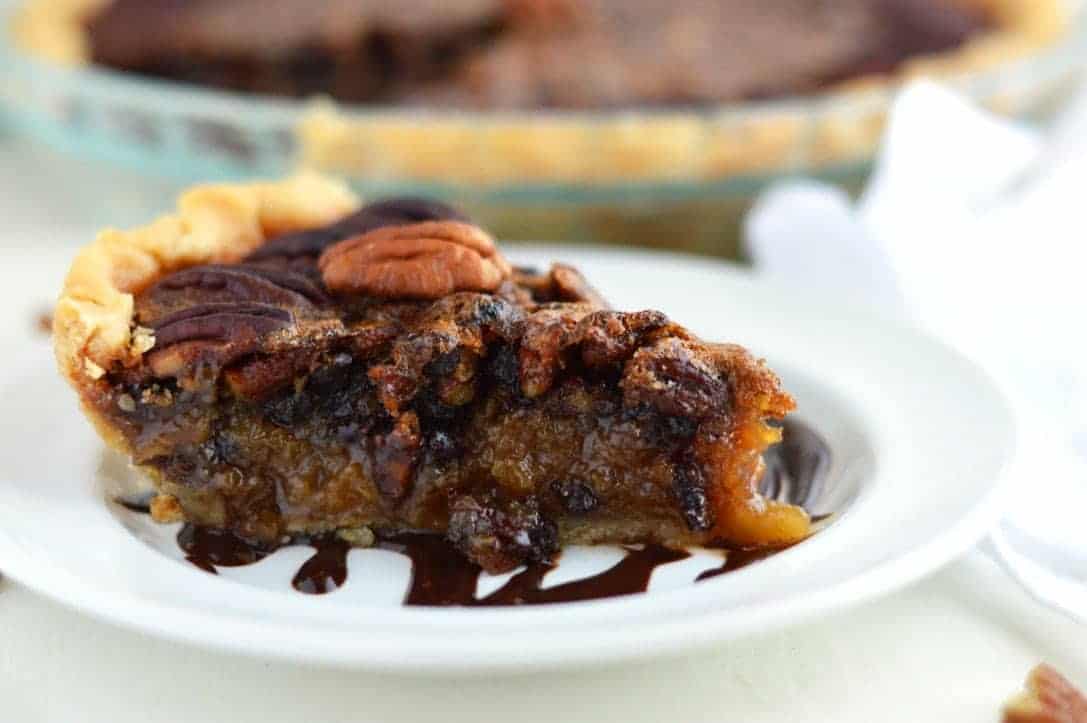 Can you tell I had a long week? Oh wait, it's Monday night. So basically I had a long week and a long weekend (and not the good kind of long weekend) and now I need some yum in my life. Just give me a piece of this fudge pecan pie and an inappropriately large glass of wine and it'll be all good, k?
My mom has been making this pie forever. It was always a family favorite growing up, for obvious reasons. Just look at that gooey chocolatey pie! I made this one for Adam's grandmother's birthday last month. The entire thing went so there weren't any leftovers… boo. Lucky for us, my mom made one when we went over to my parents house for dinner this weekend. Happy days! Enjoy!
Gluten Free Fudge Pecan Pie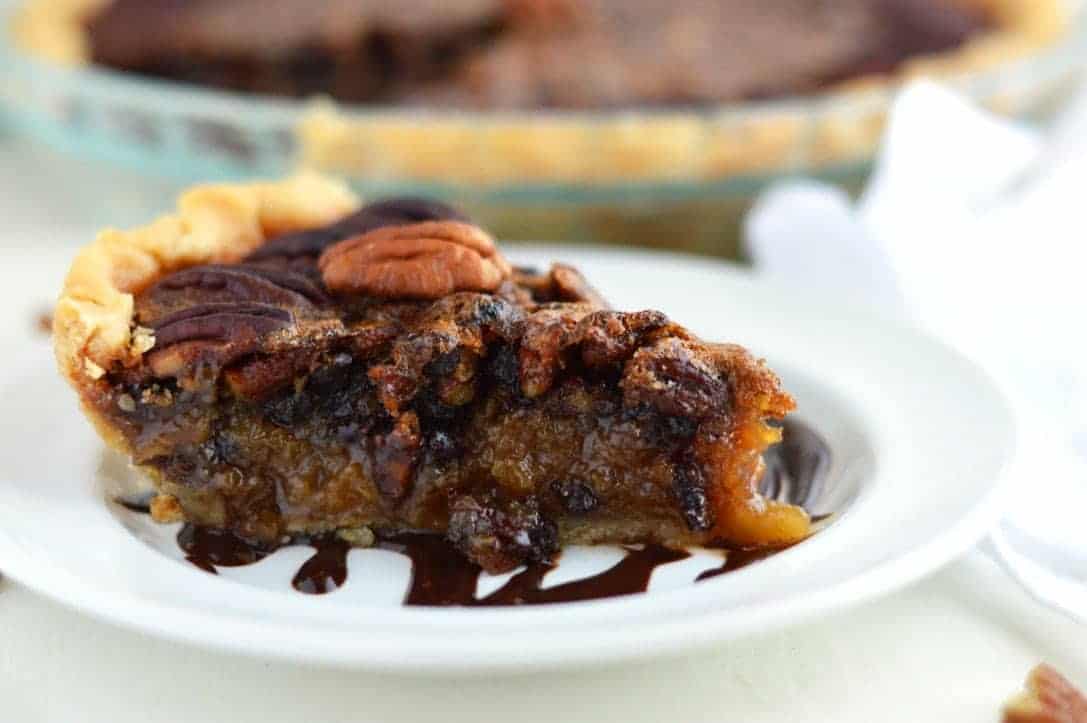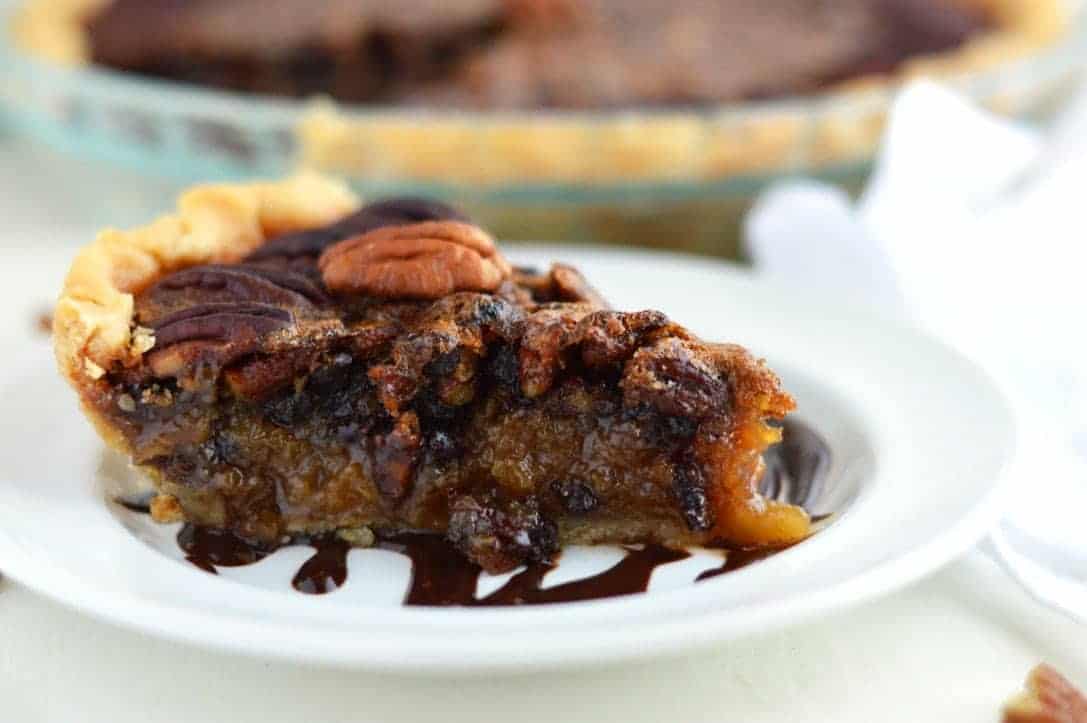 Ingredients
1 9 inch Gluten Free Pie Crust (see notes)
4 eggs
2 egg yolks
1 1/2 C light corn syrup
1 C sugar
1 C brown sugar
3 Tbsp vegan butter, melted (can use regular butter)
1 Tbsp molasses
1 Tbsp vanilla extract
5 oz. semi-sweet chocolate chips
1 C pecans, roughly chopped (plus more for decorating if desired)
Directions
Preheat oven to 350 degrees and place pie crust in a 9 inch pie plate.
Whisk the eggs and yolks in a bowl until frothy. Whisk in the corn syrup, sugar, brown sugar, butter, molasses, and vanilla extract.
Even sprinkle the chocolate chips and pecans over the pie crust. Pour the filling over the chocolate chips and pecans.
Bake at 350 degrees for 1 hour and 10 minutes or until the stop is dry and firm to the touch but the center is still a bit soft.
Cool completely before serving.
IF YOU LOVE THIS GLUTEN FREE FUDGE PECAN PIE RECIPE, BE SURE TO SIGN UP FOR FREE EMAIL UPDATES! NEW RECIPES WILL BE DELIVERED STRAIGHT TO YOUR INBOX!
Other Recipes You Might Enjoy:
Coconut Cream Pie – What The Fork Food Blog
Deep Dish Gluten Free Apple Pie – Raia's Recipes
Gluten Free Peanut Butter Pie – Flippin' Delicious
Gluten Free Vegan Strawberry Pop Tarts – Allergy Free Alaska