Easy Coconut Cream Pie features a flaky pie crust, coconut custard, toasted coconut, and fresh whipped cream. It's a coconut-lovers dream come true. Make it with a regular or gluten free pie crust.
<< click here to pin this recipe >>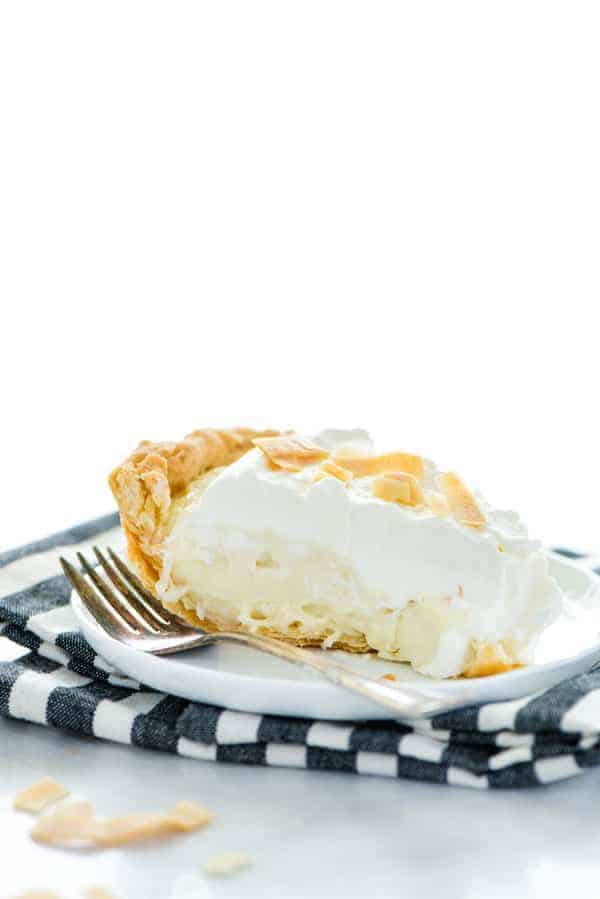 photos updated October 2018
Gluten Free Coconut Cream Pie
So guess what. I kind of suck at making pies. BUT this easy coconut cream pie is pretty freaking awesome. It's like a Pi Day miracle. That's right, we're crashing Pi day and turning it into PIE day.
Because math sucks too. Just kidding if you like math. If you don't know what I'm talking about, Pi is a math thing. It's 3.1415blahblahblah. It goes on forever.
The math teachers go crazy for it and dress up with Pi shirts, it's like a holiday for them. But it's not really a holiday because holiday's are fun and math isn't. Just kidding, again. Sort of.
So enough with the Pi, I'm bored already. (I was a stellar math student… heavy sarcasm)
Did you make this recipe? Leave a star rating on the recipe and let me know in the comments! You can also leave a photo/comment on this pin for others to see.
Pie crusts used to be hard for me. Even before I started baking gluten-free, they were a struggle. They never, ever, ever came out like my mom's perfectly flaky pie crust that everyone loved. Mine came out ugly, too dark and too chewy. A fellow blogger once described their crusts as "squeaky", that's exactly what mine were. Luckily, those days are over.
<< pin this recipe to your DESSERTS board >>
With lots of practice, persistence, and patience (!!), I've mastered my own gluten free pie crust recipe. And guys, it's a beauty of a crust if you ask me!
You can see just how it truly is a flaky gluten free pie crust in these pictures!
If you're like the old me and kind of struggle with pies, this recipe for coconut cream pie is a great place to start. Since you're only baking the pie crust, you don't need to worry about baking a crust and a filling together like with a fruit pie. Baby steps, right?
The star of this coconut cream pie is clearly the coconut because after all, it is a coconut cream pie. The coconut custard is made with coconut milk and flavored with coconut extract and toasted coconut. The whipped cream is also topped with additional toasted coconut. It's a coconut lovers dream. It is one of my all time favorite flavors. I would be happy with coconut flavored anything and everything. But I guess I could settle for the best coconut cream pie…
How to Make a Dairy Free Coconut Cream Pie
To make this gluten free coconut cream pie dairy free too, swap the half and half with coconut milk. Then, top it with whipped coconut cream instead of regular fresh whipped cream. Be sure to follow my dairy-free notes for making a dairy free and vegan pie crust too!
Looking for more ideas to try with a 9-inch pie crust? Try my Fudge Pecan Pie, Ham and Cheese Quiche, or Bacon and Swiss Quiche! Enjoy!
be sure to follow me on instagram and hashtag #whattheforkfoodblog or tag @whattheforkfoodblog – i love seeing what you make!
if you love this gluten free coconut cream pie recipe, be sure to follow me on social media so you never miss a post:
---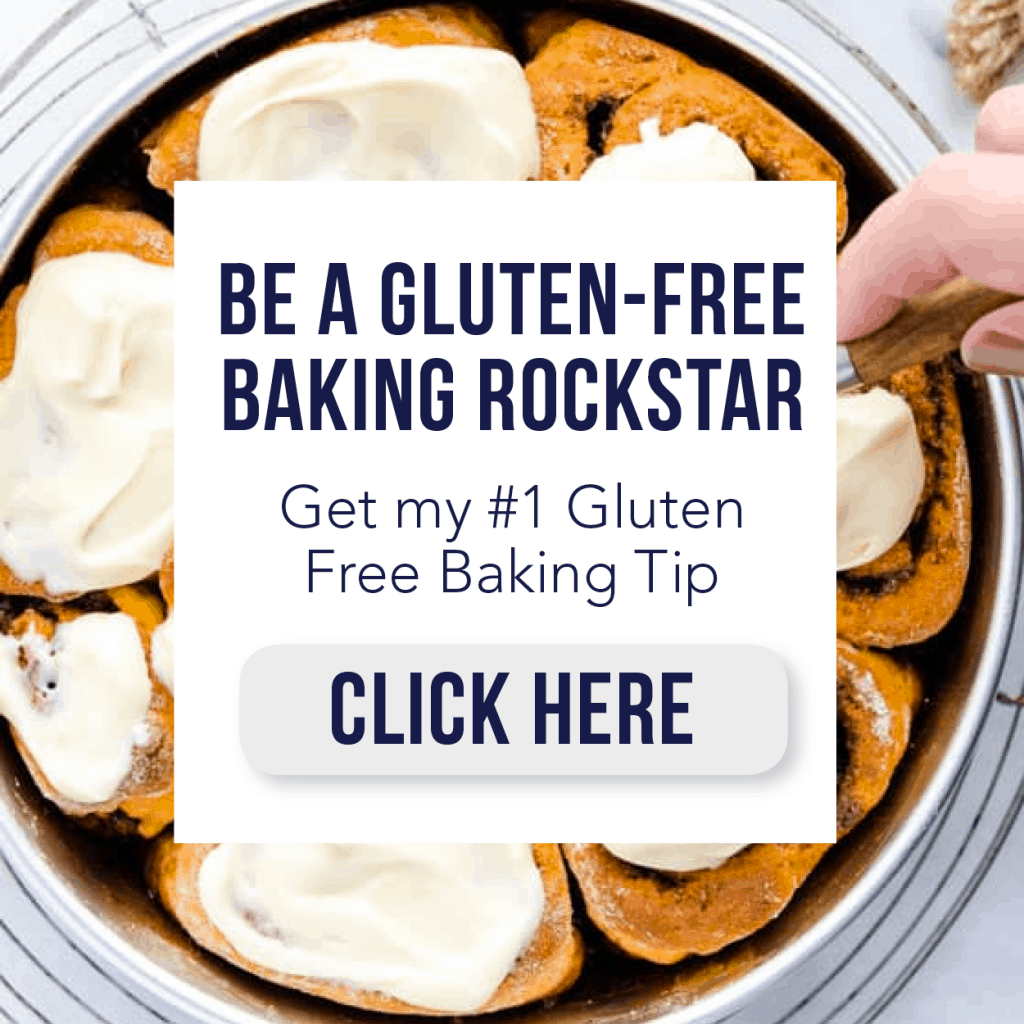 Gluten Free Coconut Cream Pie
Additional Time:
4 hours
2 seconds
Total Time:
5 hours
20 minutes
2 seconds
Easy Coconut Cream Pie features a flaky gluten free pie crust, coconut custard filled with toasted coconut, fresh whipped cream and topped with more toasted coconut. It's a coconut-lovers dream come true.
Ingredients
1 9-inch pie crust (see notes)
1 14 oz. can full-fat coconut milk (1 3/4 C)
1 1/4 cups half & half (see notes for dairy free)
2 large eggs
3/4 cup granulated sugar
1/3 cup cornstarch
1/4 teaspoon fine sea salt
1 cup coconut flakes (sweetened or unsweetened)
1 teaspoon coconut extract
1 cup heavy whipping cream
1 teaspoon pure vanilla extract
2 tablespoons powdered sugar
Instructions
Preheat oven to 350 degrees.
Roll out your chilled pie crust, place in pan and poke the bottom and sides several times with a fork. Cover with parchment paper and fill with pie weights or dried beans for blind baking.
Bake pie crust for 20 minutes then remove the crust from the oven and carefully remove the pie weights and parchment paper. Use the parchment to lift the weights out of the shell. Return the crust to the oven and bake for an additional 10-20 minutes or until the pie crust is set and slightly browned.
Cool completely before adding the custard.
To make the toasted coconut, add the coconut to a dry skillet and heat on medium-low, stirring frequently, until slightly browned. Remove from heat and cool.
To make the coconut custard, add coconut milk, half &half, eggs, sugar, cornstarch and salt. Whisk until combined. Heat over medium-low heat and whisk (almost continuously) until the custard is thick like a pudding. This step may take 20 minutes (or even longer depending on your stovetop). When the custard is thick, whisk in 3/4 cup of the toasted coconut and 1 teaspoon coconut extract. Transfer to the cooled pie shell and place a piece of plastic wrap directly on top of the custard (to keep a skin from forming) but do not cover the crust.
Refrigerate 2-4 hours.
Before serving, use a handheld mixer to whip the heavy cream, vanilla extract, and powdered sugar together. Evenly spread the whipped cream over the coconut custard and top with the remaining toasted coconut.
Leftovers must be refrigerated and are best within 3 days.
Notes
You can use a regular 9-inch pie crust if you don't need gluten free.
To make the custard dairy free, use full-fat coconut milk in place of the half & half.
If you're not in the US, half & half is half cream half milk.
I garnished the top of my pie with toasted coconut chips instead of the reserved toasted coconut from the recipe for photos. Feel free to do either!
Recommended Products
As an Amazon Associate and member of other affiliate programs, I earn from qualifying purchases.
Nutrition Information:
Yield:

8-10
Serving Size:

1
Amount Per Serving:
Calories:

512
Did you make this recipe? Leave a star rating on the recipe and let me know in the comments! You can also leave a photo/comment on this pin for others to see.