These Three-Ingredient Lemon Garlic Chicken Skewers are make an easy weeknight meal. They're gluten free, paleo, and Whole30, and full of delicious flavor. They're also great for weekly meal-prepping.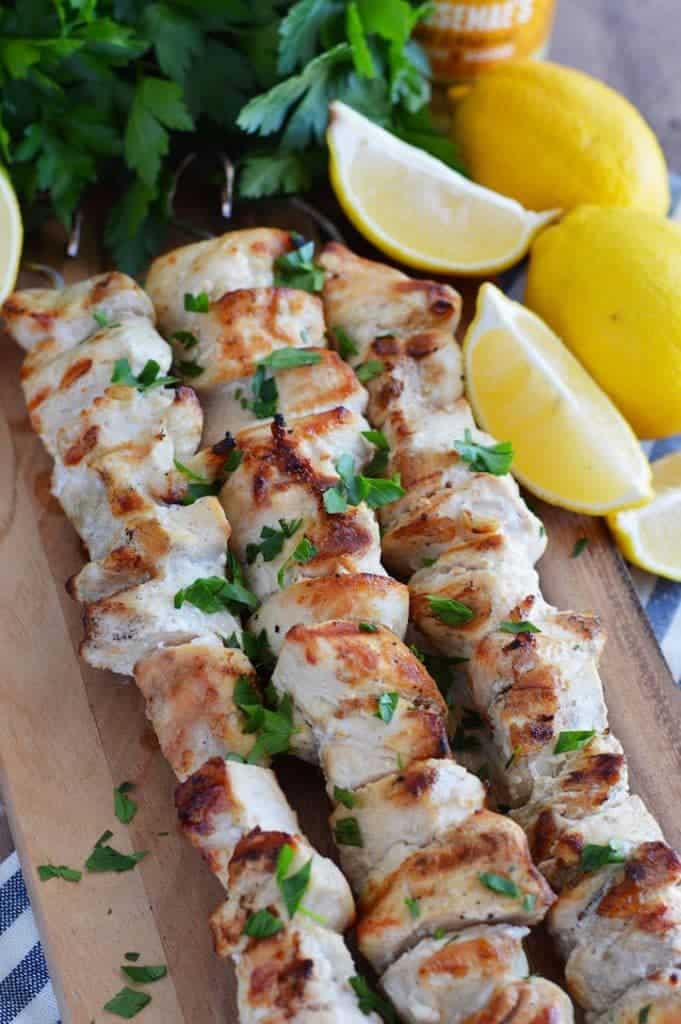 You guys, I have a confession. I'm way too much of a procrastinator. I mean, I feel like I'm always working on something at the last second. Maybe it's procrastination, like in my college days when I'd be working on a paper with minutes to spare before class started (and do awesome btw).
These days, I can totally blame  "procrastination" on my kids. Sorry kids.
But really, I think it's a little bit of both. And they're both the reason why I'm outside grilling lemon garlic chicken skewers during Winter Storm Jonas aka #snowmageddon2016. I mean, really. We've had practically no snow this winter and I've had plenty of time to grill (not really though). But here I am, grilling in a blizzard.
Ok so it wasn't really blizzard-ly where I am, we only got about 4 inches of snow. Which is pretty much nothing for New Englanders. It's just enough to make it look pretty and then go out and play in. Or grill. Because grilling in the snow is always fun.
These lemon garlic chicken skewers are SO simply and easy to make. The chicken marinates in Tessemae's Lemon Garlic dressing for a few hours to get all tasty-yum. Then they're threaded onto skewers and grilled to delicious perfection and topped with some fresh parsley (or fresh herbs of choice).
These chicken skewers are also super versatile. I like to serve this chicken with some grilled or roasted veggies and rice or mixed into some spaghetti with fresh tomatoes, garlic, olive oil, and fresh basil. It also makes super tasty chicken salad sandwiches or you can use it to add some extra protein to your leafy green salads. They're really perfect for meal prepping because the chicken can be used in so many ways. You can grill up a batch of these lemon garlic chicken skewers and make a variety of meals for the week.
Tessemae's just launched their organic line this month to join their already awesome line of dressings and condiments. The organic line includes Soy Ginger, Caesar, Ranch, Lemon Garlic (which I used in this recipe), Balsamic, and Green Goddess. Tessemae's dressing and condiments are also gluten free, dairy free, vegan, sugar free, paleo, kosher, and low sodium. Yep, that's a lot of healthy in a bottle.
You can shop for Tessemae's online (with $7 flat rate shipping) or at a store near you. When you shop Tessemae's online store, use code WhatTheFork for 10% off. Discount expires June 30, 2016. Enjoy!
Ingredients
4 chicken breasts, cut into 1 inch cubes
3/4 C Tessemae's Lemon Garlic
2 Tbsp fresh parsley, chopped (optional)
Instructions
Add the chicken and Lemon Garlic dressing to a zip lock bag or bowl and mix to coat all of the chicken. Refrigerate for 1-3 hours.
Preheat grill to 500 degrees and thread the chicken onto the skewers. When the grill is hot, place the skewers on the grill and cook for 15 minutes (flipping halfway through for even cooking) or until chicken is cooked through (160 degrees and juices will run clear).
Garnish with fresh parsley or fresh herbs of choice before serving.
Notes
You can also cook these on a grill pan or under the broiler. Just make sure the chicken is cooked through and reaches an internal temperature of 160 degrees.

If you're using wooden skewers, be sure to soak them in water for at least 30 minutes before grilling.
6.8
https://www.whattheforkfoodblog.com/2016/01/25/lemon-garlic-chicken-skewers/
COPYRIGHT © What The Fork Food Blog
IF YOU LOVE THIS lemon garlic chicken skewers recipe, BE SURE TO SIGN UP FOR FREE EMAIL UPDATES! NEW RECIPES WILL BE DELIVERED STRAIGHT TO YOUR INBOX!
Other Recipes You Might Enjoy:
This post was brought to you in partnership with Tessemae's and Kitchen PLAY. As always, all opinions are 100% mine. Thank you for supporting brands that support What The Fork Food Blog ♥
Follow Sharon | What The Fork Food Blog's board Whole30 Recipes on Pinterest.
22