If you love classic pumpkin bread, this easy gluten free pumpkin bread recipe is the one you've been searching for! It's moist, dense, and full of flavor!
This post contains affiliate links for products or ingredients used to create this recipe. Thank you for helping to support What The Fork Food Blog ♥
I have been working on a really, really good classic pumpkin bread recipe for a while and I feel like I've nailed it with this gluten free pumpkin bread. It's got everything I'm looking for – it's dense, it's really moist, it doesn't fall apart, and you can't tell that it's gluten free.
Another thing I wanted to do is use a whole can of pumpkin in it. I know, it's a lot of pumpkin for one loaf but it definitely makes a difference in taste. Full pumpkin flavor achieved!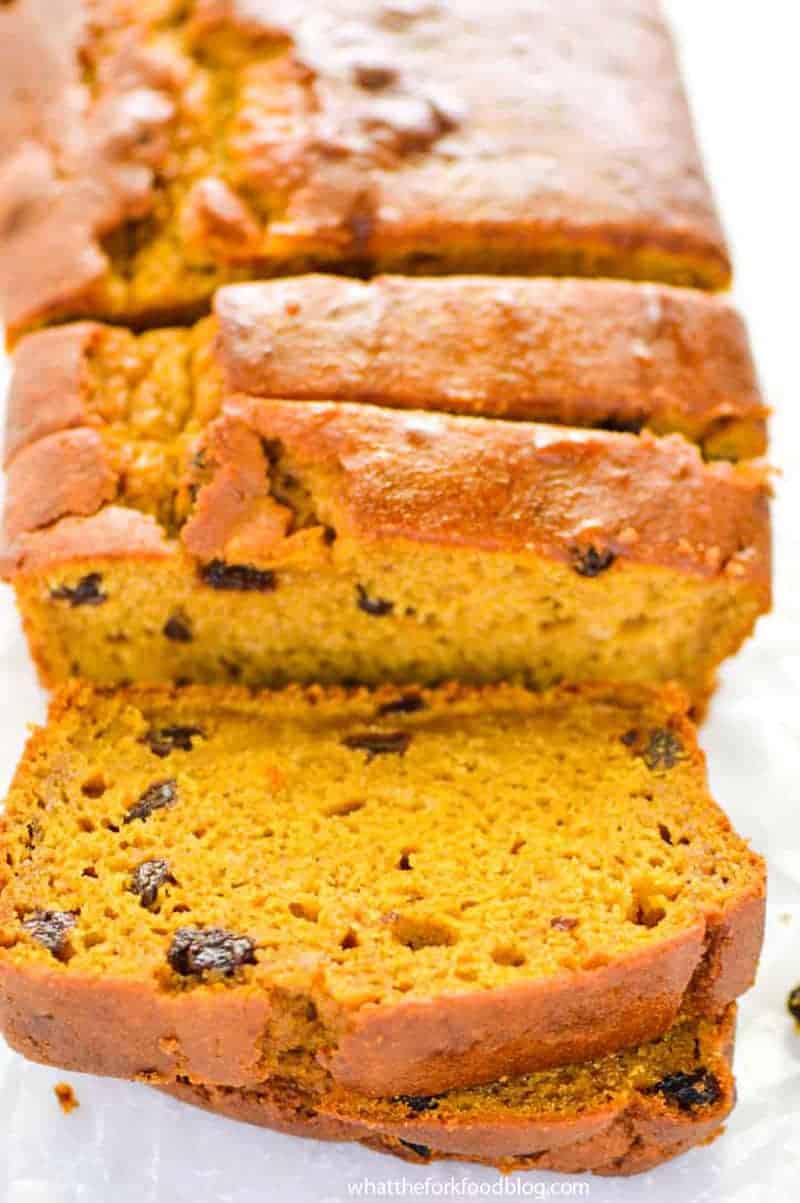 If you don't use canned pumpkin and you're using homemade pumpkin puree, use 1 3/4 cups. If your pumpkin puree is on the thinner, watery side, you might want to cut back on the milk a bit.
I use Farmer's Market Organic Pumpkin in all my pumpkin recipes and their pumpkin is a nice, thick pumpkin puree – not watered down at all, so I use a bit of milk to help with the moisture instead of relying completely on the pumpkin.
I know it's August and I'm already sharing pumpkin recipes with you, but I just can't help myself! Pumpkin is one of my favorite baking ingredients. Last year, I shared my pumpkin banana bread, gluten free pumpkin cookies, gluten free pumpkin chocolate chip muffins, and a gluten free mini pumpkin layer cake.
A definite reader favorite from last year was the gluten free pumpkin banana bread – it was insanely popular! I've already made two loaves of it this summer before I started working on this gluten free pumpkin bread recipe.
I'm also already planning on making a batch of gluten free pumpkin cookies for a get-together. They're melt-in-your-mouth good! It might sound like a lot of pumpkin recipes up in here, but I'm telling you – I'll NEVER get sick of it! Pumpkin is my love language ?❤️
Let me know which pumpkin recipe you try first! Hopefully it's this gluten free pumpkin bread – it's a great place to start! Then you can work your way through all the rest. Enjoy!
PS – you'll see that this recipe calls for raisins, a classic in pumpkin bread! If you hate raisins and can't stand the though of them being in your bread, you can omit them or sub them with walnuts or chocolate chips. Or you could just make my gluten free pumpkin chocolate chip bread instead.
be sure to follow me on instagram and hashtag #whattheforkfoodblog or tag @whattheforkfoodblog – i love seeing what you make!
if you love this gluten free pumpkin bread recipe, be sure to follow me on social media so you never miss a post:
---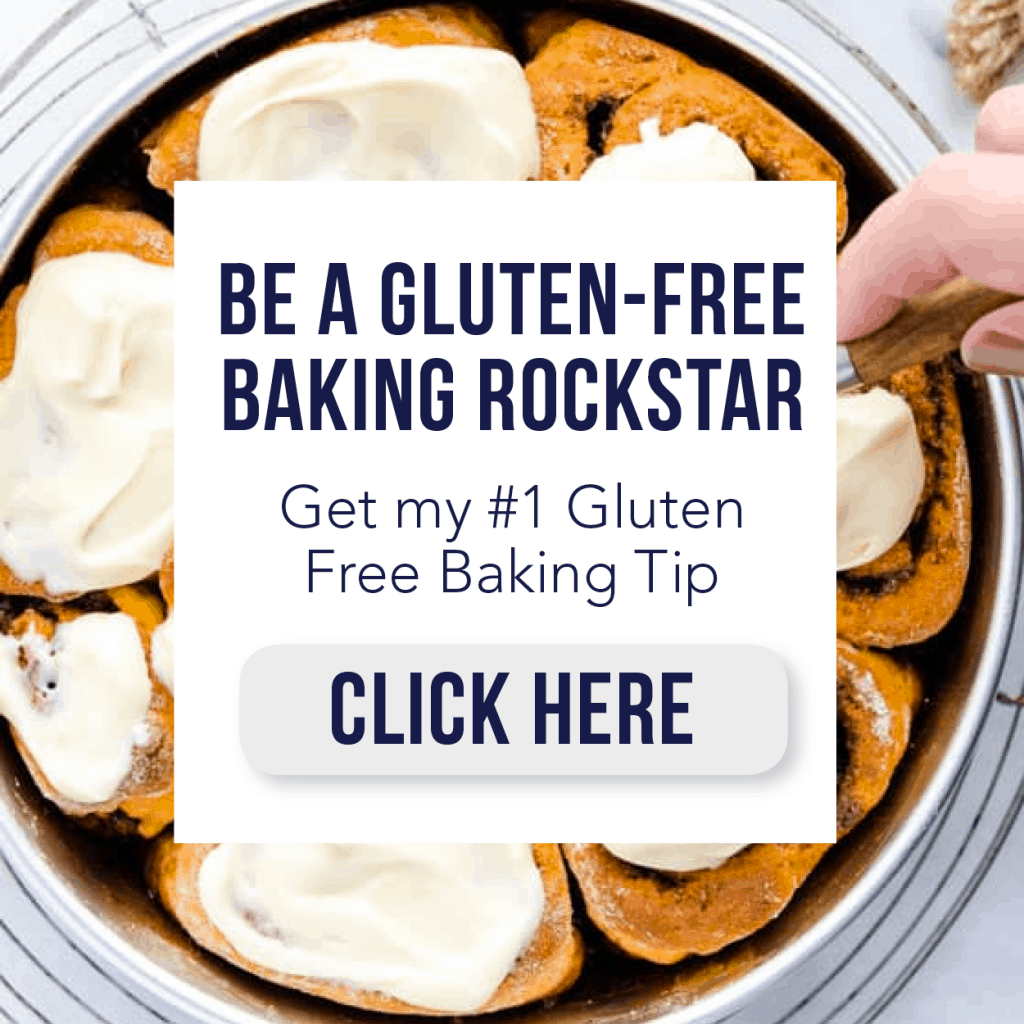 Gluten Free Pumpkin Bread
Total Time:
1 hour
15 minutes
If you love classic pumpkin bread, this easy gluten free pumpkin bread recipe is the one you've been searching for! It's moist, dense, and full of flavor!
Ingredients
2 cups gluten free all-purpose flour*
1 teaspoon xanthan gum
1 teaspoon baking powder
1/2 teaspoon baking soda
1/2 teaspoon fine sea salt
3/4 cup granulated sugar
1 teaspoon ground cinnamon
1/4 teaspoon ground nutmeg
1/8 teaspoon ground cloves
1/2 cup raisins
1 15 oz. can pumpkin puree ( 1 3/4 cups)
1/2 cup light brown sugar
2 large eggs, room temperature
1/3 cup avocado oil (or canola oil)
1/4 cup milk (regular or unsweetened coconut)
2 teaspoons pure vanilla extract
Instructions
Preheat oven to 350 degrees and spray a 9x5 inch loaf pan with non-stick spray.
In a large bowl, whisk together the flour, xanthan gum, baking powder, baking soda, salt, granulated sugar, cinnamon, nutmeg, and cloves. Stir in the raisins, breaking up any clumps. Set aside.
In a medium bowl, whisk together the pumpkin, brown sugar, eggs, oil, milk, and vanilla extract. Pour the wet ingredients into the dry ingredients and stir to completely combine.
Pour the batter into the prepared loaf pan and bake at 350 degrees for 60-65 minutes or until a tester comes out clean. Cool in the pan for 10 minutes then remove and cool completely on a wire rack.
Store tightly wrapped in plastic wrap at room temperature up to 3 days. Bread can also be frozen whole or in individual pieces.
Notes
*I use my nightshade free flour mix in this recipe.
The batter will come up about 1/2 an inch from the top of my bread pan before baking but does not overflow in the oven. If you live in a high altitude area, you may want to split this batter into two loaf pans and bake it for a shorter amount of time.
Recommended Products
As an Amazon Associate and member of other affiliate programs, I earn from qualifying purchases.
Nutrition Information:
Amount Per Serving:
Calories:

296
Total Fat:

9g
Saturated Fat:

1g
Cholesterol:

38mg
Sodium:

243mg
Fiber:

4g
Sugar:

29g
Protein:

5g