Get ready to make all the best Gluten Free Cookies on the web! I've rounded up all the most amazing recipes for every occasion, holiday, or celebration.
This post contains affiliate links for products and ingredients I use and love. You can read my full disclosure here. Thank you for supporting What The Fork Food Blog so I can continue to provide you with free gluten free recipes ♥
Gluten Free Cookies
Grab all your everyday baking ingredients and your baking equipment and let's get to work making some amazing new gluten free cookies.
Baking sheets, mixing bowls and mixers, measuring cups and spoons, and then pull up a few of the new favorite recipes you can find below and start a few new batches of fantastic treats.
As an Amazon Associate I earn from qualifying purchases.
---
What kind of gluten-free flour is best for cookies?
My favorite flour for is my Nightshade Free Gluten Free Flour Blend. But there are several pre-made flour blends that work great too. My favorite store-bought blends are Bob's Red Mill 1:1 Gluten Free Baking Flour, King Arthur Gluten-Free Measure for Measure Flour, and Cup4Cup.
When baking, you want an element of stickiness and elasticity in your cookie dough, and if you don't use a gluten free flour with xanthan gum your dough will be difficult to work with and lack stickiness and elasticity.
Traditional wheat flour contains gluten which acts as a binding agent in your baking recipes. Gluten free flour needs xanthan gum to act as that binding agent.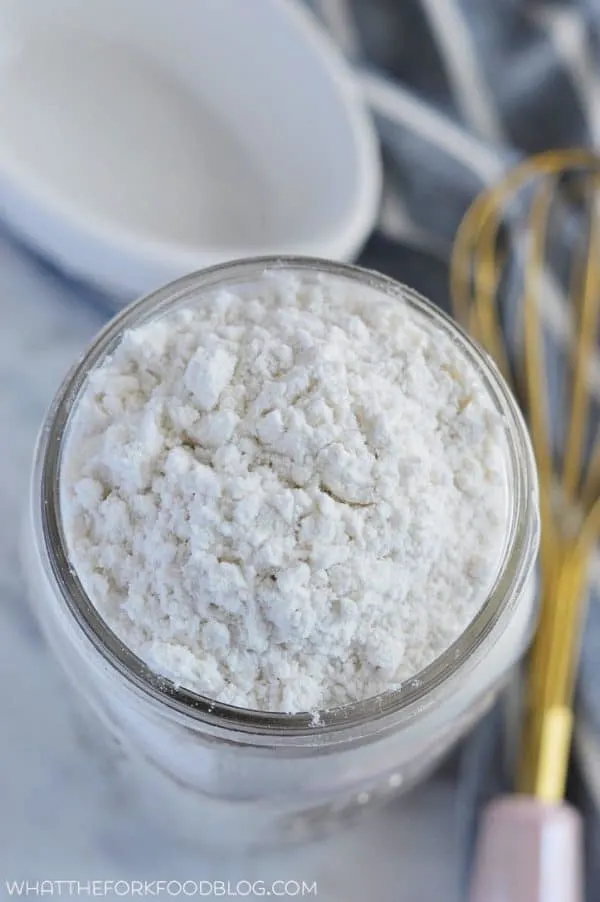 Did you make this recipe? Leave a star rating and let me know in the comments! You can also leave a photo/comment on this pin for others to see.
---
Why do my cookies crumble?
Generally, this happens when your cookie dough or batter doesn't have enough moisture or you over-measured your flour.
As mentioned above, xanthan gum is also an essential ingredient for binding. Without it, cookies will crumble to the touch and have a sandy consistency.
Wheat free cookies are also fairly delicate when they first come out of the oven. It's important to let your cookies cool on the baking pan for 10 minutes when they come out of the oven. After 10 minutes, they're firm enough to move to a cooling rack.
Try using my all purpose gluten free flour blend. It's very versatile and easy to make. You can store it in an airtight container as well to use for future recipes!
---
Can you decorate cookies?
Heck yes, you can decorate your cookies. Just because they're gluten free doesn't change if you can or should decorate them. You can even decorate your homemade gluten free cookies with some homemade frosting too. I like adding some chocolate cream cheese frosting and sometimes the strawberry frosting fits the cookie profile better. Plus, if you need some sweet buttercream frosting, I have you covered too.
But decorating cookies isn't just limited to icing or frosting, don't forget the gluten free sprinkles! They add a fun pop of color to any cookie recipe.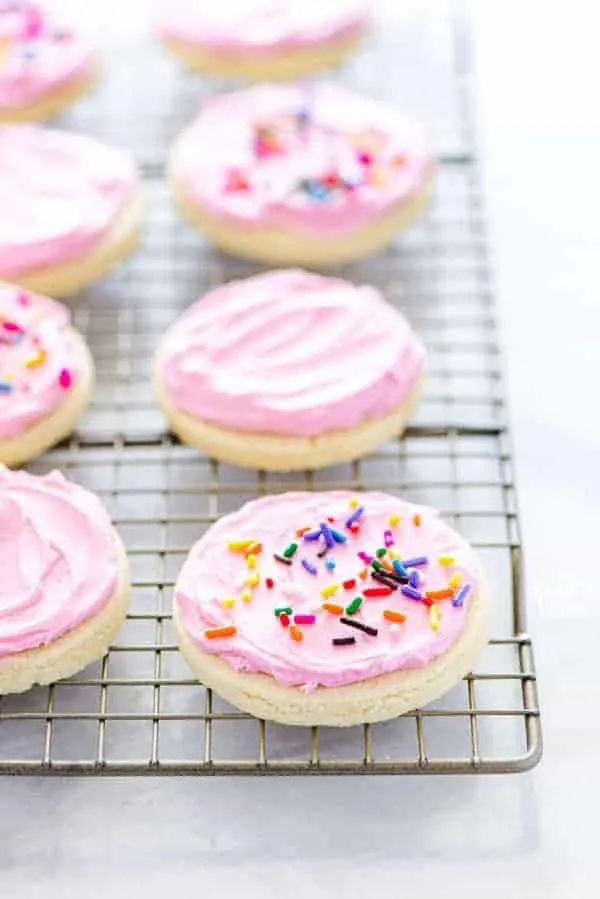 ---
Tips for Baking Homemade Cookies
Each recipe will give you your own set of tips that will help with that specific recipe, but here are a few general baking tips while using gluten free ingredients.
Try to measure your gluten free flour by weight instead of by volume using measuring cups. This is often the easiest thing to screw up in a recipe by over or under packing a measuring cup with four, so if you follow flour weights instead of measurements, you'll have a better chance of following the recipe accurately.
Use room temperature ingredients. Baking with room temperature butter for instance makes it a lot easier to mix into dry ingredients without ending up with a lumpy batter or dough.
Don't skip chilling the dough. If the recipe calls for chilling the dough, don't skip it. There's typically a reason you need to chill the dough before baking. So, take the extra time needed to chill the dough as necessary even if it takes more than 30 minutes.

Chilling the dough helps develop the flavor and provides time for the gluten free flour to absorb the wet ingredients.

Don't be afraid to double a cookie dough batch to freeze some for later if they're freezer friendly. You can thank me later when you just have to thaw the pre-made dough later.
You can make these cookies dairy free by using Miyoko's cultured vegan butter.
---
Helpful Baking Equipment
Grab a cookie scoop to help make even-sized cookies. I like using a Large OXO Scoop.
Line your baking sheets with parchment paper or baking mats to help clean up easier.
Rubber spatulas help make scraping the ingredients down the mixing bowl easier.
You can use either a stand mixer or an electric mixer and mixing bowl. Some recipes may specify if one is easier to use than others.
---
Be sure to follow me on Instagram and hashtag #whattheforkfoodblog or tag @whattheforkfoodblog – I love seeing what you make!
If you love these gluten free cookie recipes, be sure to follow me on social media so you never miss a post:
---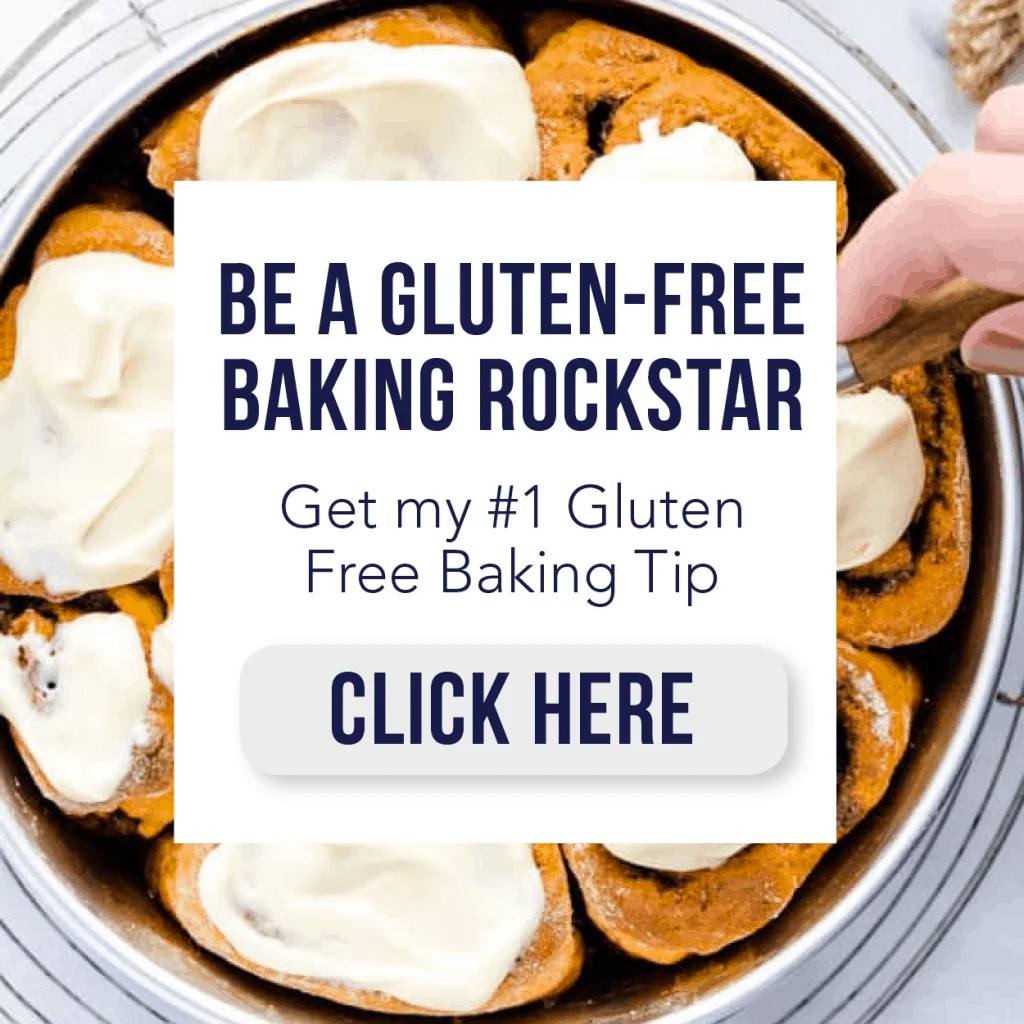 The Best Ever Gluten Free Cookies
All the best gluten free cookies to make for every occasion. Birthdays, parties, celebrations, holidays, cookie and gift exchanges, these cookies know no limits!
Did you make this recipe? Leave a star rating and let me know in the comments! You can also leave a photo/comment on this pin for others to see.