These classic Gluten Free Peanut Butter Blossoms are soft peanut butter gluten free cookies topped with a Hershey's kiss. Peanut butter and chocolate, so deliciously perfect.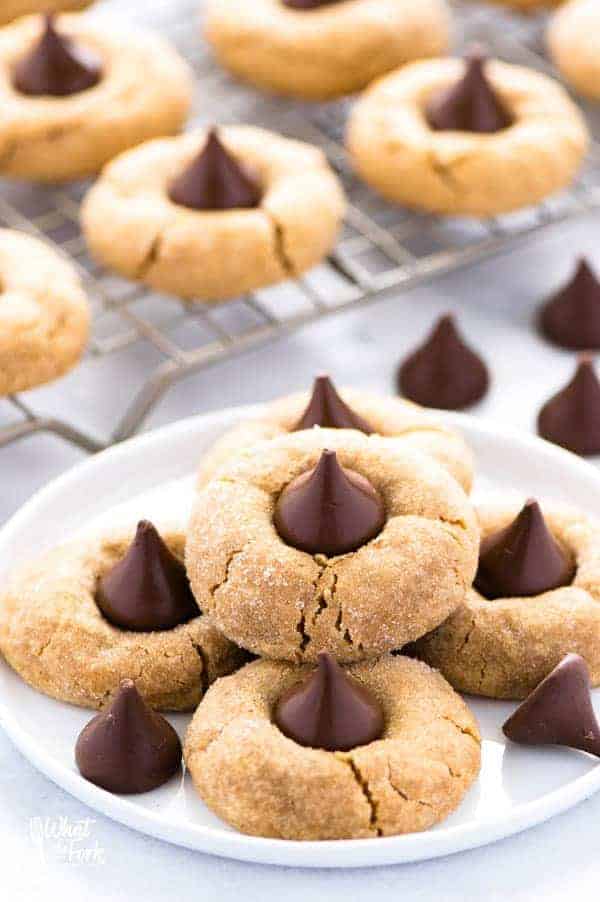 photos updated November 2017
Let's just start by saying this; Santa will be very pleased this year. And by Santa, you know what I mean. I've made his all-time favorite gluten free cookies: the Gluten Free Peanut Butter Blossoms.
Kelsey and I have already gotten a head start on our Christmas baking. We started with some Double Chocolate Thumbprint Cookies last week and then moved on to these little gems. And by gems, you know I mean these perfect little Gluten Free Peanut Butter Blossoms.
Peanut Butter Blossoms are loved by many, many people. There's just something about this gluten free dessert that's so addictingly good. Maybe it's the peanut butter, maybe it's the chocolate. Maybe it's the chocolate peanut butter combination that everyone craves.
Whatever it is, it's just downright delicious. It's the perfect bite in one compact little cookie. Cookie perfection.
In all the years that Adam and I have been together, I never really made peanut butter blossoms for him. Maybe once? His mom makes a million (literally, a million) of them every year at Christmas and gives him a HUGE bag of them.
And by huge, I mean one of those Ziploc bags that are the size of pillow. I wish I was kidding.
They'd last months. Now that Adam isn't eating gluten, I've decided it was time to start making him some gluten free peanut butter blossom cookies.
The gluten-free version was an absolute hit. Adam claims they're better than any peanut butter blossom he's ever had (aww) and I have to agree! The cookie is so, so soft and tender and has such an amazing peanut butter taste. They're really good.
Nobody would be able to tell they were gluten-free unless you told them. They probably won't believe you either.
These gluten free peanut butter blossoms were supposed to be given out for gifts this year but I doubt we'll be giving many away. Adam has already eaten his fair share. Hopefully he'll save a few for Santa. Oh and if you're looking for a cookie without the chocolate, try my gluten free peanut butter cookies. Enjoy!
Watch the video below to see how easy it is to make these cookies! You can also watch the video on Facebook where you can easily share it!
TIP: Roll these in granulated sugar before baking!
be sure to follow me on instagram and hashtag #whattheforkfoodblog or tag @whattheforkfoodblog – i love seeing what you make!
if you love this gluten free peanut butter blossoms recipe, be sure to follow me on social media so you never miss a post:
sign up for my free newsletter subscription for new recipes and exclusive giveaways + my free ecookbook – recipes with chocolate
You can also get the full gluten free peanut butter blossom cookies recipe on Food Fanatic where I am a regular contributor.