Learn how to make a classic pastry recipe, but gluten free! Throughout the month, I'll share recipes to show you all the delicious treats you can enjoy with this basic gluten free pastry shell.
Wow, I can't believe it's already February!
You guys absolutely crushed the January Gluten Free Baking Challenge. SO many gorgoues loaves of Cranberry Orange Bread 😍
After taking such a long break from it, I wasn't sure if anyone would still be interested. But I was wrong, luckily! Can't wait to start another delicious month of baking with you!
Let's Bake!
---
The February Gluten Free Baking Challenge Recipe is ….
Gluten Free Choux Pastry
Some of you may have already guessed this month's challenge recipe when I shared the Choux Pastry recipe yesterday, you smart cookies, you. I had also been teasing some recipes I've made with it in my Instagram stories.
Choux Pastry recipes will be coming your way all throughout the month of February. I can't wait to see which gluten free pastry you'll make and share!
---
Tips for Making Gluten Free Choux Pastry
Don't worry if the butter starts to separate from the dough. Once you start beating it in the mixer, it will re-incorporate.
Make sure the sugar and salt are dissolved fully before allowing the water to come to a boil.
Use kitchen shears to help separate the dough from the pastry tip.
If your pastries start to deflate after removing them from the oven, bake them a little longer.
After baking, you can leave them in the oven for an additional 30 minutes to an hour to completely dry them out, just make sure the oven is off.
I have only made these with my Nightshade Free Flour Blend and haven't experimented with other flours. If you use a different flour, baking times and results may vary.
---
What is Choux Pastry?
Choux Pastry, or also lovingly referred to as "Choux Buns" are light and airy. They can be incorporated into sweet or savory dishes.
You've likely seen them used in profiteroles, éclairs, and cream puffs.
---
Choux Pastry Video Tutorial
---
Where To Share Your Photos
Share your photos to one or more, mentioned below. Only one is required as an entry for the giveaway so don't feel like you need to share everywhere!
Instagram – Share your photo of the Gluten Free Baking Challenge recipe to your public Instagram account. (If it's a private account, I won't be able to see it.)

To qualify, you must use the #gfbakingchallenge and tag @whattheforkfoodblog
Then, you must enter the link to your Instagram post in the giveaway form below.

Facebook Group – If you're a member of the Gluten Free Baking Club Facebook group, you can post your image there.

To qualify for the prize, include the #gfbakingchallenge in your post!
Once your post is approved, grab the link and to the post and enter it into the giveaway form below.

Facebook Page – Share your photo to my What The Fork Food Blog Facebook page with the official baking challenge hashtag, #gfbakingchallenge then enter the link to your post into the giveaway form below the recipe.
---
The February Gluten Free Baking Challenge Prize
This month's gluten free baking challenge prize is a $50 Amazon eGift Card. Please note, your chance of winning the challenge prize has nothing to do with photo quality. Winner will be randomly drawn from the giveaway form. There will be additional entries to increase your chances of winning.
To be eligible for the prize, you must use the entry form to enter. The giveaway form is located at the end of this post directly after the recipe. All winning entries will be verified and winners will be contacted by email.
---
Be sure to follow me on Instagram and hashtag #whattheforkfoodblog or tag @whattheforkfoodblog – I love seeing what you make!
If you love gluten free baking recipes, be sure to follow me on social media so you never miss a post:
---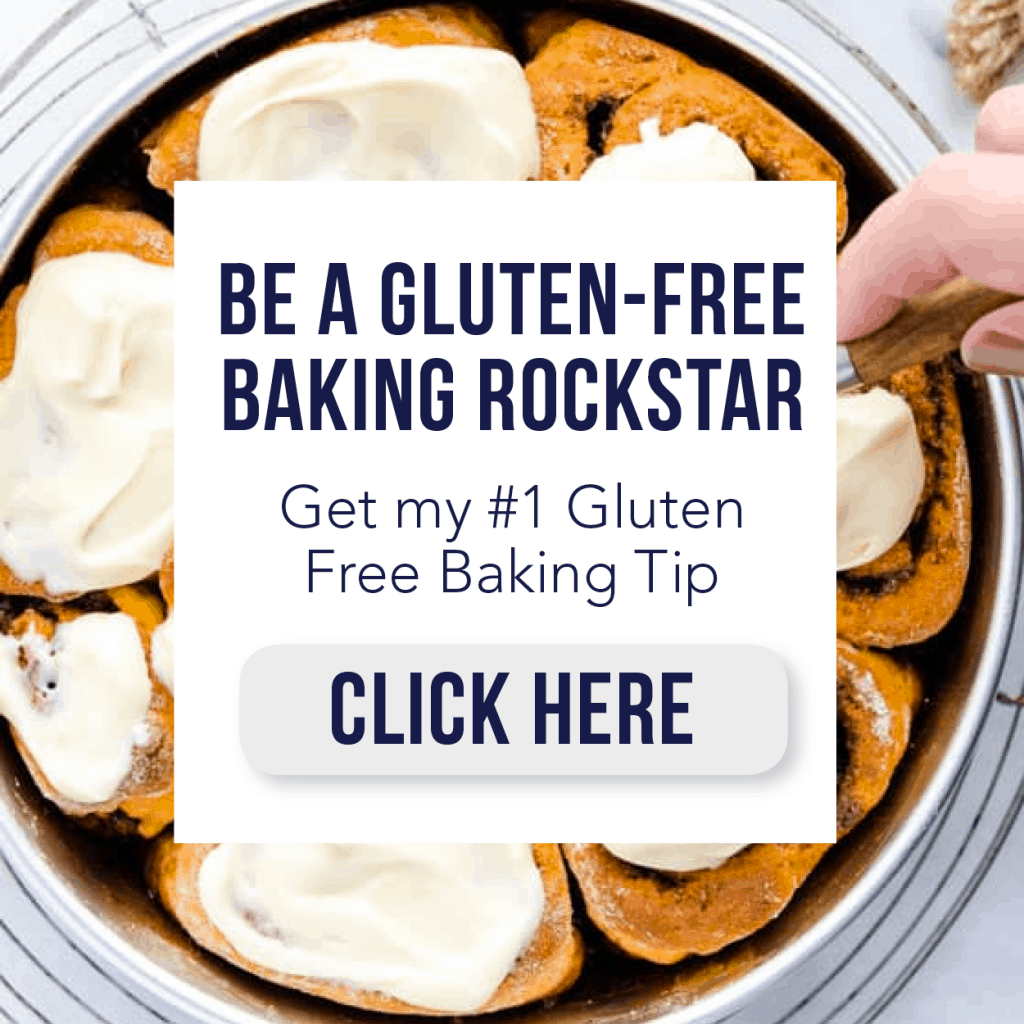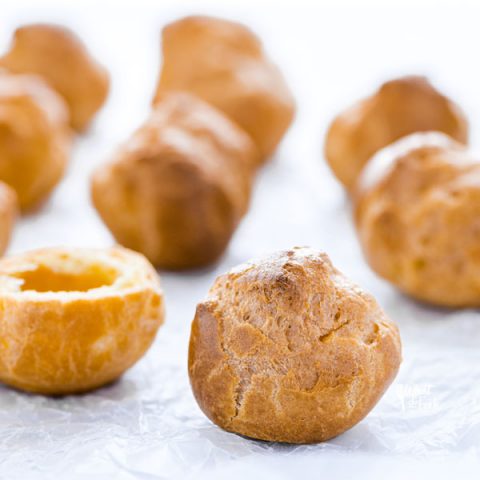 Gluten Free Choux Pastry (Pâte à Choux)
Learn how to make Gluten Free Choux Pastry for Cream Puffs, Eclairs, Profiteroles, and more! The process is easier than you'd think with the most delicious results! Classic French pastries are in your future!
Ingredients
1 cup gluten free flour blend (see notes)
1/2 teaspoon xanthan gum
1/4 teaspoon fine sea salt
1 tablespoon granulated sugar
8 tablespoons unsalted butter
1 cup water
4 large eggs, room temperature
Instructions
Preheat oven to 400 degrees F and line a half sheet pan with parchment paper or a silicone baking mat.
In a small bowl, mix together your gluten free flour and xanthan gum and set aside.
Add the salt, sugar, butter, and water to a medium sauce pan. Heat over medium-high heat and bring to a boil.
Decrease the heat to low and add all of the flour into the hot liquid. Immediately stir it in the flour until it's moistened and has absorbed all the liquid. The dough will start to form into a ball. Continue to cook over low heat for about a minute.
Transfer the dough to the bowl of a stand mixer and let the dough cool, no more than 5 minutes. Then, use the paddle attachment to start beating the dough before adding the eggs. This will help re-incorporate the butter if it has separated a bit.
With the mixer running on medium-low speed, add the first egg. Once the egg is beaten and incorporated, add the second egg. Repeat this step until all the eggs have been mixed into the dough. The dough will look curdled at first but with the addition of each egg, the dough will smooth out and come together. Scrape down the bowl as needed during this process.
Once all the eggs are added, mix for 30 seconds to a minute. You want a smooth, glossy dough. Please note, gluten free choux pastry dough is much thicker than traditional dough made with all purpose flour but should still be pipe-able.
Transfer the dough into a piping bag fitted with a large round tip. Pipe into rounds about 1 1/2 inches wide (about 1 tablespoon of dough) or use a medium scoop to portion the dough. Space the rounds about 2 inches apart to allow for the pastry to puff while baking. Use kitchen shears to help snip the end of the pastry, if desired.
Once you've piped your rounds, dip your fingers in a small bowl of water then smooth out the top of the pastries. You want the surface of the dough as smooth as possible. This will prevent any points from burning and will help form a nicely shaped pastry. If you're making eclairs, use this method to smooth out the ends/tips of the eclairs.
Then sprinkle a very small amount of water over the pastry dough/baking sheet - you shouldn't be leaving large puddles of water, just enough to mist the baking sheet.
Bake the Choux Pastry for 25-30 minutes at 400 degrees. Then, remove from the oven and use a sharp knife to quickly poke a hole in the side of each pastry to help the steam release. Return the pastries to the oven, turn the oven off, and leave them in there for another 5 minutes. When done, the pastries should be dry in the center and hollow on the inside. You can leave them in the oven for an additional 30 minutes to an hour to completely dry them out, just make sure the oven is off.
Remove the baked pastries from the oven and cool completely on a wire rack before filling.
Notes
Watch the VIDEO in the blog post for step-by-step visuals on how to make this pastry.
The recipe yield varies based on the size and type of pastry you're making but this recipe makes enough for about 2 to 2 1/2 dozen round pastries or about 1 1/2 dozen eclairs. If you use a scoop instead of piping, you'll have closer to 1 1/2 dozen.
I used my Nightshade Free Flour Blend. If you use a flour blend that contains xanthan gum, omit the amount called for in the recipe.
The water sprinkled on the pastry dough will create steam in the oven to help the pastries rise and puff.
Fill with whipped cream for cream puffs, ice cream for profiteroles, and pastry cream for Eclairs.
Choux Pastry is best eaten the day it's baked but the unfilled pastries can be stored at room temperature in an air-tight container. To re-crisp the shells, bake them for 5 minutes at 350 degrees.
Fill and chill before serving or serve immediately.
To freeze the dough, shape and smooth the Choux Pastry into your desired shape (rounds or lines) on a baking sheet lined with parchment paper or a silicone mat. Then freeze until the dough is frozen solid. Transfer to a freezer-safe bag and keep frozen for up to a month. Bake from frozen when ready to bake - do not thaw before baking.
Baked and un-filled shells can also be frozen. Defrost at room temperature then re-crisp them in the oven at 350 degrees for 5 minutes.
Recommended Products
As an Amazon Associate and member of other affiliate programs, I earn from qualifying purchases.
Nutrition Information:
Yield:

24
Serving Size:

1
Amount Per Serving:
Calories:

67
Nutrition Facts are estimated and aren't always accurate. Please consult a doctor or nutritionist if you have special dietary needs. Calories are based on 24 round shells but the yield will vary depending on how big/small you pipe the shells.
February 2021 Gluten Free Baking Challenge