This Chocolate Cookies and Cream Cake is one of my favorite cakes ever. Two layers of gluten free chocolate cake frosted with cookies and cream buttercream and topped with crushed gluten free chocolate sandwich cookies – it's the ultimate cookies and cream dessert (and easily adapted for those who aren't gluten free).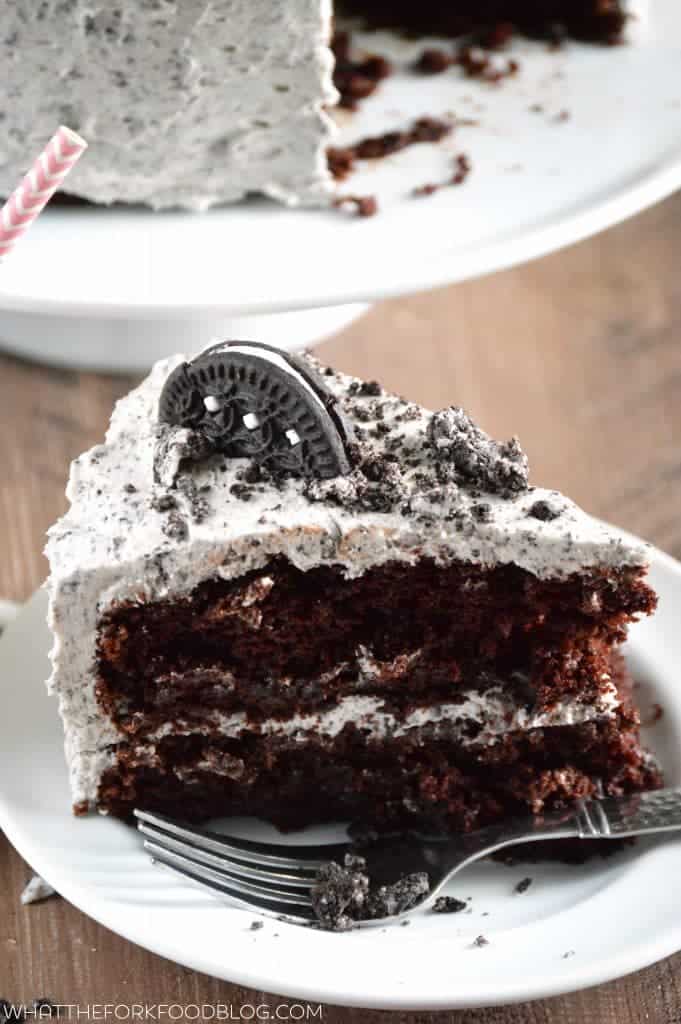 This is a sponsored post written by me on behalf of Kitchen PLAY for Frigidaire and Lowe's. All opinions expressed are 100% mine
Gluten Free Chocolate Cookies and Cream Cake
Remember when I wrote about EVERYTHING in my house breaking? And my refrigerator was one of them? Yeah. That was awesome. And by awesome, I mean awful.
If you follow me on Instagram, you got to see a sneak peek of the world's saddest fridge. And by sad, I mean almost totally empty. Pretty much the opposite of what a refrigerator is supposed to be. We had the bare basics – eggs, juice and iced coffee. I'll never not have coffee in my fridge. Ever.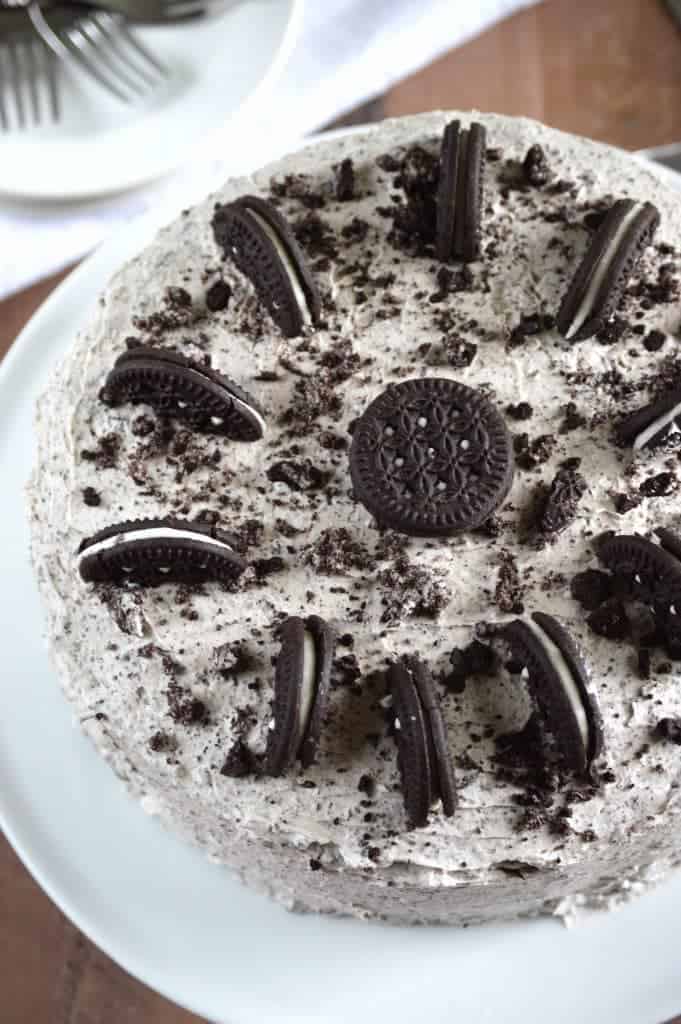 Since our little fridge fiasco last month, I've really been thinking about my kitchen and how much I'm not in love with it. Every time I'm in there I think about what I'd change, some things I'd love to have and the kind of appliances I'd want to use. A full remodel is definitely not doable right now, but if I were to make some easy tweaks, I'd definitely start with replacing my appliances.
The new Frigidaire Professional Collection has affordable, professional-grade appliances that are available at Lowe's and are compatible with standard-sized spaces so they fit into existing kitchens. That means there's no need to completely renovate your kitchen.
First up on my replacement list would be the Fridgidaire Standard-Depth French Door Refrigerator, because I can't cook anything if I can't keep my food fresh, right?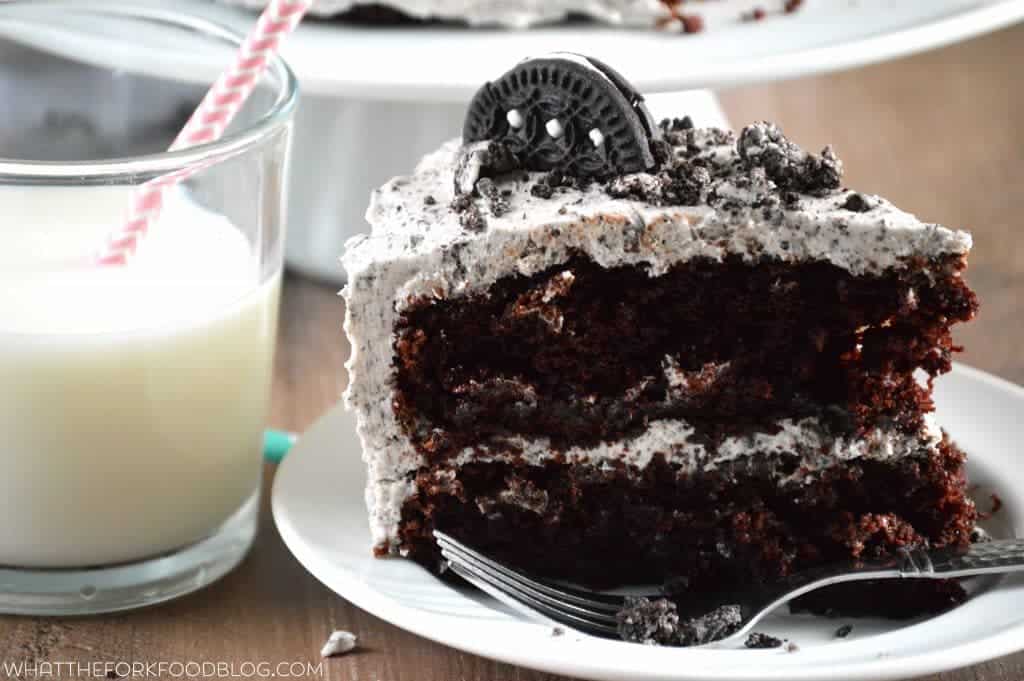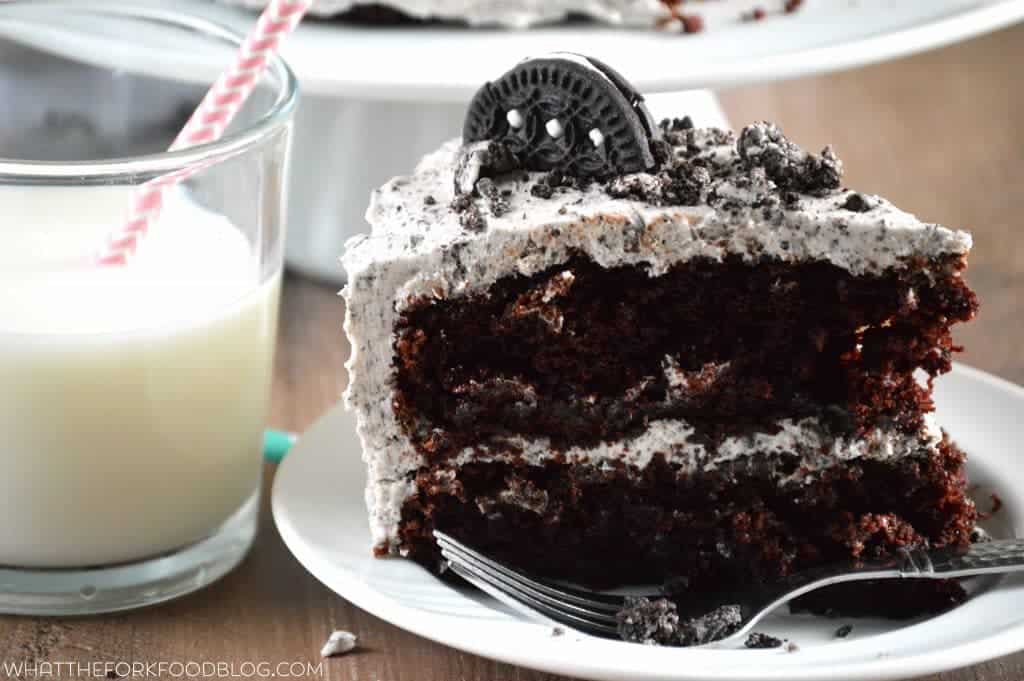 When Adam and I started house hunting 5 years ago, our realtor asked us what our must-haves were in a house. My number one must-have was a big kitchen. Well guess what! The house we bought had everything we wanted EXCEPT a big kitchen. It's tiny, dark, has virtually no storage or counter space and it's definitely not a cook's kitchen. Good thing I spend the majority of my day there –> insert major eye roll here.
There are a few things you can do to quickly update your kitchen without having to fully remodel or blow your budget. Replacing your appliances, painting your walls, changing the cabinet hardware/faucet, and updating lighting is a great way to start.
I'm swooning over all of the appliances in the Frigidaire Professional Collection. Especially the dishwasher – it washes a full load in 30 MINUTES. You guys, that's a game changer for me. 30 minutes!
Another game changer? All of the appliances in the Frigidaire Professional Collection come in smudge-proof stainless steel. SMUDGE-PROOF. I have two toddlers, two dogs and a husband – everything in my house needs to be smudge-proof, stain-proof, waterproof and come with free samples of sanitizing wipes.
My Dream Kitchen Inspiration Board
How would you update your kitchen in a weekend?
But you guys, let's talk about this cookies and cream cake. This cake…omg. So good. It's my standard chocolate cake that I always make but it's transformed by the cookies and cream buttercream. I used this same chocolate cake in my Chocolate Peanut Butter Cup Ice Cream Cake recipe but the recipe was halved to make two 6-inch layers. This cake is a regular 9 inch sized cake and it's insanely moist with the perfect chocolate flavor.
The Frigidaire Back-Control Electric Range delivers consistent results so you know any cake baked in this oven will be amazing. I especially love that it has a convection option – something I really want in an oven upgrade.
What really makes this cake stand apart though, is the cookies and cream buttercream. It's my basic vanilla buttercream with some gluten free chocolate sandwich cookies mixed in. Having tried and true basic recipes for chocolate cake and vanilla buttercream means you can use them as a canvas for whatever flavors you want to transform them into. A cookies and cream cake is an excellent variation.
Be sure to follow me on instagram and hashtag #whattheforkfoodblog or tag @whattheforkfoodblog – I love seeing what you make!
If you love this easy recipe for gluten free chocolate cookies and cream cake, follow me on social media so you never miss a post:
---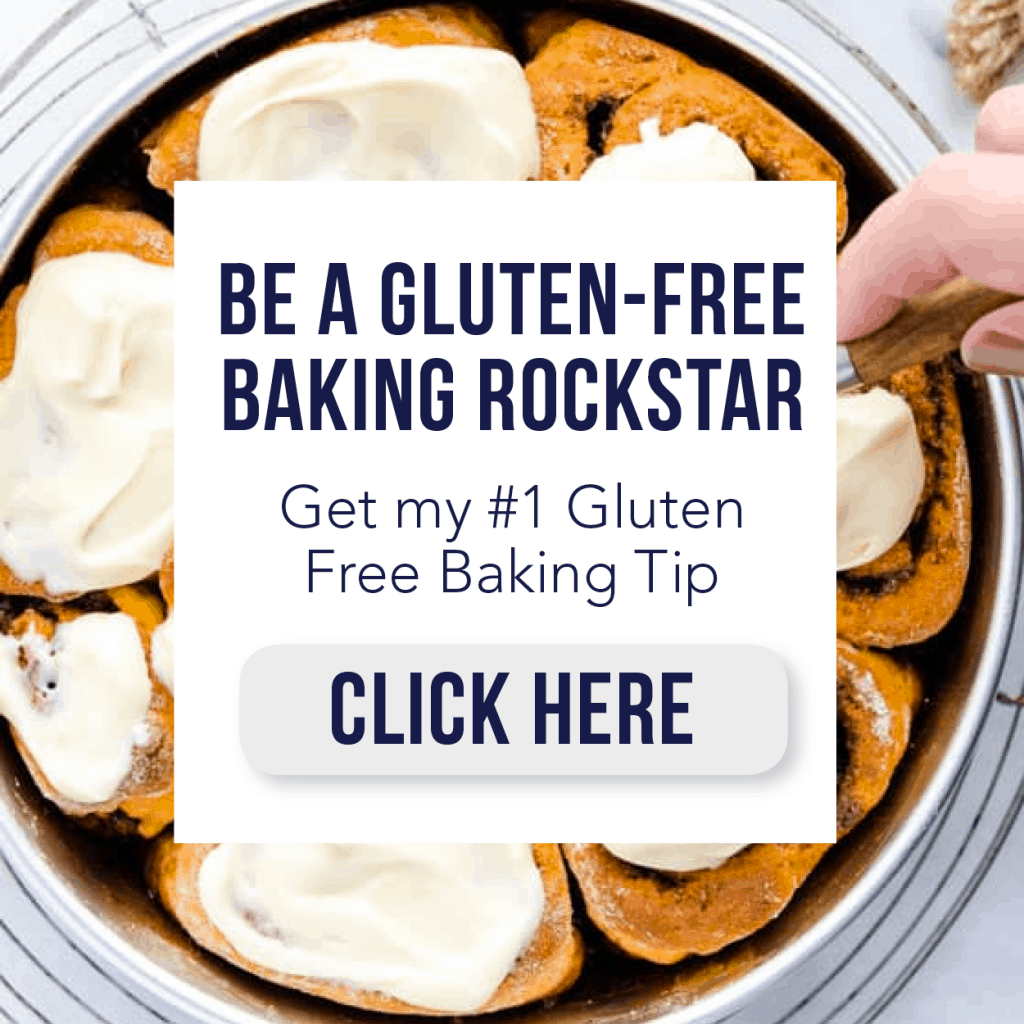 Chocolate Cookies and Cream Cake
Total Time:
1 hour
15 minutes
This Chocolate Cookies and Cream Cake is one of my favorite cakes ever. Two layers of gluten free chocolate cake frosted with cookies and cream buttercream and topped with crushed gluten free chocolate sandwich cookies – it's the ultimate cookies and cream dessert.
Ingredients
For the Chocolate Cake
1 3/4 C gluten free all-purpose flour
3/4 tsp xanthan gum (omit if your blend contains it or you're using regular AP flour)
2 C sugar
3/4 C cocoa powder
2 tsp baking soda
1 tsp baking powder
1 tsp kosher salt
1 cup buttermilk (or 1 C milk + 1 Tbsp white vinegar)
1/2 C canola oil
2 eggs, room temperature
2 tsp vanilla extract
1 C hot coffee
For the Cookies and Cream Buttercream Frosting
1 C butter, room temperature (2 sticks)
3 C powdered sugar
1 tsp vanilla extract
3 Tbsp heavy cream
21 gluten free chocolate sandwich cookies (or Oreos), divided
Instructions
Preheat oven to 350 degrees and spray 2 9-inch cake pans with non-stick spray. Line the bottom of the pans with parchment paper and spray that parchment paper with non-stick spray.
In the bowl of a stand mixer, sift together the flour, xanthan gum, sugar, cocoa powder, baking soda, baking powder and salt. Use the paddle attachment to mix the dry ingredients on low speed.
In a separate bowl, whisk together the eggs, buttermilk, oil and vanilla.
With the mixer running on low speed, slowly pour the wet ingredients into the dry ingredients. Mix until completely combined.
Scrape down the sides and bottom of the bowl and pour in the hot coffee. Mix on low until incorporated.
Pour the batter (it will be very thin and pretty liquidy) evenly between the two pans. Bake at 350 degrees for 35 - 40 minutes. Mine was done after 37 minutes.
Cool the cakes on a wire rack (in the pan) for about 20 minutes. Carefully remove the cakes from the pans and cool completely on a wire rack.
When the cakes are cool, prepare the buttercream.
Add the butter and powdered sugar to the bowl of a stand mixer and beat until completely smooth. Turn the mixer to a medium-high speed and beat for 3 minutes. Add the vanilla extract and heavy cream and beat on medium-high for an additional minute. Set aside.
Add 15 chocolate sandwich cookies to the bowl of a food processor. Pulse until coarse cookie crumbs form. Some larger chunks are fine as long as they are smaller than a dime but the majority should be crumbs.
Remove 1/2 cup of the cookie crumbs and set aside. Add the rest of the cookie crumbs to the buttercream and mix until combined and there are no longer any streaks without cookie crumbs.
Place one of the cakes on a cake plate or stand. Add 1/4-1/3 of the buttercream to the top of the cake and spread until smooth. Sprinkle 1/4 of the reserved cookie crumbs on top of the buttercream.
Carefully place the remaining cake on top and cover with the remaining frosting. Arrange the remaining 6 chocolate sandwich cookies on top of the cake as desired. I cut 5 in half and left one whole. Sprinkle the remaining crumbs over the top of the cake. Serve at room temperature.
Notes
*Regular all-purpose flour can be used in place of the gluten free flour. Use an equal amount and omit the xanthan gum.