This Andes Mint Chip Ice Cream is a great summer treat. It's creamy, has a wonderful mint flavor and is full of crunchy Andes Mint Creme de Menthe bits. It's the perfect minty dessert.
Mint chip ice cream has always been one of my favorites and this Andes Mint Chip Ice Cream does not disappoint. It is so minty, so creamy, studded with Andes mint bits and just plain amazing. To say I love it would be an understatement. At this point in my life, if I had to choose ONE ice cream to have for the rest of my life, this would be it.
This post may contain affiiliate links – you can read my full disclosure here. Thank you for supporting What The Fork Food Blog!
If you love mint, this ice cream is for you.
If you love ice cream, this ice cream is for you.
If you love the color green, this ice cream is for you.
If you love breathing, this ice cream is for you.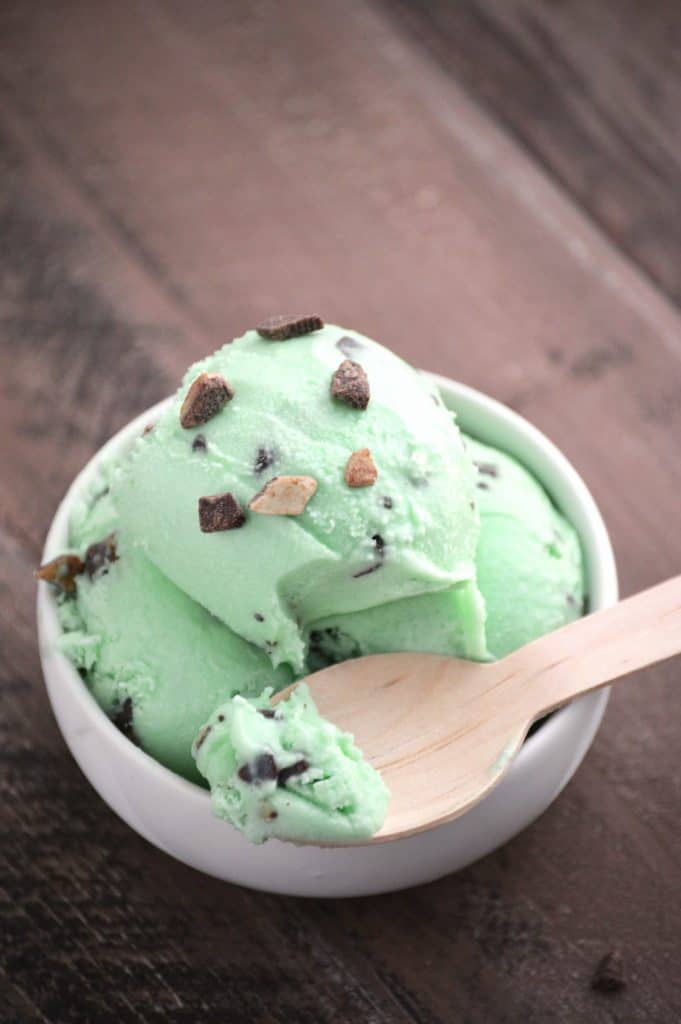 [Tweet "I scream, you scream we all scream for ICE CREAM – Andes Mint Chip style."]
Basically, no matter what, this mint chocolate chip ice cream recipe is for you. Unless you don't like mint. Then I don't think I can be your friend. How do you even brush your teeth if you don't like mint? I'm not here to judge but really, you must like it. Or else.
Just kidding.
#butnotreally
Enjoy!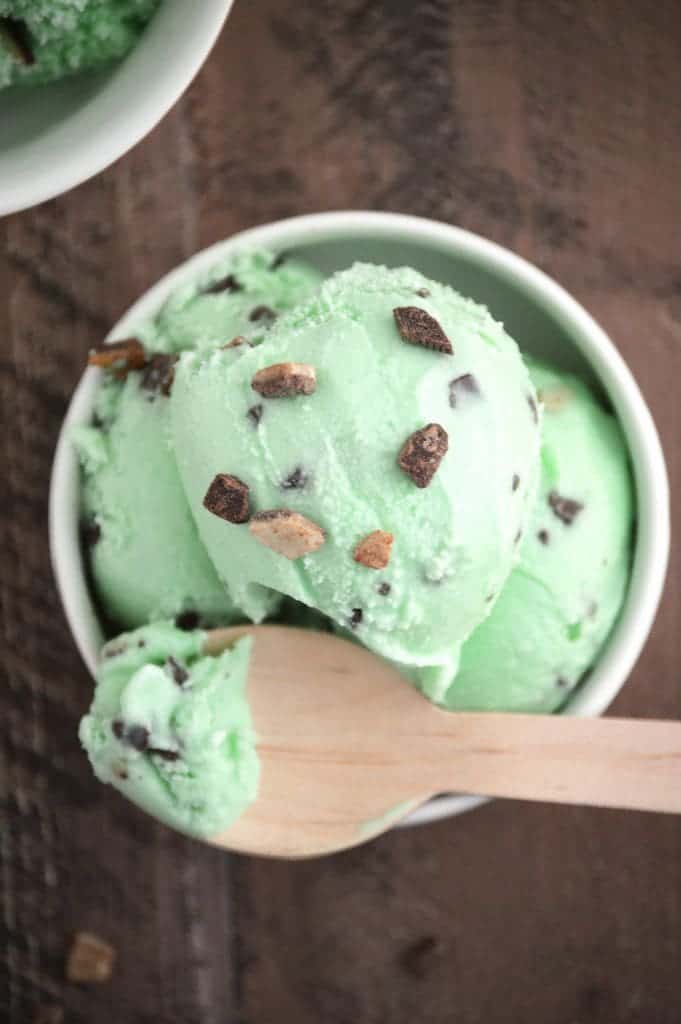 be sure to follow me on instagram and hashtag #whattheforkfoodblog or tag @whattheforkfoodblog – i love seeing what you make!
if you love this recipe for andes mint chip ice cream, be sure to follow me on social media so you never miss a post:
sign up for my free newsletter subscription for new recipes and exclusive giveaways + my free ecookbook – recipes with chocolate
Andes Mint Chip Ice Cream
Ingredients
2 C heavy cream
1 C whole milk
3/4 C sugar
2 tsp vanilla extract
1 1/2 tsp peppermint extract
10-15 drops green food coloring (optional)
1 C Andes Creme de Menthe baking bits
Directions
In a medium bowl, whisk together the heavy cream, whole milk, sugar, vanilla, peppermint, and food coloring. Pour the mixture into a 2 quart ice cream machine and churn according to manufacturers directions.
After 20 minutes, add in the Andes bits and churn an additional 5 minutes. Transfer the ice cream into a 2 quart container and freeze until hard, about 2 hours.
OTHER HOMEMADE ICE CREAM RECIPES YOU MIGHT LIKE:
No Churn Chocolate Ice Cream from What The Fork Food Blog
Vegan & Paleo Fudge Tracks Ice Cream from Allergy Free Alaska
The Best Chocolate Ice Cream from American Heritage Cooking
Vegan Strawberry Coconut Chocolate Chip Ice Cream from Snixy Kitchen
Homemade Peach Ice Cream from What The Fork Food Blog