This Gluten Free Green Bean Casserole will be the star of your Thanksgiving Day feast. It's full of flavor due to the special sherry mushrooms and homemade crispy shallots. Everyone will be begging for seconds!
Gluten Free Green Bean Casserole
I'm about to let you in on a little secret: This gluten free green bean casserole is probably the best green bean casserole you'll ever have. I'm not trying to brag or anything, I'm just telling you the truth.
The reason it's so delicious? Everything about this casserole is delicious. All the components, individually, are amazing. The crispy fried shallots – yum. The perfectly cooked blanched green beans – double yum. The sherry mushrooms – OMG YUM.
It was so hard to stop picking at all the little pieces of deliciousness as I was making the dish.
And wait, what was that? Sherry mushrooms? Oh yes. I can and I did. While everything here is delicious, it's those sherry mushrooms that will send you singing to the rooftops, if that's your thing.
If that's NOT your thing, you'll still be begging for seconds, thirds and to lick the casserole dish before it hits the sink. The sherry just kind of permeates the whole dish and a spectacular way without taking over. It really is quite addicting.
And watch out, if you bring this gluten free green bean casserole to somebody's house for Thanksgiving, it WILL be the star of the show and nobody will give a fork about that turkey.
People will be having fork fights to get that last little bit of mushroom or green bean left behind. Be prepared, you'll want to be the victor that comes out on top of that fight and get your sweet green bean reward.
I'm going to be honest though, this casserole is a little bit of work. But like with everything, it's totally worth it. There are several steps to making this that make it a bit of a process. First, frying the shallots and then blanch the green beans.
Be sure to follow this guide for how to blanch green beans for perfectly cooked green beans!
But to make life a little easier for you come Thanksgiving morning, you can blanch the green beans and fry the shallots up to two days ahead of time. You can even do the shallots earlier than that, just store them in the freezer and toss them on top of the casserole frozen.
They'll crisp right up again without a problem. (You can also use my favorite crispy fried onion straws instead of the shallots for an extra wow factor).
Every bit of work that goes into this gluten free casserole is worth the effort. You will be amazed. Everyone will be amazed. And you'll be making this dish for Thanksgiving forevermore.
If you're looking for another veggie side for Thanksgiving, try these Roasted Shredded Brussles Sprouts from my friend Natalie at Perry's Plate – they look incredible! And don't forget to serve up a great gluten free dessert like my Gluten Free Fudge Pecan Pie or Gluten Free Apple Pie.
I've also put together a lengthy post to give you TONS of options for a complete Thanksgiving Day meal – be sure to check it out! If you're looking for a casserole dish that is paleo, low carb, and has an asian twist to it, try Cotter Crunch's Drunken Chicken Zoodle Casserole! It will definitely impress your guests!
You can also see the full gluten free green bean casserole recipe on Food Fanatic. Enjoy!
---
be sure to follow me on instagram and hashtag #whattheforkfoodblog or tag @whattheforkfoodblog – i love seeing what you make!
if you love this recipe for gluten free green bean casserole, be sure to follow me on social media so you never miss a post:
---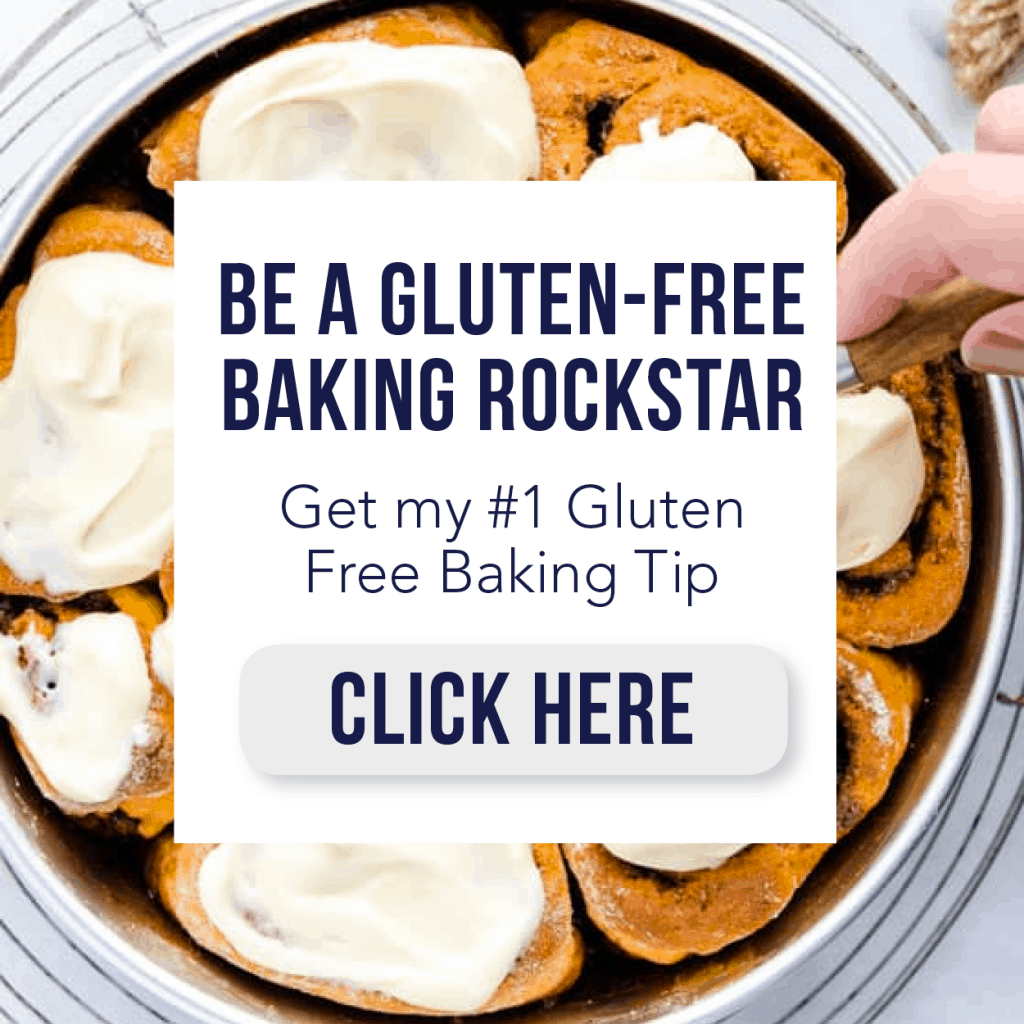 Gluten Free Green Bean Casserole
Total Time:
1 hour
45 minutes
This Gluten Free Green Bean Casserole will be the star of your Thanksgiving Day feast. It's full of flavor due to the special sherry mushrooms and homemade crispy shallots. Everyone will be begging for seconds!
Ingredients
Canola Oil, For frying
6 large Shallots, Sliced into rings
3/4 cup All-Purpose Gluten Free Flour, Divided
1/4 teaspoon Ground Black Pepper
1/2 teaspoon Garlic Salt
1/8 teaspoon Ground Cayenne Pepper
2 pounds Fresh Green Beans
For the Casserole:
4 tablespoons Butter, Divided
1 tablespoon Extra Virgin Olive Oil
1 pound Baby Portabello Mushrooms, Sliced
1/4 cup Shallot, Finely chopped
3 cloves Garlic, Minced
1/3 cup Dry Sherry
1 cup Gluten Free Chicken Broth
1 cup Half & Half
Salt and Pepper, To taste
Instructions
To Make the Fried Shallots:
1. Pour canola oil to a large heavy bottom pot to cover the bottom by two inches. Heat over medium heat to 350°F.
2. While the oil is heating, add 1/2 cup of the gluten free flour, black pepper, garlic salt, and cayenne pepper to a medium sized bowl and whisk together. Add the sliced shallot rings and toss to coat in the flour mixture.
3. When the oil is hot, shake of the excess flour from the shallots and fry the shallots in batches until golden brown, 2-4 minutes.
4. Use a slotted spoon or spider to remove the shallots from the oil and drain on a paper towel lined plate. Immediately season with salt and repeat the frying process until all the shallots are fried.
5. The shallots can be made and refrigerated a few days ahead of making the green bean casserole. You can also freeze them and add them to the casserole frozen.
To Blanch the Green Beans:
1. Trim the tops of the green beans and then cup the green beans in half. Fill a large pot half-way with water and bring to a boil.
2. While the water is heating up, fill a large bowl with ice and cold water.
3. When the water comes to a boil, add 1 tablespoon sea salt to the water. Then add half the green beans. Boil the green beans for 2 minutes then remove with a slotted spoon and place the green beans in the ice cold water (which stops the cooking). Remove the green beans from the ice water, place in a colander, and set aside.
4. Repeat the blanching process with the remaining green beans until all of the green beans are cooked.
5. The green beans can be blanched up to two days before making the rest of the green bean casserole – just blanch and refrigerate until ready to use.
To Make the Casserole:
1. Preheat oven to 375°F and grease a 13x9" casserole dish with 2 tablespoons butter.
2. Heat the remaining 2 tablespoons butter and the olive oil over medium heat in a large skillet (a 12-14 inch skillet is best).
3. When the butter is melted and the oil is hot, add the mushrooms and cook until slightly softened, about 8-10 minutes. Add the chopped shallots and garlic and cook until the shallots are softened, about 5 minutes. Season with salt and pepper.
4. Add the sherry to the mushrooms and stir well, scraping up any bits that are stuck to the pan. When the sherry is nearly evaporated, stir in the remaining 1/4 cup gluten free flour. Stir well to coat all the mushrooms and cook for 1 minutes.
5. Slowly stir in the chicken broth and the half & half. Continue to heat and stir occasionally until the mixture comes to a simmer. Add in the green beans and stir well, coating all the green beans. Season with salt and pepper to taste.
6. Transfer the green bean mixture to the prepared baking dish and bake for 20 minutes.
7. After 20 minutes, top the green bean casserole with the fried shallots and bake for an additional 5-10 minutes or until bubbling and the top is browned.
8. Let the casserole sit 5-10 minutes before serving.
Recommended Products
As an Amazon Associate and member of other affiliate programs, I earn from qualifying purchases.