This Cranberry Upside-Down cake is the perfect combination of sweet and tart. Fresh cranberries are the star of this delicious dessert. Serve it for Thanksgiving, Christmas, or any time of the year – your guests will leave satisfied and happy!
This post is sponsored by Bridges Produce for Patience Fruit & Co. As always, thank you for supporting brands that support What The Fork Food blog ♥
Cranberries are one of those fruits that seem to have a single, yearly purpose and then they're forgotten about until next year. Today, I'm here to tell you that cranberries are not a once-a-year food. They're so much more than cranberry sauce and they're perfect for so many different recipes. Plus, you can use them year round!
I teamed up with Bridges Produce and Patience Fruit &, Co. to bring you this fabulous cranberry upside-down cake today. I met the great people behind Bridges Produce during my trip to Atlanta for PMA's Fresh Summit. Patience Fruit & Co. produces sustainably grown organic cranberries in Quebec, Canada which are in season late September through late December.
Fresh cranberries keep really well in the refrigerator and they also freeze really well. You can stock up now and freeze any extra to use the rest of the year, which is exactly what Adam's grandparents do. Cranberries are great in desserts (like this!) and they're even delicious with meat other than turkey – like pork! I LOVE cranberries with pork, so wintery and delicious!
Last year, I shared my slow-cooker cranberry sauce and my cranberry orange bread with you. This year, I'm going beyond the basics and I made a spectacular cranberry dessert: Cranberry Upside-Down Cake. And ohmygerd is it good!
Also, next month I'll be posting a Cranberry Orange Sangria. Can't get through the holidays without a drink!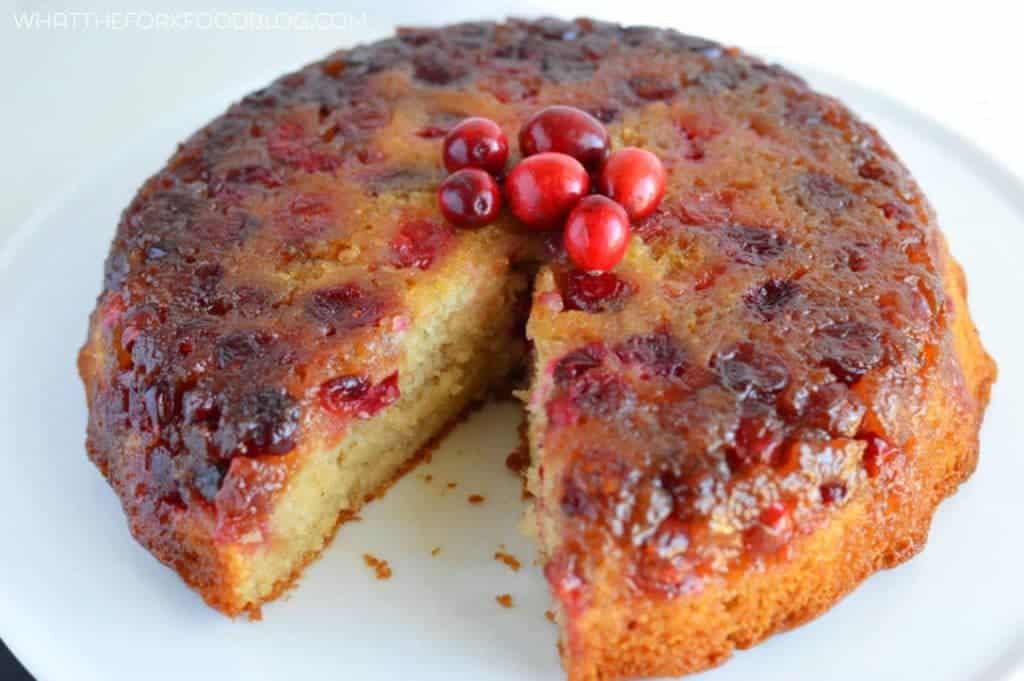 I adapted the cake from my pineapple upside-down cake and let me tell you, that was a really good cake. BUT, I think I like this version more! There's so much going on here; moist and flavorful yellow cake, sweet caramelized brown sugar glaze, tart cranberries… so, so good! Top it with some vanilla ice cream for an even greater experience! Enjoy!
PS- If you're looking for more fall classic dessert recipes, you have to try Michelle's Gluten Free Apple Streusel Pie from My Gluten-Free Kitchen. It's easy to make and packed full of flavor!
Cranberry Upside-Down Cake
Ingredients
1 3/4 C fresh cranberries
1/4 C vegan butter
1/2 C light brown sugar, packed
1 2/3 C gluten free all-purpose flour
1/4 C granulated sugar
3/4 C light brown sugar, packed
3/4 tsp xanthan gum
1/2 tsp baking powder
1/4 tsp baking soda
1/2 tsp fine sea salt
1/2 C vegetable oil
1 egg, room temperature
1/4 C dairy free vanilla yogurt
3/4 C unsweetened coconut milk (from the carton)
2 tsp white vinegar
1 tsp vanilla extract
1 tsp almond extract
Directions
Preheat oven to 350 degrees.
Melt the 1/4 cup of vegan butter and pour over the bottom of a 9 inch pie plate (preferably a deep dish but regular will work). Sprinkle 1/2 cup of light brown sugar evenly over the butter and top with the fresh cranberries.
In a large bowl, whisk together the flour, granulated sugar, 3/4 C brown sugar, xanthan gum, baking powder, baking soda, and salt.
In a separate bowl, whisk together the vegetable oil, egg, yogurt, milk, vinegar, vanilla, and almond extract. Pour the wet ingredients into the dry ingredients and mix well. Pour over the cranberries and spread the batter evenly in the pan.
Bake at 350 degrees for 45-55 minutes or until a cake tester comes out clean. Mine took 45 minutes in my convection oven.
Cool in the pan for 10 minutes then invert onto a cake stand or plate. Serve warm or room temperature. Leftovers can be stored covered at room temperature for several days.
Recipe Notes
For a non-dairy free version use regular butter, yogurt, and buttermilk in place of the melted butter, coconut milk, and vinegar.
*Use regular all-purpose flour in place of the gluten free flour and omit the xanthan gum for a non-gluten free cake.
be sure to follow me on instagram and hashtag #whattheforkfoodblog or tag @whattheforkfoodblog – i love seeing what you make!
if you love this recipe for cranberry upside-down cake, be sure to follow me on social media so you never miss a post:
sign up for my free newsletter subscription for new recipes and exclusive giveaways + my free ecookbook – recipes with chocolate
Other Cranberry Recipes You Might Enjoy:
Cranberry Orange Bread – What The Fork Food Blog
Cranberry Lemon Cake – Gluten Free Blondie
Cranberry, Ginger, and Coconut Bundt Cake – Beard + Bonnet
Gluten-Free Cranberry Lemon Curd Tart with Gingersnap Crust – Cafe Johnsonia
Baked Pears with Honey, Cranberries, and Pecans – Small Green Kitchen
Cranberry Cheesecake – Roxana's Home Baking