Gluten Free Tater Tots – The freezer staple all grown up.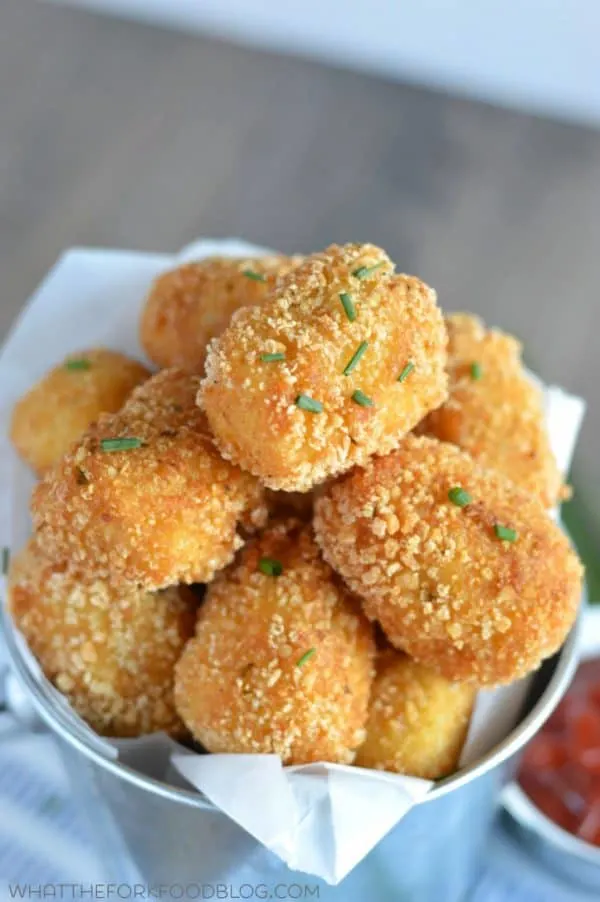 Today's post is brought to you by the US Potato Board for Honest Cooking. As always, all opinions are my own. Thank you for supporting brands that support What The Fork Food Blog.
Gluten Free Tater Tots
Potato tots are one of those beloved foods that's loved by just about everyone. Except me. I never really loved the frozen version.
I didn't eat them growing up because we didn't buy tater tots. I think my parents had a "Why buy it when you can make it" type of mentality.
So yeah… Tater tots are not one of those nostalgic "oh my god I ate that all the time growing up!" kinds of food for me. Unless, they're homemade. Because homemade gluten free tater tots are totally awesome. So these are awesome-tots.
Randy: Napoleon, give me some of your tots.

Napoleon Dynamite: No, go find your own.

Randy: Come on, give me some of your tots.

Napoleon Dynamite: No, I'm freakin' starving! I didn't get to eat *anything* today.

Randy: [Kicks the pocket with the tots, crushing them]

Napoleon Dynamite: Ugh! Gross! Freakin' idiot!
Sorry. It just seemed appropriate.
Adam is a big fan of tots. And Napoleon Dynamite. It's like the only movie he can actually quote.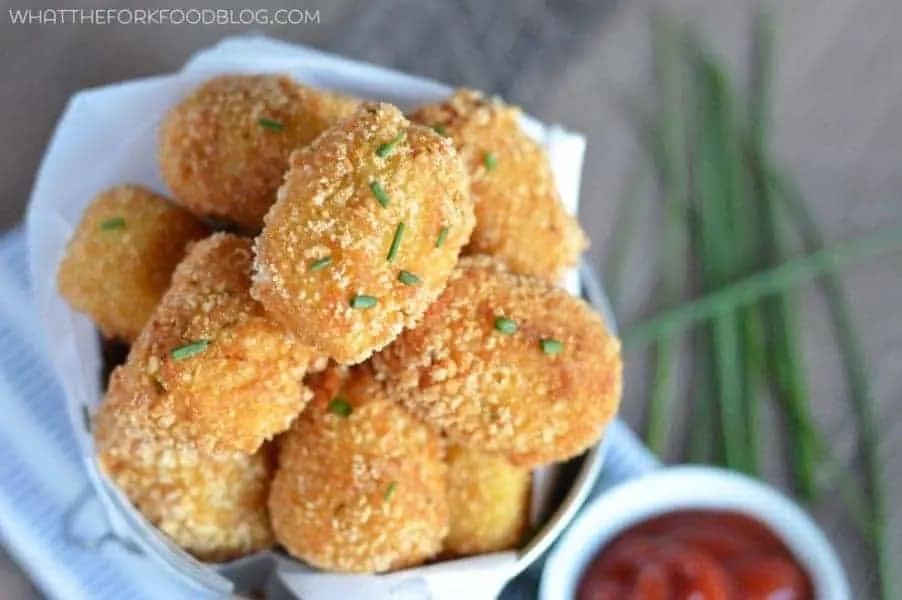 ANYWAYS. I make my potato tots about twice the size as store bought ones. You can make them store bought size if you'd like.
Just remember, you're hand-rolling these little nuggets of potato puff delicousness so if you enjoy things like looking for needles in haystacks, counting pennies, or waiting for the cows to come home, then rolling tiny tots just might be the thing for you.
I have about as much time and patience to make these as my toddler and 3-year-old allow. So bigger potato tots it is!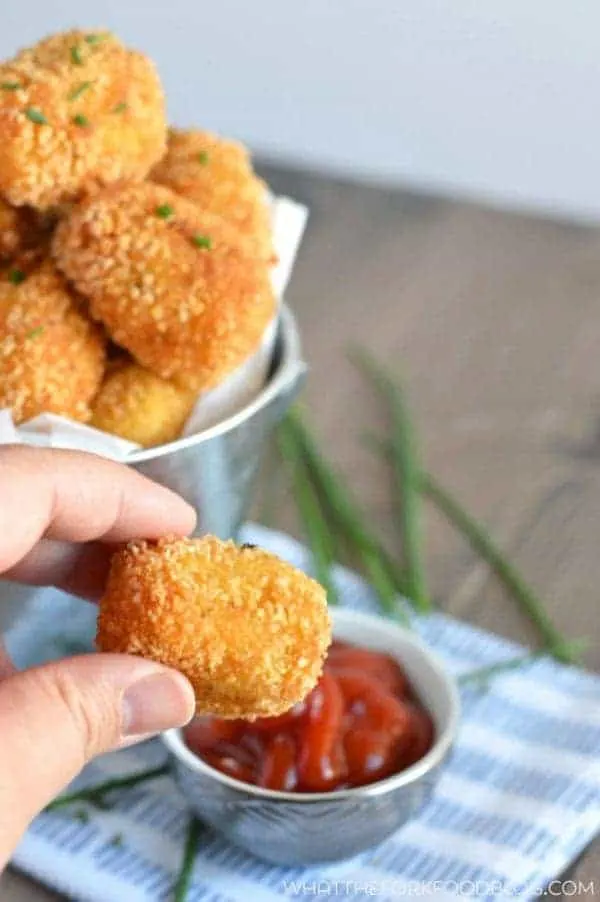 These gluten free tater tots, although pan fried, are still a better choice than store-bought ones. You can completely control the ingredients you use.
For these, that means minimal ingredients with real potatoes being the bulk of the recipe. I also made these dairy-free which means my whole family can enjoy them.
If you would rather air fry your tater tots, try this tater tots in air fryer method! I've been obsessed with my air fryer lately and this will be my next recipe to make in it!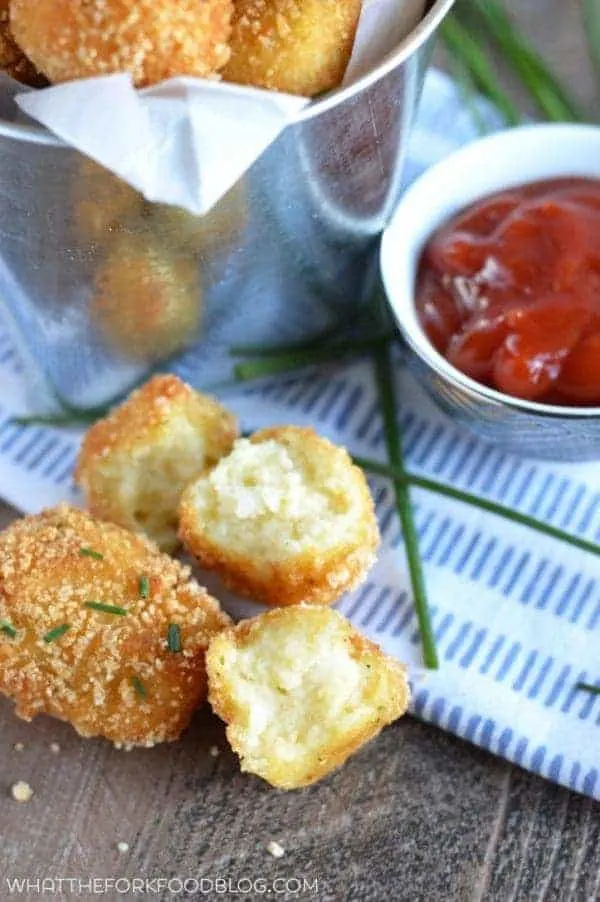 Not only are these a great side dish for dinner, they're great for lunches. If you're trying to make more of an effort to skip the drive-thru and bring your lunch to work, you can have these and still have your beloved potatoes.
And I must admit, these are way tastier than fries 😉
BUT if you want to try some delicious fries, try these Baked Sweet Potato Fries with a Mustard Dipping Sauce. If you're feeling something else for a snack, try Gluten Free Fried Onion Straws!
---
be sure to follow me on instagram and hashtag #whattheforkfoodblog or tag @whattheforkfoodblog – i love seeing what you make!
if you love this recipe for gluten free tater tots, be sure to follow me on social media so you never miss a post:
---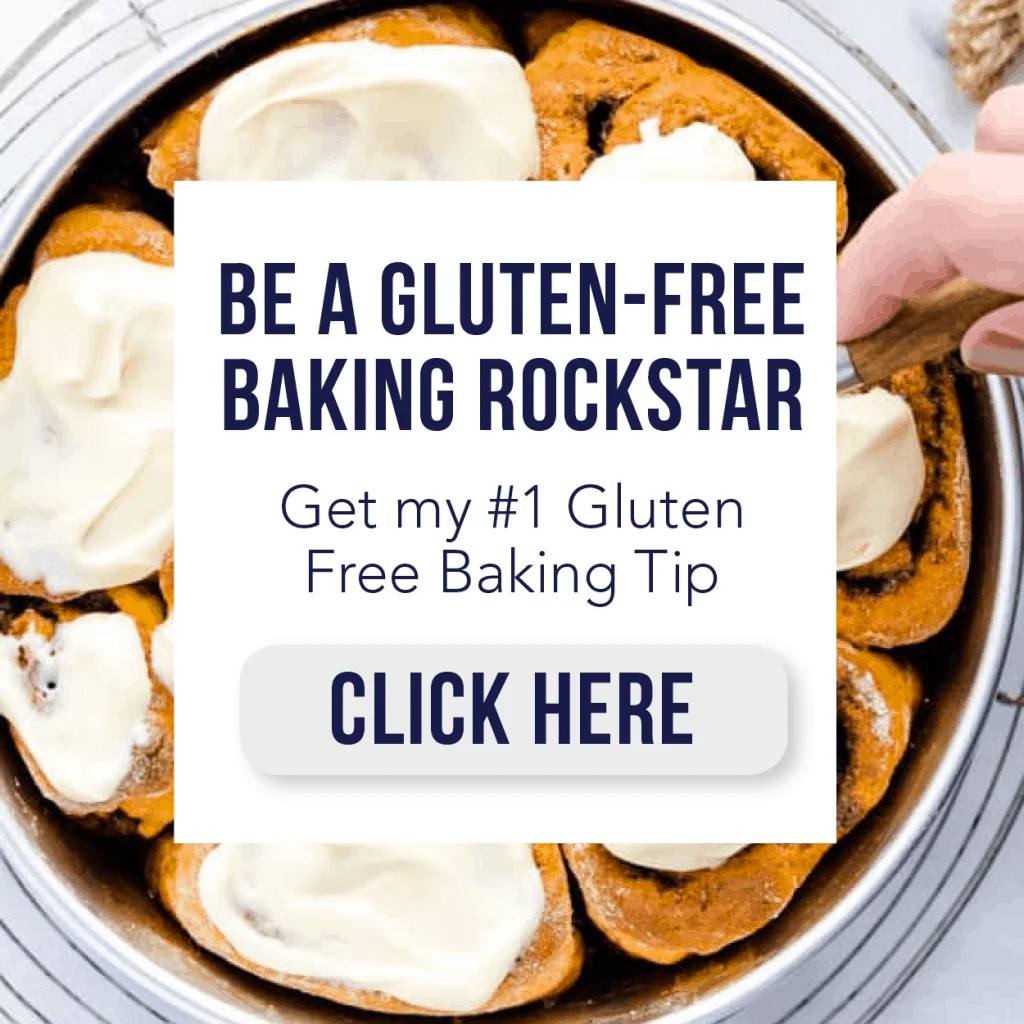 Gluten Free Tater Tots Recipe
Gluten Free Tater Tots – The freezer staple all grown up. This is a great recipe that your family will love!
Print
Rate
Pin
Ingredients
1 1/2

lb

white potatoes

2

tsp

fine sea salt

cold water

4

Tbsp

vegan butter

1/4

C

chicken broth

salt and pepper

to taste

2

large eggs

beaten

1/2

C

gluten free all-purpose flour

1/2

tsp

garlic powder

1

c

gluten free breadcrumbs

oil for frying
Instructions
Peel and cut the potatoes into 1 1/2-2 inch pieces. Add them to a medium sized pot and add enough water to cover the potatoes by 2 inches and add the2 teaspoons salt. Bring the potatoes to a boil and then boil for 12-15 minutes (until fork tender).

When the potatoes are cooked, drain the water and return them to the pan. Add the butter and chicken broth and mash the potatoes, leaving them slightly lumpy to give the potato tots better texture. Season with salt and pepper to taste. Refrigerate the mashed potatoes overnight.

When the potatoes are chilled, add them to a medium sized bowl with the eggs, flour, and garlic powder. Mix until completely combined.

Use a tablespoon to scoop the potatoes and then roll into log shapes and then coat them in the breadcrumbs. Place the coated potato tots on a baking sheet are refrigerate while the oil is heating.

In a large heavy bottom skillet, add enough oil to coat the bottom with 1 inch of oil. When the oil is hot (365 degrees), fry the potato tots about 2 minutes per side or until golden brown. Fry in batches so you don't over-crowd the pan. When the potato tots are cooked, remove from the pan with a slotted spoon (or spider spoon) and drain on a paper towel lined plate. Season with salt immediately. Serve the potato tots hot with desired condiments.
Notes
Prep time does not include chilling time. 3 cups leftover mashed potatoes can be used in place of the potatoes, butter, and chicken broth.Leftovers can be frozen and reheated in the oven at 425 degrees until heated through.Makes about 3 dozen tater tots depending on size.
Disclaimers
As an Amazon Associate and member of other affiliate programs, I earn from qualifying purchases.
Nutrition Facts are estimated and aren't always accurate. Please consult a doctor or nutritionist if you have special dietary needs.
Other Recipes You Might Enjoy
Sausage Stuffed Fried Olives – What The Fork Food Blog
How to Roast Potato Peels – The Kitchn
Spicy Crispy Roasted Potatoes – Healthy Nibbles and Bits
Skillet Potatoes with Creamy Pilsner Mushroom Sauce – Cooking and Beer (use gluten free beer to make it gluten free)
Slow Cooker Ranch Potatoes – What The Fork Food Blog

Follow Sharon | What The Fork Food Blog's board Appetizers on Pinterest.