This Gluten Free Carrot Cake is a the same classic cake you remember, just without gluten and dairy. It's full of carrot, coconut, walnuts, and pineapple which means it's packed with flavor. Serve it for Easter and your guests won't be disappointed.
This post was sponsored by Bob's Red Mill and contains affiliate links for ingredients or equipment used to make this recipe. Thank you for supporting What The Fork Food Blog ♥
Carrot Cake has always been one of my favorite cakes and this gluten free carrot cake is no exception. This recipe is one that my family has been using for years, i.e. my whole life. The original recipe was from The Silver Palate Cookbook and it's one of those loaded carrot cakes – you know the ones with pineapple, nuts, AND coconut.
It's out of this world amazing. All that sweetness, texture, and yum all in one little cake. And when I say little, I don't really mean it because it's NOT a little cake like I usually make. This is a big, honking', 3 layer cake that can easily feed a large Easter crowd.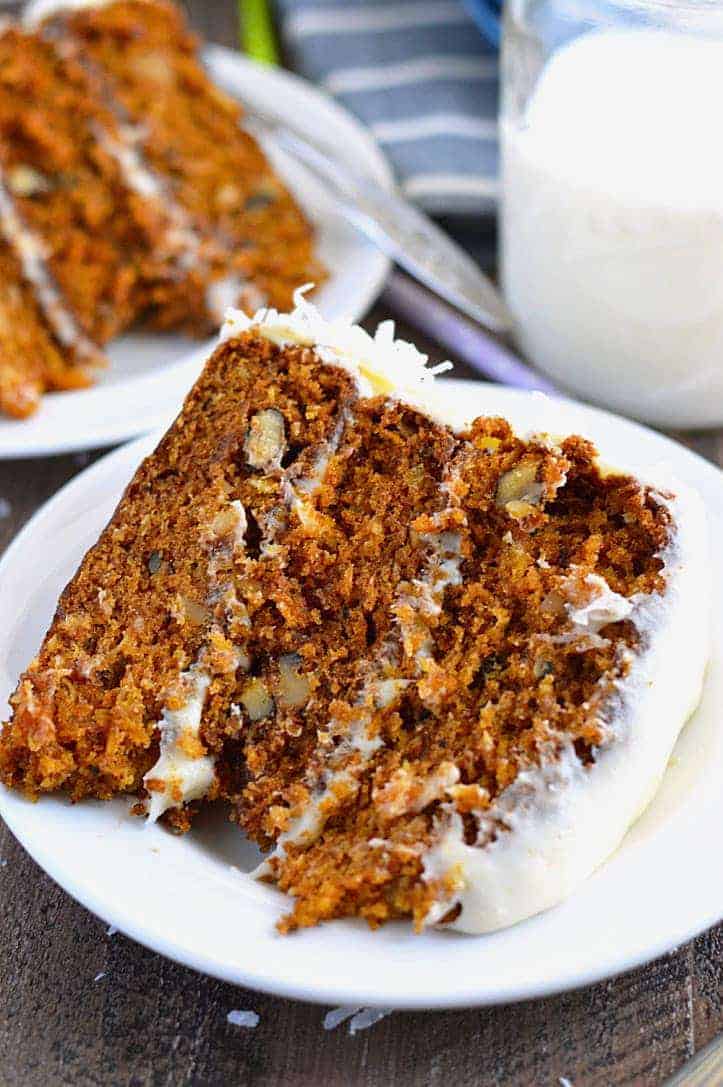 We used to enjoy the original version every year but my parents started making this cake gluten-free several years ago when my mom had to start eating gluten free. Now that Kelsey has to follow a lactose free diet, I decided that we could still enjoy this beauty of a cake. Just now it's gluten free and dairy free beauty of a cake.
And don't worry about that frosting, it's still got a gorgeously thin layer of dairy free cream cheese frosting that's just as good, if not better, then the original.
To make this carrot cake recipe gluten free, I used to make this with my white rice flour blend. This time, I used Bob's Red Mill 1:1 Gluten Free Flour.
Ladies and gentlemen, I'll be the first to admit that I prefer this cake with the Bob's Red Mill flour. I first used this flour with my frosted sugar cookies and I am really loving it. I used the same blend to turn this gluten free carrot cake into Gluten Free Carrot Cake Cupcakes. Works like a charm!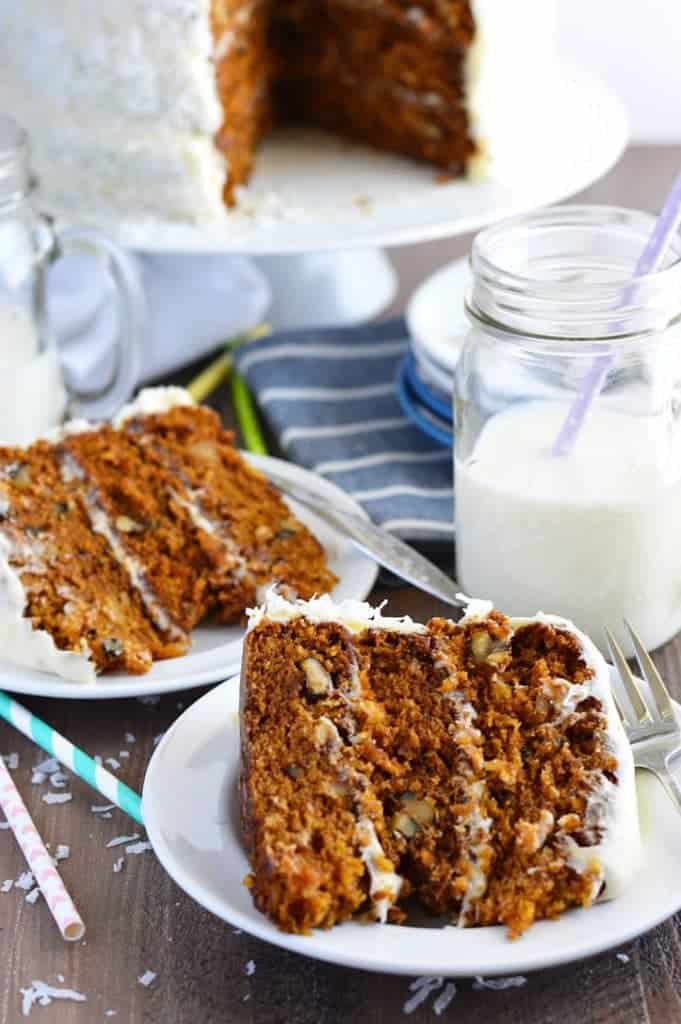 This gluten free carrot cake is an Easter dessert staple in our family – we make it every year and have been for as long as I can remember. But if you're looking for more gluten free desserts to add to your Easter menu, try this Grain Free Hummingbird Cake from Gluten Free Palate.
Gluten Free Lemon Cupcakes or Gluten Free Lemon Squares would also be great additions. They're all great spring dessert options that can feed a lot of people! Enjoy!
BE SURE TO FOLLOW ME ON INSTAGRAM AND HASHTAG #WHATTHEFORKFOODBLOG – I LOVE SEEING WHAT YOU MAKE!
IF YOU LOVE THIS RECIPE FOR gluten free carrot cake, BE SURE TO FOLLOW ME ON SOCIAL MEDIA SO YOU NEVER MISS A POST:
---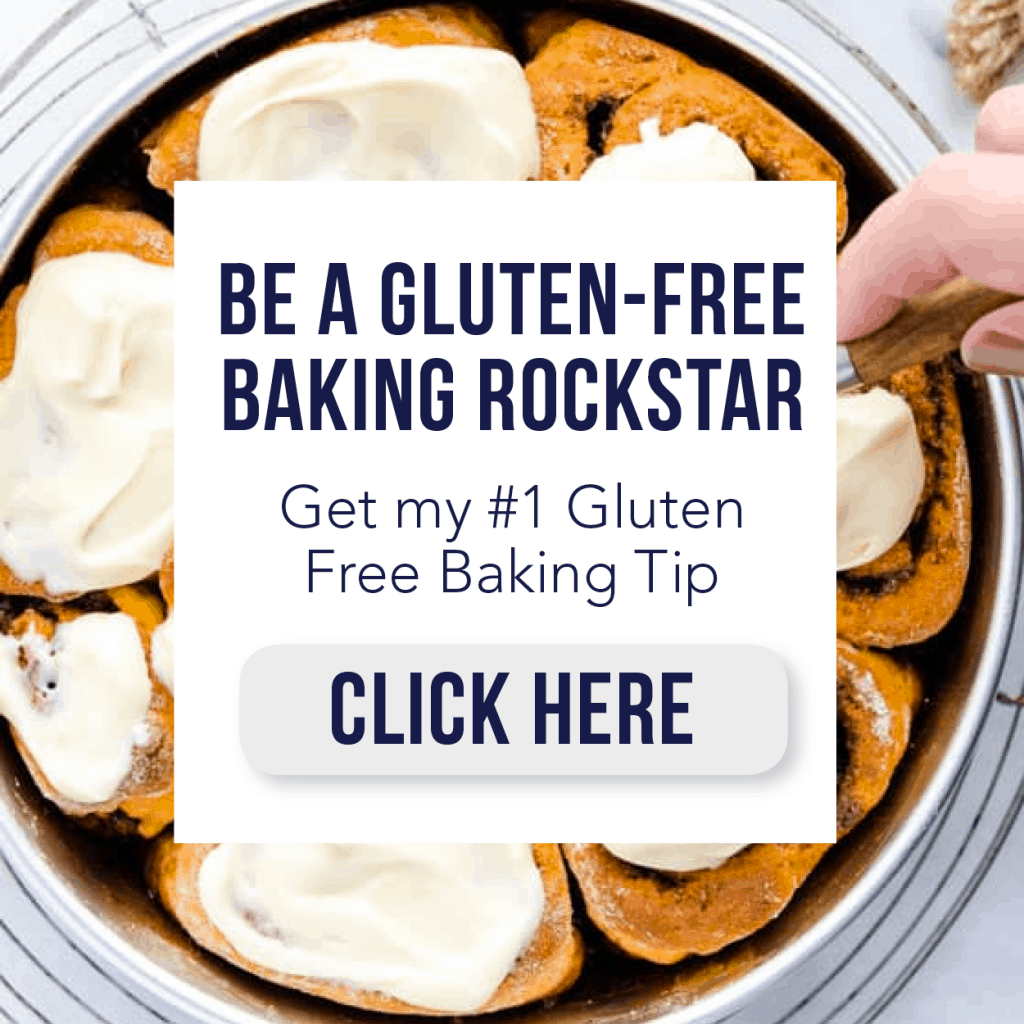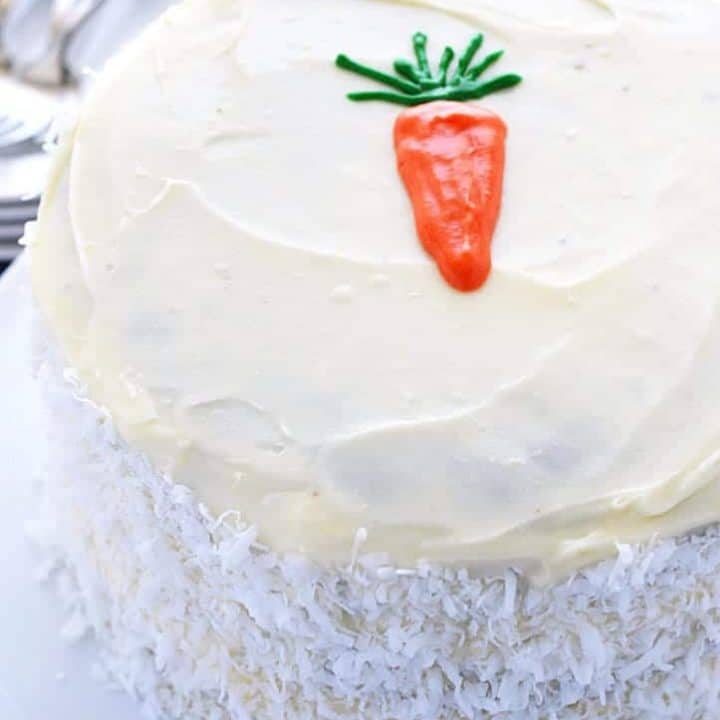 Gluten Free Carrot Cake
Total Time:
1 hour
20 minutes
This Gluten Free Carrot Cake is a the same classic cake you remember, just without gluten and dairy. It's full of carrot, coconut, walnuts, and pineapple which means it's packed with flavor. Serve it for Easter and your guests won't be disappointed.
Ingredients
For the Cake
3 C Bob's Red Mill Gluten Free 1-TO-1 Baking Flour (420g)
3 C granulated sugar (or organic cane sugar)
1 teaspoon fine sea salt
1 Tbsp baking soda (yes, 1 tablespoon.)
1 Tbsp ground cinnamon
1 1/2 C walnuts, chopped
4 large eggs, room temperature
1 1/2 C canola oil
1 Tbsp vanilla extract
1 1/3 C pureed cooked carrots
1 1/2 C shredded coconut
1 8 oz. can crushed pineapple, drained
For the Frosting:
8 oz. dairy free cream cheese (can use regular)
1/4 C shortening [See Note 1]
1/4 C vegan butter
4 1/2 C powdered sugar
1 tsp vanilla extract
2 tsp fresh lemon juice [See Note 2]
Instructions
To Make the Cake:
Preheat oven to 350 degrees and spray 3 9-inch cake pans with non-stick spray.
In a large bowl, whisk together the flour, sugar, salt, baking soda, and cinnamon. Mix in the walnuts to coat them with the flour and set the bowl aside.
In a medium bowl, lightly beat the eggs. Whisk in the oil, vanilla, and pureed carrots and mix until well combined.
Pour the wet ingredients into the dry ingredients and gently mix until there isn't any dry flour. Fold in the coconut and crushed pineapple. Pour the batter evenly between the 3 cake pans.
Bake on the center rack [see Note 3] for 50 minutes or until a cake tester comes out clean. Let the cakes cool for 15 minutes in the pans before inverting onto wire racks to cool. Cool completely before frosting.
To Make the Frosting and Frost the Cake:
Add the cream cheese and shortening to a bowl of a stand mixer fitted with the paddle attachment. Beat together until smooth, about 1 minute.
Scrape down the sides of the bowl and add the vegan butter. Beat about 30 seconds or until the butter is incorporated. Add the powdered sugar and mix on the lowest speed until the sugar is incorporated. Add the vanilla and lemon juice and mix an additional 30 seconds to 1 minute until the frosting is smooth and creamy.
To frost the cakes, place one cake layer on a cake stand or flat plate. Add a thin layer of frosting, just enough to cover the cake, and spread it evenly over the cake. Add a second layer of cake and repeat the frosting step. Add the third layer and evenly spread the frosting over the top and around the sides of the cake.
The cake can be kept at room temperature until ready to serve or it can be refrigerated. I suggest refrigerating the cake if your house is warmer then 70-72 degrees or it's humid. Bring the cake to room temperature before serving.
Notes
1. 1/2 C of regular, room temperature butter can be used in place of the shortening and vegan butter. You can also use 8 oz. regular, room temperature cream cheese in place of the dairy free cream cheese.
2. The lemon juice will not make the cream cheese frosting taste like lemon. The acid helps cut the sweetness of the powdered sugar and really shouldn't be omitted.
3. If you can only fit two cake pans on your center rack, bake the 3rd pan on the bottom rack. If it needs to bake a few minutes longer then the other two cakes, move it to the center rack to finish baking when the other two cakes are removed.
4. This frosting recipe makes enough frosting to have a very thin layer of frosting between each layer of cake and on the top and sides. If you want a thick layer of frosting, double the frosting recipe.
Recipe adapted from The Silver Palate Cookbook