If you've got ripe bananas, make these gluten free banana oat muffins! They're hearty and filling so they'll keep you full until lunch.
Wow, how is it already March? Somebody please tell me where time is disappearing to. I've sunk a decent amount of time developing the recipe for these gluten free banana oat muffins, but not THAT much time! I mean, I guess I'm happy with March. That means Spring is in a few weeks. Yay for Spring. I'm so ready for it. I've also been slacking in the posting department lately and I feel bad about it. I mentioned a little about it in my Paleo Lemon Curd post. My husband had surgery to remove a tumor on a nerve in his leg last month. It was successful and the whole tumor was removed, but slightly at the expense of his nerve. Recovery is much slower and much longer than anyone predicted. His doctor didn't realize how embedded in the nerve the tumor was before they operated.
Needless to say, we are all thrown off our routines a bit but happy to be getting a back to normal-ish.
Speaking of normal, these gluten free banana oat muffins are a jazzed up version of regular, old banana muffins. The oatmeal in these really make them hearty and filling. And can we just have a moment of silence for that streusel? It's seriously amazing and totally makes these muffins stellar.
If you're searching for other ways to use up some over-ripe bananas, be sure to try my pumpkin banana bread – it quickly became one of the top recipes on my blog and it's fantastic. In the mood for chocolate? My double chocolate banana bread should fit the bill!
In other news, since we have so much to catch up on, my monthly email giveaway. Last month I mentioned I was starting a monthly giveaway for my email subscribers that is ONLY open to email subscribers. It's my way of saying, thank you for reading and I truly appreciate you spending your time hanging out with me on the internet. I hope that's not as weird as it sounds? So if you want to partake in the fun, make sure you're signed up! Plus, you'll get these muffins and other fabulous recipes in your inbox. Enjoy!
Be sure to follow me on Instagram and hashtag #whattheforkfoodblog – I love seeing what you make!
If you love this recipe for gluten free banana oat muffins, be sure to follow me on social media so you never miss a post:
---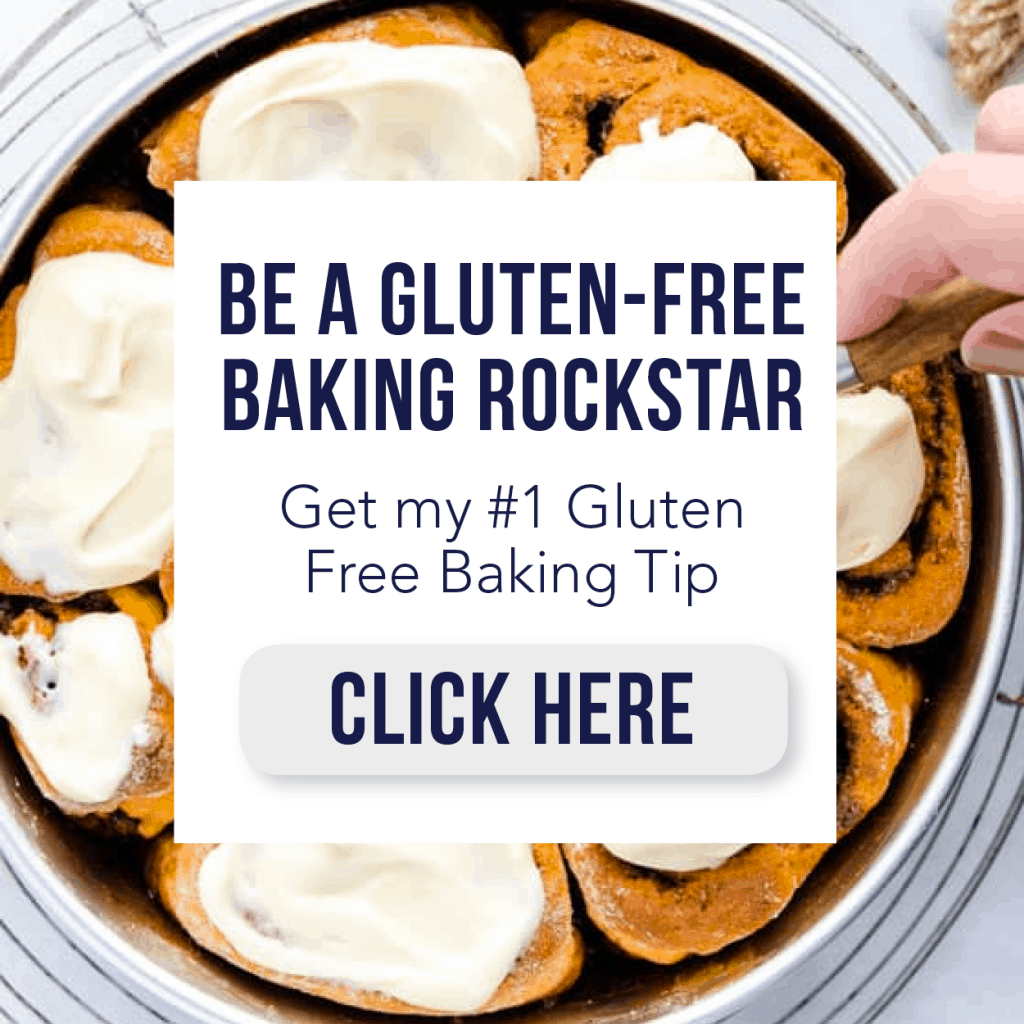 Gluten Free Banana Oat Muffins
If you've got ripe bananas, make these gluten free banana oat muffins! They're hearty and filling so they'll keep you full until lunch.
Ingredients
1 1/2 C gluten free flour
1/2 tsp xanthan gum
1/2 C gluten free oats
1/2 C granulated sugar
1/4 C brown sugar
1 tsp baking powder
1 tsp baking soda
1/2 tsp fine sea salt
1 tsp ground cinnamon
2 large eggs, room temperature
1 C mashed banana (about 2 medium)
1 tsp vanilla extract
1/3 C palm shortening, measured then melted
2/3 C unsweetened coconut milk
For the topping:
2 Tbsp palm shortening, measured then melted
1/4 C brown sugar
1 Tbsp gluten free flour
1/8 tsp xanthan gum
1/3 C gluten free oats
Instructions
Preheat oven to 400 degrees and spray a 12 cup muffin tin with non-stick spray or line with paper liners.
In a large bowl, whisk together the flour, xanthan gum, oats, granulated sugar, brown sugar, baking powder, baking soda, salt, and cinnamon. Break up any big crown sugar clumps as necessary.
In a medium bowl, beat the eggs. Whisk in the mashed banana, vanilla, melted shortening, and coconut milk. Pour the wet ingredients into the dry ingredients and mix well until combined. Divide the batter between the 12 muffin cups and set aside while you make the topping. (make sure the batter has sat at least 10 minutes before baking)
To make the topping, mix together the 2 tablespoons of melted shortening, brown sugar, xanthan gum, and oats in a small bowl. Mix until all ingredients are moistened. Sprinkle the topping over the muffins, dividing evenly between all 12.
Bake the muffins at 400 degrees for 18-22 minutes or until a toothpick comes out clean. Cool on a metal rack. Store leftover muffins in an airtight container up to 3 days.
Nutrition Information:
Serving Size:

1
Amount Per Serving:
Calories:

249
Total Fat:

24g
Carbohydrates:

5g
Nutrition Facts are estimated and aren't always accurate. Please consult a doctor or nutritionist if you have special dietary needs.
Other Muffin Recipes You Might Enjoy:
Bakery Style Chocolate Chip Muffins – What The Fork Food Blog
Blueberry Crumb Muffins – What The Fork Food Blog
Lemon Raspberry Muffins – Beyond Frosting
Flourless White Chocolate Blueberry Muffins – Running with Spoons