This is the best gluten free cornbread recipe out there. It's light and moist and isn't grainy at all. It's simple to make and goes great with chili or ribs!
<< CLICK HERE TO PIN THIS RECIPE >>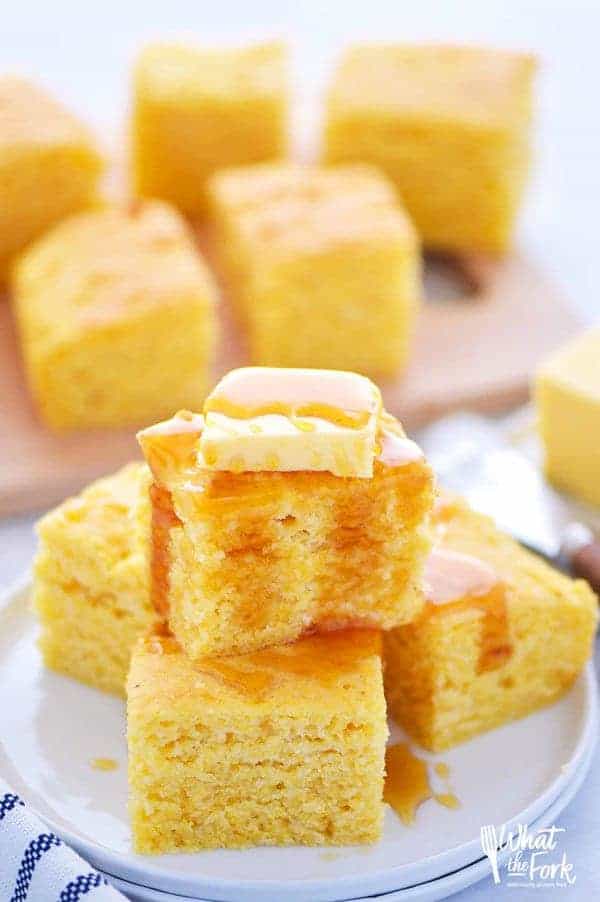 Today I'm sharing my family's secret for the best gluten free cornbread. It's the recipe that my mom always made when I was kid and it's the recipe that she's passed down to me (the only difference is that we've converted it to being gluten free). Our secret family recipe?
The one that comes on the Quaker cornmeal container. Yup, it's our tried-and-true, go-to family recipe 😂😂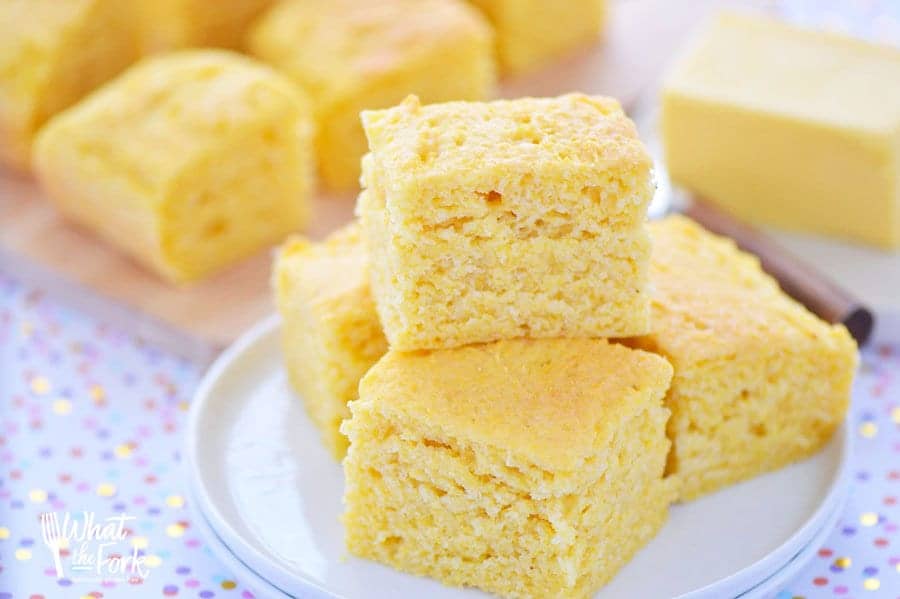 Do you guys have recipes like that? Ones that are "family recipes" that have been passed down from your parents, grandparents, or even great-grandparents that aren't really family recipes but have come from brand packaging? My grandmother's chocolate chip cookies are another one of those that we love and she loves to tell us how it was from a Nestle's chocolate chip package when she was young.
Hershey's chocolate cake, Philadelphia cheesecake, and Libby's pumpkin pie are a couple other "famous" recipes that are also often innocently and deliciously claimed as family recipes. Not that there is anything wrong with that, recipes are meant to be shared and passed on to others. I'd love to know what recipes you and your family love that were originally off of a package!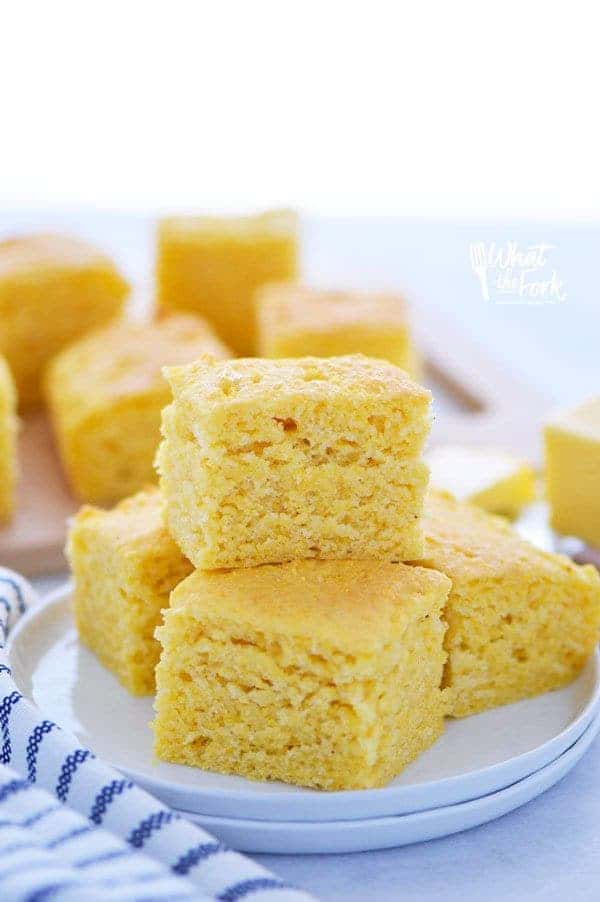 As far as this "family cornbread recipe" goes, it's a winner. This recipe originally called for skim milk but I like to add vinegar to make it a homemade buttermilk and if I have buttermilk, I use that. This can also very easily be made into a gluten free dairy free cornbread recipe by using unsweetened coconut milk in place of the milk/buttermilk. Still add some vinegar to make it more like "buttermilk".
This homemade cornbread is such an EASY recipe. I can't emphasize easy enough. As a kid, this was one of the first recipes I remember making when I was helping to get dinner on the table. If I could do it at 11, you got this! Cornbread from scratch is a cinch, there's no need for a mix! And if you're looking for a sweet cornbread recipe, just add a bit more sugar than this recipe calls for.
I shared my gluten free corn muffin recipe with you a while back and those muffins are a version of this bread. Like those muffins, this gluten free cornbread is great as a side dish for chili or ribs. It would even be great with my friend Sheena's Instant Pot Chili, you'd have a complete meal in under an hour!
If you have any bread leftover, I love it for breakfast toasted with a little bit of butter and drizzled with some honey! If you have honey butter already made up, even better! Enjoy!
Be sure to watch the video below to see how easy it is to make this gluten free cornbread! You can also watch it on Facebook where you can easily share it.
<< CLICK HERE TO PIN THIS RECIPE >>
be sure to follow me on instagram and hashtag #whattheforkfoodblog or tag @whattheforkfoodblog – i love seeing what you make!
if you love this easy gluten free cornbread recipe, be sure to follow me on social media so you never miss a post:
sign up for my free newsletter subscription for new recipes and exclusive giveaways + my free ecookbook – recipes with chocolate
Gluten Free Cornbread
This is the best gluten free cornbread recipe out there. It's light and moist and isn't grainy at all. It's simple to make and goes great with chili or ribs!
Print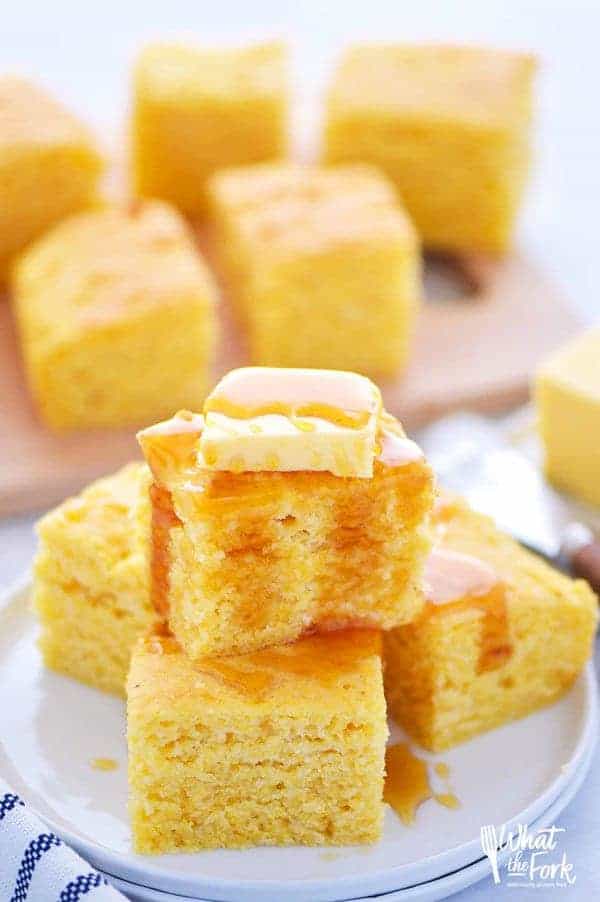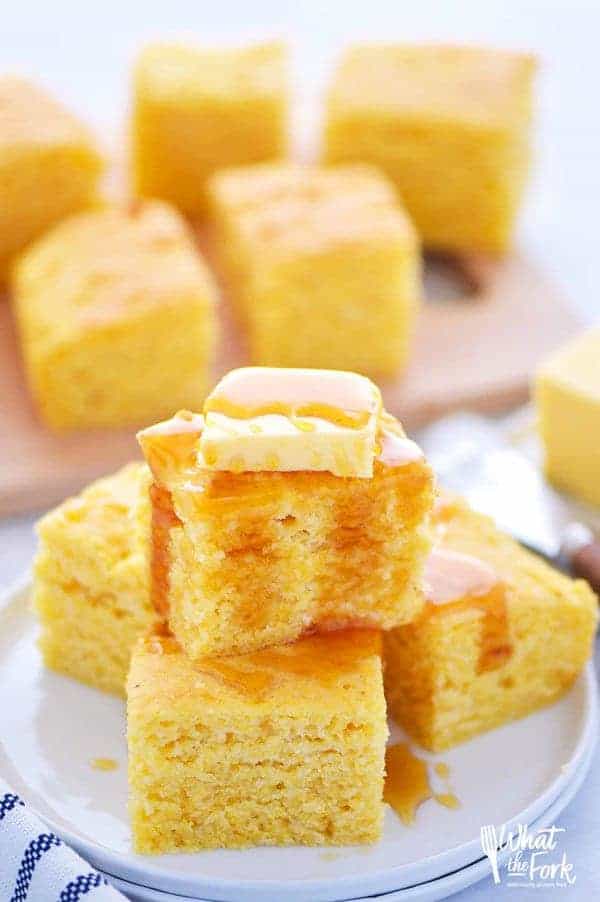 Ingredients
1 1/4 cups gluten free all-purpose flour
1 teaspoon xanthan gum
3/4 cup cornmeal [use a finely ground cornmeal for best results]
1/4 cup granulated sugar
2 teaspoons baking powder
1/2 teaspoon fine sea salt
1 cup buttermilk, room temperature
1/4 cup avocado oil [or canola/vegetable oil]
1 large egg, room temperature
Directions
Preheat oven to 400 degrees and spray an 8x8 inch pan with non-stick spray or line with parchment paper.
In a large bowl, whisk together the gluten free flour, xanthan gum, cornmeal, sugar, baking powder, and salt. Set aside.
In a separate small bowl, whisk together the buttermilk, oil, and egg. Pour the wet ingredients into a the dry ingredients and mix until incorporated. Pour the batter into the prepared pan and smooth out the batter.
Bake at 400 degrees for 20-24 minutes. Serve hot or at room temperature.
Recipe Notes
*To make your own buttermilk, add 1 tablespoon of white vinegar to your regular dairy milk.
I use my Nightshade Free Flour Mix in this recipe. I have also tested it with Bob's Red Mill 1:1 Baking Mix with great results.
If the flour mix you use contains xanthan gum, omit the amount I called for in this recipe.
For dairy-free "buttermilk", use 1 cup of unsweetened coconut milk plus 1 tablespoon of white vinegar in place of the buttermilk.
Store leftovers in an airtight container up to 2 days. Individual pieces can also be wrapped and frozen.