These simple gluten free vanilla cupcakes are super moist thanks to the addition of sour cream. They're light, airy, and ready for any frosting you want to add!
Hey guys, today is a great day! Why? Because we've got cupcakes! These aren't just any cupcakes though, they're super moist gluten free vanilla cupcakes. And there isn't a dry crumb in site!
What The Fork Food Blog recently turned 3 and I thought cupcakes would be the perfect way to celebrate. We've come a long way since our first post, Homemade Honey Butter. You guys, those photos are awful ???? But the honey butter, SO GOOD. Also good? These gluten free vanilla cupcakes ????
Lately, I've been doing some experimenting with sour cream in baked goods. I used to use it more before we found out Kelsey was lactose intolerant but I've kind of missed using it in baked goods. It really adds something special. And by special, I mean it makes baked goods SO super moist.
Usually recipes call for about 1/2 – 1 cup of sour cream in a recipe. I hate having a small amount left in the container because we don't eat sour cream as a condiment on things like baked potatoes or nachos. So, I decided to throw the whole 16 oz. container of sour cream into the batter and see how it would go.
YOU GUYS. It was AMAZING. As you can see, this recipe doesn't call for any extra liquid other than the eggs or the oil. The sour cream replaces the milk and then some! You really need to try these, you will be in love as much as I am! I even almost contemplated naming these sour cream cupcakes instead of vanilla cupcakes.
But big question, what if you really can't have dairy? No worries. You can replace the sour cream with non-dairy yogurt mixed with some white vinegar. You could even use dairy free sour cream if you can find it. Top them with your favorite frosting – I used my vegan chocolate frosting but you could easily replace the vegan butter and shortening with plain old butter and use heavy cream or milk instead of the coconut milk.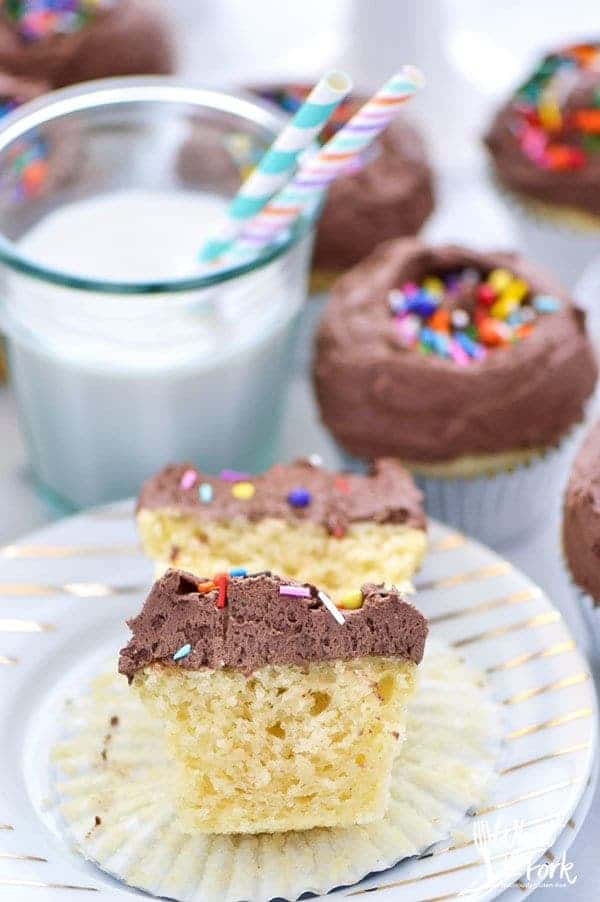 These would also be wonderful with cream cheese frosting . Or if you have room in the fridge before your party to house 2 dozen cupcakes, white chocolate ganache whipped cream would taste like heaven. Enjoy!
be sure to follow me on instagram and hashtag #whattheforkfoodblog or tag @whattheforkfoodblog – i love seeing what you make!
if you love this recipe for gluten free vanilla cupcakes, be sure to follow me on social media so you never miss a post:
---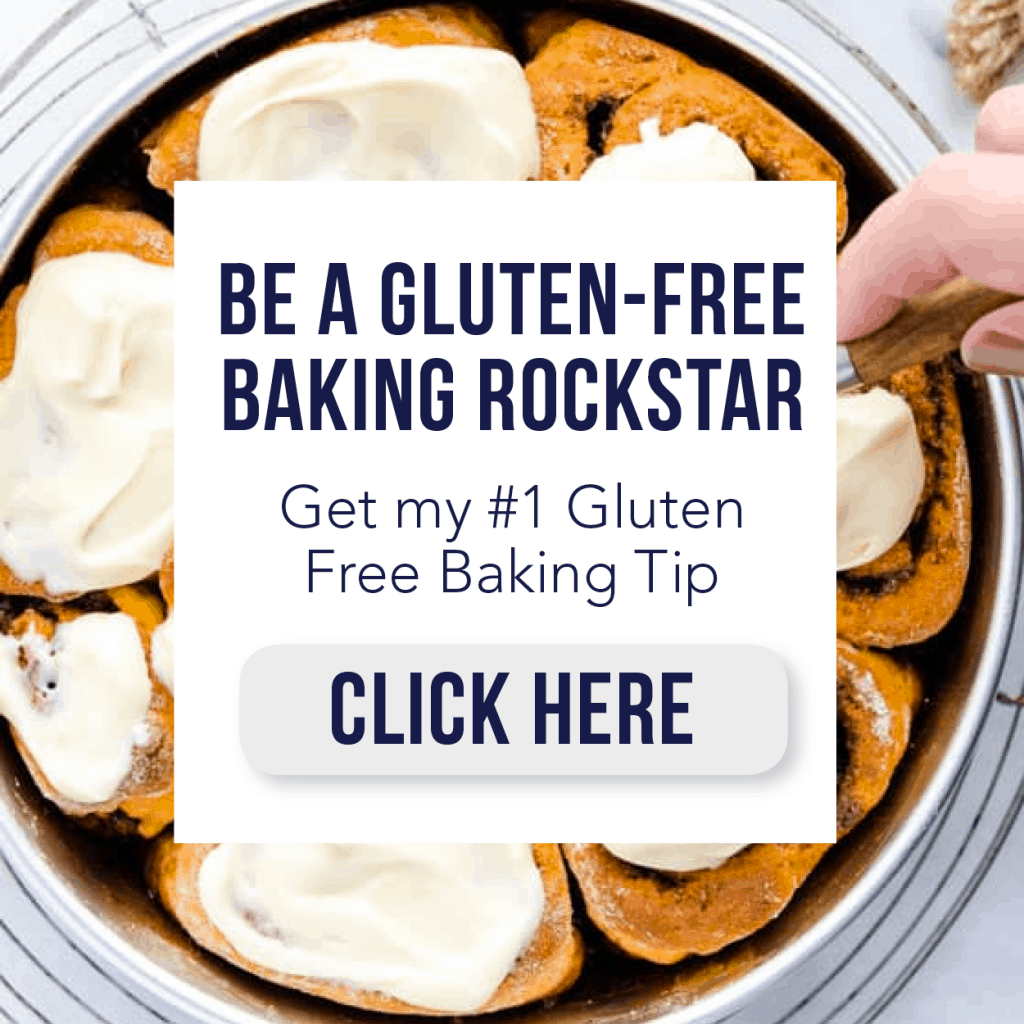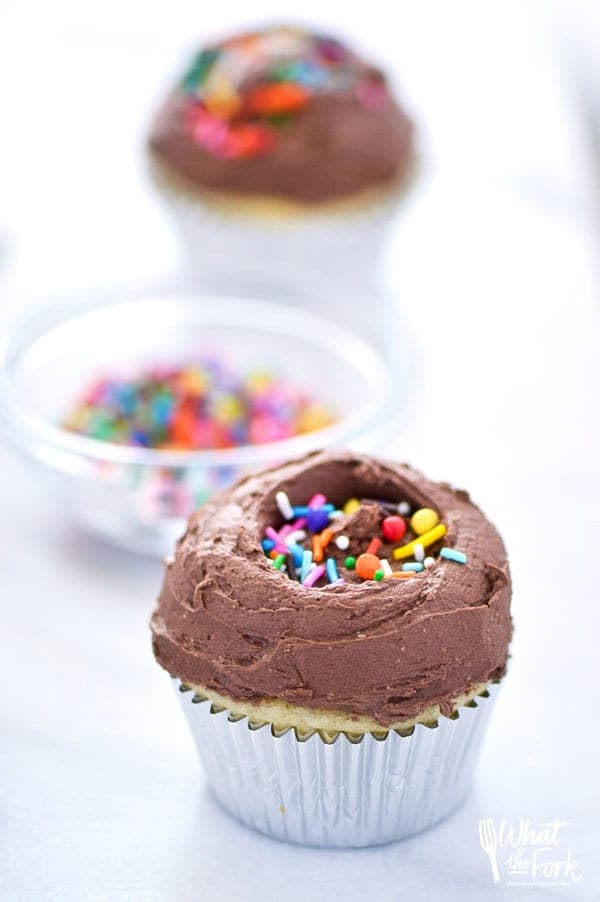 Gluten Free Vanilla Sour Cream Cupcakes
Yield: 24

Prep Time: 15 minutes

Cook Time: 20 minutes

Total Time: 35 minutes

These simple gluten free vanilla cupcakes are super moist thanks to the addition of sour cream. They're light, airy, and ready for any frosting you want to add!
Ingredients
2 1/2 cups gluten free all purpose flour
1 1/4 teaspoons xanthan gum
1 1/2 cups granulated sugar
2 teaspoons aluminum free baking powder
1/2 teaspoon baking soda
1/2 teaspoon fine sea salt
3 large eggs, room temperature
3/4 cup avocado oil (or vegetable)
1 tablespoon vanilla extract
1 15 oz. container light sour cream*
Instructions
Preheat oven to 350 degrees and line 2 12-cup muffin tins with paper liners or spray with non-stick spray. In a large bowl, whisk together the flour, xanthan gum, sugar, baking powder, baking soda, and salt. Set aside.
In a separate medium bowl, whisk together the eggs, oil, and vanilla. Whisk in the sour cream until combined.
Pour the wet ingredients into the dry ingredients and stir until the dry ingredients are completely incorporated.
Divide the batter evenly between the 24 cups, filling each no more than 2/3 of the way full. Bake at 350 degrees for 18-22 minutes or until a tester comes out clean or the cupcakes springs back when lightly touched in the center.
Cool cupcakes completely on a cooling rack before frosting.
Notes
*For dairy free, use 1 3/4 cups plain or vanilla dairy-free yogurt plus 1 1/2 tablespoons white vinegar.
I use my nightshade free all purpose flour in these cupcakes. You can also use Bob's Red Mill 1:1 gluten free baking flour and omit the xanthan gum.
I frosted mine with my vegan chocolate frosting. You can use 1 cup of butter in place of the vegan butter and shortening and heavy cream in place of the coconut milk.
If you want vanilla bean flecks in your cupcakes, use 1 1/2 teaspoons vanilla extract + 1 1/2 teaspoons vanilla bean paste.
Nutrition Information:
Serving Size: 1

Amount Per Serving:

Calories: 0 Total Fat: 0g Saturated Fat: 0g Cholesterol: 0mg Sodium: 0mg Fiber: 0g Sugar: 0g Protein: 0g

Nutrition Facts are estimated and aren't always accurate. Please consult a doctor or nutritionist if you have special dietary needs.