These gluten free sugar cookie bars bring all the flavor from frosted sugar cookies without the extra work. They make a great easy, crowd-pleasing dessert!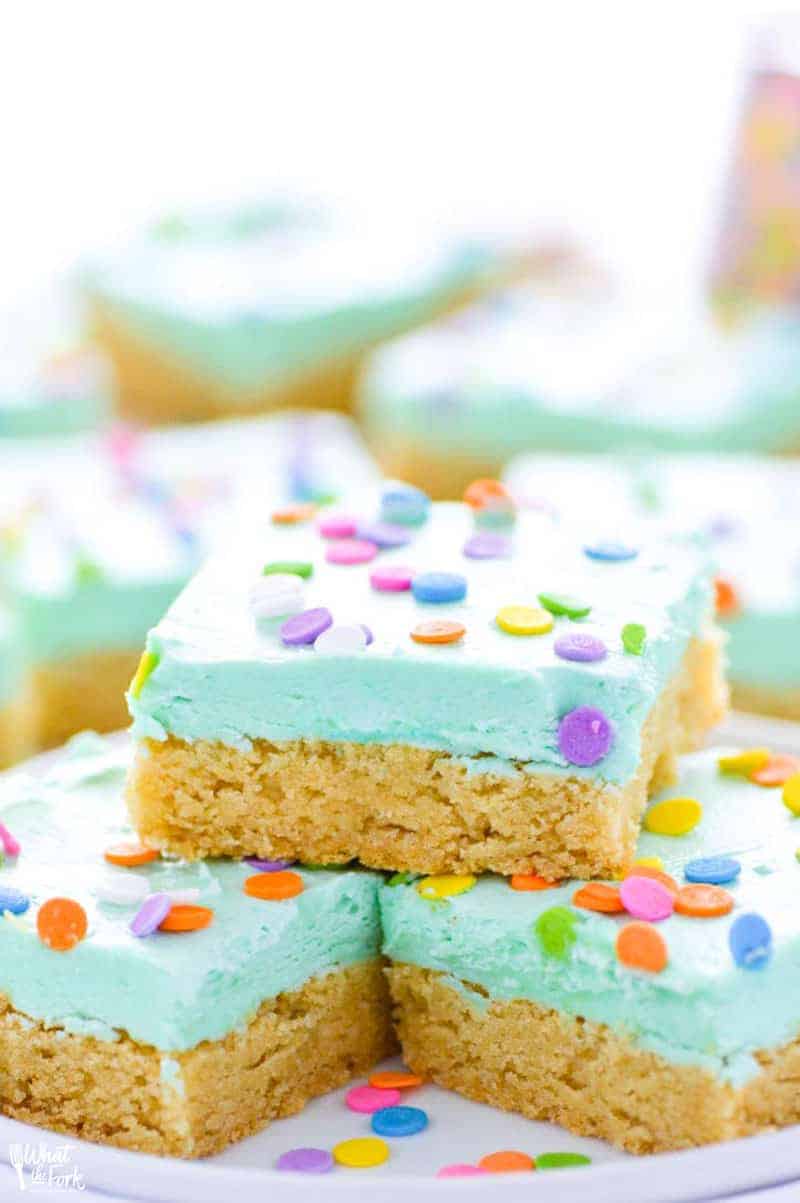 I first posted this recipe for gluten free sugar cookie bars way back when I started my blog. Only, at the time, I wanted to appeal to a broader audience so I didn't title them gluten free.
It was also around Halloween so I called them Sugar Cookie Bars with Halloween Sprinkles. It was such a great recipe but I put the recipe in such a tiny little box, nobody was going to find it.
Not only that, but the pictures were awful. A-W-F-U-L. They're so bad, I get embarrassed when I share the recipe. At the time I took them though, I thought they were great! Boy have things improved around here.
I can't even look at those old photos without cringing and wanting to cover my eyes. Not to different from when I'm watching a horror movie actually….
Although the photos have changed, I didn't play with the recipe much. I just wanted to bring it back to life and make it an evergreen gluten free recipe that was easy to find, easy to make, and great for any time of the year. These gluten free sugar cookie bars are exactly that.
I really, really love the cookie base in these bars. It's kind of soft but the edges are nice and chewy. And then you add the frosting and it just sends them over the top. Plus there're sprinkles – you can't forget the sprinkles!
(Just make sure you check the gluten free status of your sprinkles.)
I topped these sugar cookie bars with my favorite vanilla buttercream frosting. It's really easy to make and it's so light and creamy. It's also the same frosting I use for my Gluten Free Soft Frosted Sugar Cookies, except that one is dairy free.
I also use it to make my Gluten Free Funfetti Cake recipe. With that one though, the buttercream base is the same but it's made with almond extract instead of vanilla extract. The almond extract gives it a subtly different flavor that work well here too if you prefer.
Either way you make the frosting, it will be great with these gluten free sugar cookie bars. Enjoy!
be sure to follow me on instagram and hashtag #whattheforkfoodblog or tag @whattheforkfoodblog – i love seeing what you make!
if you love this recipe for gluten free sugar cookie bars, be sure to follow me on social media so you never miss a post:
---