These Gluten Free Dinner Rolls are the soft, yeasty rolls that you've been craving. They've got a wonderful doughy texture like Parker House Rolls and are easy to make!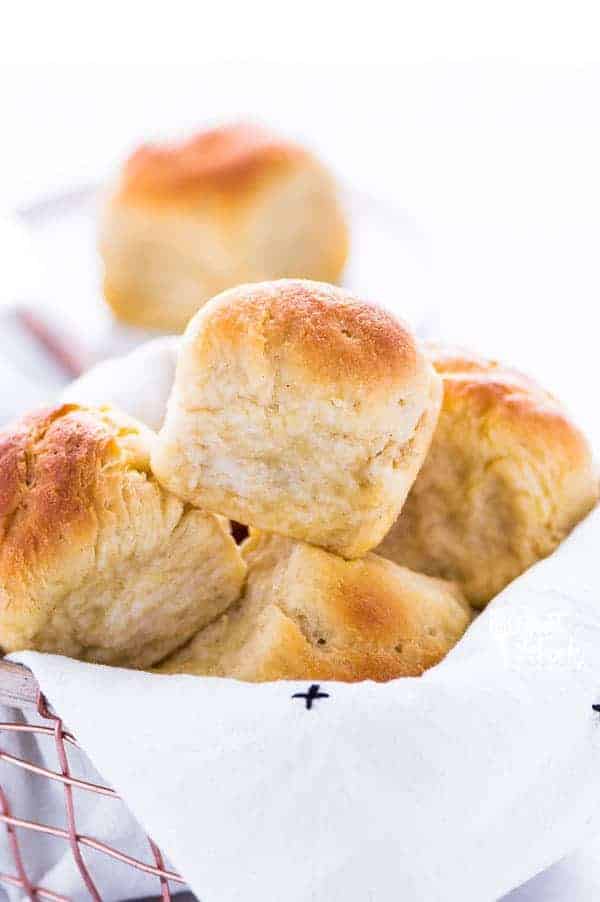 Watch the video below (right before the recipe) to see how easy it is to make these!
You guys, I am SO, SO, SO excited about this gluten free dinner rolls recipe today. SO excited! Why? Because it's freakin-amazing!
And I'm not just saying that because it's my recipe. I'm saying because it's the truth and I don't have to eat gluten free like my husband does and I'd STILL choose these rolls any day of the week.
They are soft. So, so soft. (Are you sick of "so" yet? I just can't help it, these rolls have me doing a happy dance.) They also pull apart really nicely, no crumbling, no tearing, no ripping involved.
These gluten free dinner rolls also have a really nice "chew" to them. They remind me so much of my grandmother's Parker House Rolls, which are a staple at every holiday meal. My husband absolutely loved her rolls and has severely missed them since going gluten free.
He said that these are "just like hers but gluten free!". Guys, that's like the highest compliment someone could give right? Some girls like to be told their hair looks nice. I like to be told my baked goods don't taste gluten free 😉🤣
Two things that I think work really well in this recipe and make it as good as it is: arrowroot and "sweet white" sorghum flour.
Arrowroot is a bit starchier than other gluten free starches (like corn or potato) and I've noticed that it can potentially make gluten free baked goods a bit gummier if you use too much in conjunction with xanthan gum. However, it's perfect in this recipe because it gives these rolls that chew-factor that everyone loves about bread.
The sorghum flour gives lends these rolls a wheat-like taste. My grandmother uses some whole wheat flour in her rolls and I was trying to mimic that flavor. The sorghum flour really does the job well!
This gluten free dinner roll recipe is adapted the same dough that I used for my Gluten Free Blueberry Sweet Rolls. The difference is the sorghum flour but it really goes to show just how versatile the dough is. It's similar to my Gluten Free Cinnamon Sticks dough too!
By popular demand, I've also made gluten free cinnamon rolls using this same dough! Having a delicious, workable gluten free dough is going to change your lives, guys!
I'm really excited that you guys can add these gluten free dinner rolls to your family meals, they're a great alternative when you don't feel like gluten free biscuits. Some meals just need a nice, yeasty roll! Enjoy!
Be sure to follow me on instagram and hashtag #whattheforkfoodblog or tag @whattheforkfoodblog – I love seeing what you make!
If you love this recipe for gluten free dinner rolls, follow me on social media so you never miss a post:
sign up for my free newsletter subscription for new recipes and exclusive giveaways + my free ecookbook – recipes with chocolate
Yield: 8 rolls
Recipe for Gluten Free Dinner Rolls
These Gluten Free Dinner Rolls are soft, yeasty rolls that you've been missing. They've got a wonderful doughy texture like Parker House Rolls and are much easier to make than you'd think!

Prep Time 30 minutes

Cook Time 20 minutes

Total Time 50 minutes
Ingredients
2 1/4 teaspoons active dry yeast
1/2 teaspoon granulated sugar
1/2 cup milk (heated to 105-110 degrees) - see notes for dairy free
55 grams white rice flour (about 1/3 cup)
50 grams brown rice flour (about 1/3 cup)
65 grams Arrowroot (about 1/2 cup)
30 grams tapioca flour (about 1/4 cup)
16 grams sweet white sorghum flour (2 tablespoons)
1 1/2 teaspoons xanthan gum
1 teaspoon aluminum free baking powder
1/2 teaspoon fine sea salt
2 Tablespoons honey
1 large egg, room temperature
3 Tablespoons avocado oil
3 Tablespoons butter
Instructions
Preheat oven to 350 degrees and grease a 8x4 inch loaf pan with 1 tablespoon butter (or spray well with non-stick spray). Set aside.
Add the yeast and granulated sugar to the bowl of a stand mixer. Slowly pour in the milk, making sure the yeast is moistened. Let sit for at least 15 minutes to "bloom" as you prepare the other ingredients.
Add the white rice flour, brown rice flour, Arrowroot, tapioca flour, sorghum flour, xanthan gum, baking powder, and salt to medium bowl. Whisk well to combine.
When the yeast has bloomed (is super foamy), add the honey, egg, and avocado oil. Use the paddle attachment to mix on medium low speed until combined.
Add the flour mixture and mix on low until combined. Stop the mixer and scrape down the bowl. Then mix on medium (6 on my KitchenAid Stand Mixer) for 1 minute.
Use a spatula to scrape down the sides of the bowl and form into a ball (dough should easily do this) and turn the dough ball out onto a well floured surface (I usually just flour some wax paper). Sprinkle the top of the dough with additional gluten free flour and use a knife to cut the dough into 8 equal pieces.
Use well-floured hands to roll each piece of dough into a ball (best results if you squish/flatten the dough in your hands first THEN roll into a ball). Place the dough ball in the prepared baking pan and repeat with the remaining dough balls - DUST YOUR HANDS WITH FLOUR EACH TIME.
Place the dough to rise in a warm spot (I like mine to rise on top of my preheated oven) and cover loosely with plastic wrap or a clean kitchen towel. Let rolls rise for 1 hour.
After rising, brush the tops of the rolls with 1 tablespoon of melted butter before baking. Then bake for 20-24 minutes (depending on your oven). Mine bake in 20 minutes. After baking, brush with 1 more tablespoon of melted butter and then remove from the pan and serve hot or warm.
Notes
For Dairy Free, use unsweetened coconut milk in place of the milk. Brush the pan with oil instead of using butter and brush the rolls with a small amount of oil instead of butter (optional).
Recommended Products
As an Amazon Associate and member of other affiliate programs, I earn from qualifying purchases.
Nutrition Information:

Amount Per Serving:Calories: 199 Total Fat: 11g Saturated Fat: 4g Cholesterol: 36mg Sodium: 155mg Fiber: 1g Sugar: 5g Protein: 3g