4 healthy oatmeal smoothie recipes to help you start the morning off on the right foot. All are easy to make, are naturally sweetened, and can be made dairy free.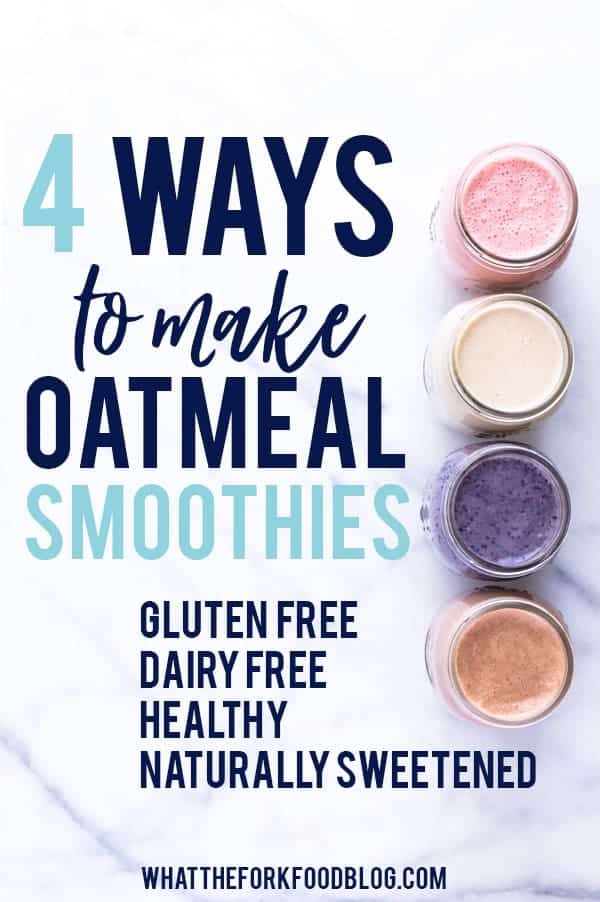 Watch the video below (after the last smoothie recipe) to see how easy it is to make these! Also, check out the video on Facebook!
Healthy Oatmeal Smoothie Recipes
January is typically the month that everyone is starting new diets and nobody is thinking about chocolate and baking. Bummer for a food blogger like me whose main focus is on baking and desserts!
However, I do have some healthy recipes that are super popular and they absolutely shine this time of year. For example, my oatmeal smoothie recipes go craaaazy. My strawberry banana oatmeal smoothies, peanut butter banana oatmeal smoothies, blueberry almond oatmeal smoothies, and chocolate peanut butter oatmeal smoothies seem to be your favorites!
You can see all 4 of the oatmeal smoothie variations below. Also, be sure to watch the video towards the end of the post where you can watch me make every single one! You can also watch the video on Facebook where you can easily share it!
Be sure to follow me on instagram and hashtag #whattheforkfoodblog or tag @whattheforkfoodblog – I love seeing what you make!
If you love these recipes for oatmeal smoothies 4 ways, be sure to follow me on social media so you never miss a post:
---