Gluten Free Pancakes are a staple recipe for every gluten free kitchen. They're super easy to make, freeze well, and can be made dairy free too!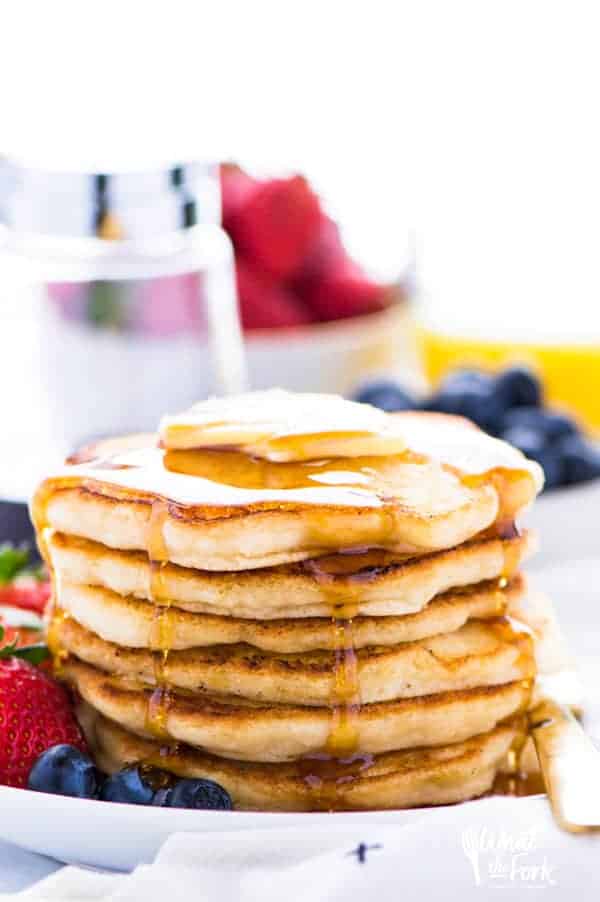 This post contains affiliate links to products or ingredients used to make this recipe. I receive a small commission from purchases made through these links, at no additional cost to you. Purchases made through these links help keep my blog running. Thank you for supporting What The Fork Food Blog ♥
No kitchen or breakfast repertoire would be complete without a good recipe for gluten free pancakes. We used to make Kelsey's Favorite Pancakes but when she went dairy free, that recipe didn't convert as well as we were hoping it would.
Like our gluten free mini blueberry muffins, these gluten free pancakes are another family favorite recipe that we've adapted from the Disney Princess Cookbook to be gluten free and dairy free.
We also like to add vanilla extract to our gluten free pancake recipe to give them a little extra boost of flavor. Of course, for our family of 4, we doubled the original recipe too.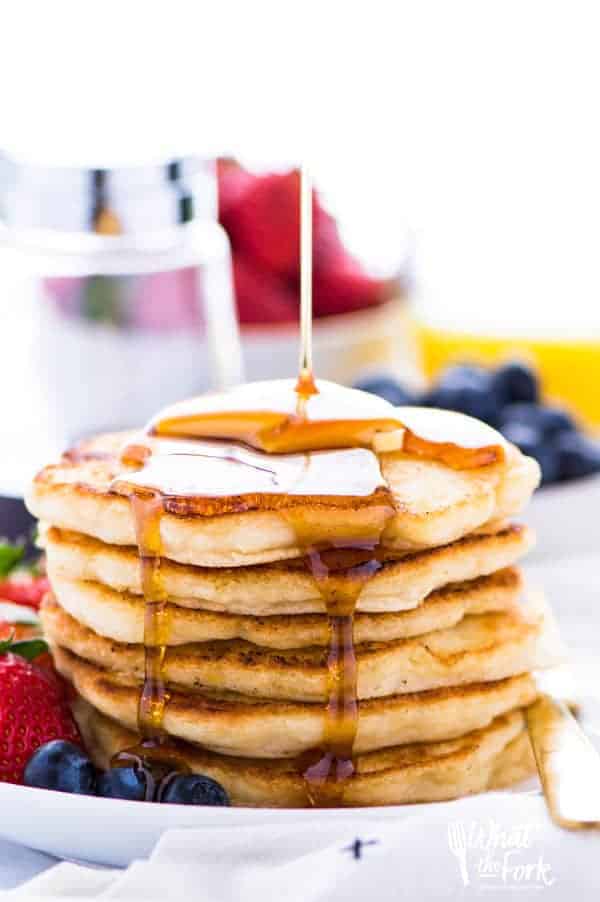 Our version makes about 14-16 depending on how big/small you make your pancakes. These gluten free pancakes freeze very well. Sometimes, I cook up a big batch just to keep in the freezer for busy mornings.
Once the pancakes are cool, I freeze them on a sheet pan and then transfer them to a freezer bag once they're frozen. We reheat them in our toaster oven for a quick and easy hot breakfast.
My family absolutely loves these pancakes and we make them every week. Sometimes we have them for breakfast on the weekend – my kids love helping to make them.
But we also like to have them for dinner. We have breakfast for dinner once a week because it's 1. easy and 2. everybody eats well that night.
---
Key Ingredients for this Gluten Free Pancake Recipe
All purpose gluten free flour blend (omit xanthan gum if using Bob's Red Mill 1:1)
2 large eggs at ROOM TEMPERATURE
Avocado OR canola oil
Vanilla extract
---
Equipment Needed
---
How to make Light and Fluffy Gluten Free Pancakes
Step 1. Whisk together the dry ingredients.
Step 2. In a separate large bowl, whisk together the wet ingredients.
Step 3. Combine the dry ingredients into the wet ingredients. Stir until completely combined.
Step 4. Preheat a griddle to medium-low heat. Scoop about 1/4 cup of batter onto the griddle, to form the round pancakes.
Step 5. Cook the batter until small bubbles form on the top, then flip over.
Step 6. Cook until golden brown and then serve.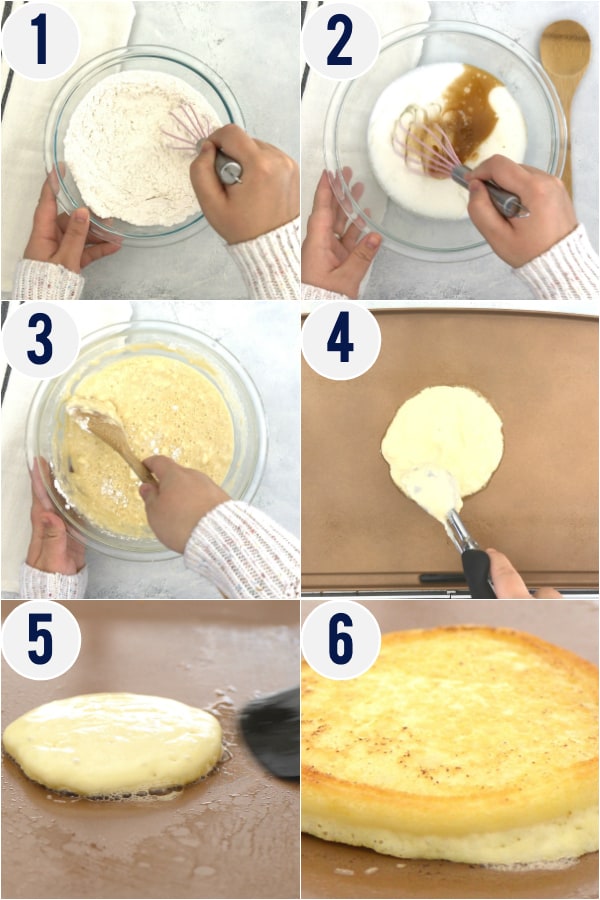 ---
There are NO complaints from little voices when there's a plate of pancakes on the table. They actually cheer and my 4-year-old literally does a happy dance.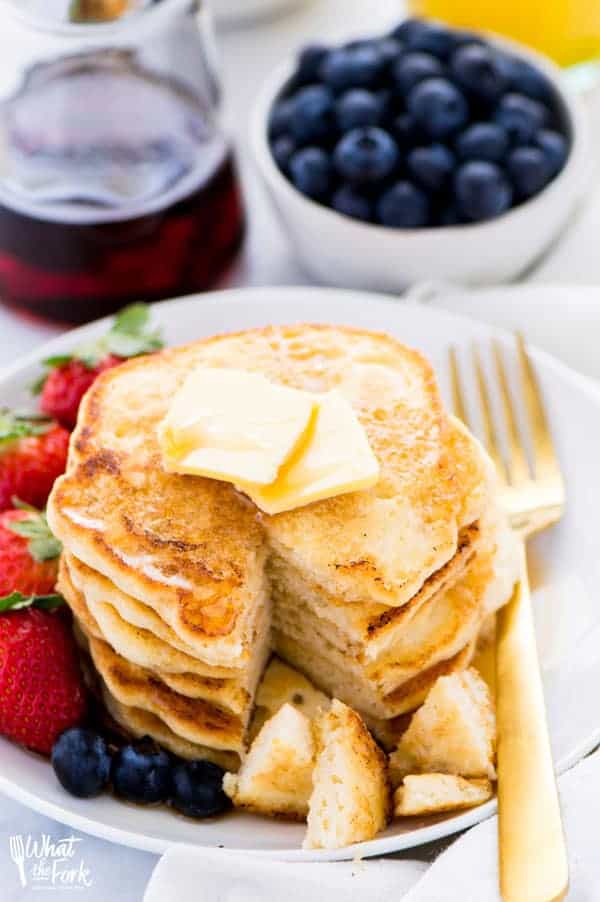 Tips for making Gluten Free Pancakes
Make sure to leave your eggs out so they are at room temperature.
An electric griddle seems to work best (but not necessary). You can do up to eight pancakes on the one we have and they cook pretty evenly!
Be sure to use the "spoon and sweep" method when measuring out the flour. It's super important to make sure you have the correct amount of gluten free flour!
This recipe calls for baking powder– not baking soda!
If the batter seems too thick, add a little bit of milk to help thin it out. Add a little bit at a time.
This recipe does not work well with Cup4cup! Instead, use my all purpose gluten free flour blend. Bob's Red Mill 1:1 Gluten Free Baking Flour works well as King Arthur Gluten-Free Measure for Measure Flour.
You can make this recipe dairy-free by adding coconut or almond milk instead of regular milk.
Try topping your pancakes with your favorite toppings- even if it's just some simple melted butter on top!
Her happy dance is similar to Chunk's Truffle Shuffle (from The Goonies). Except she's smiling and keeps her shirt down. It's pretty hilarious. And who doesn't love when their kid is so happy about dinner that they do a little happy dance?
So yeah, we'll just be over here eating our pancake dinner and be in our own little dinner happy place. Until tomorrow when I make pork chops and all the tears come out because my kids have now gone on a pork strike 🙄🙄🙄
Do you guys eat breakfast for dinner? Some other favorites we like are quiche, coffee cake, or waffles for dinner. Sometimes they're too much work in the morning on the weekend when you sleep in.
You don't really want to wait an hour to eat breakfast when all you really want/need is a big pot of hot coffee. But they're also too delicious to wait for a holiday brunch.
Whether you have these gluten free pancakes for breakfast or dinner, enjoy! And watch the video on this page to see how easy they are to make! If you make this recipe, and love it, I'd love for you to leave a 5-star rating thank you!
Click the video at the top of this page to see how to make these. You can also watch this video on Facebook where you can easily share it.
Be sure to follow me on instagram and hashtag #whattheforkfoodblog or tag @whattheforkfoodblog – I love seeing what you make!
If you love this recipe for gluten free pancakes, be sure to follow me on social media so you never miss a post:

Gluten Free Pancakes
Gluten Free Pancakes are a staple recipe for every gluten free kitchen. They're super easy to make, freeze well, and can be made dairy free too!
Ingredients
1/2 teaspoon xanthan gum
4 teaspoons baking powder
1 teaspoon fine sea salt
2 large eggs, room temperature
1 1/2 cups milk (regular or unsweetened coconut milk)
1/4 cup avocado oil
2 Tablespoons pure maple syrup
1 teaspoon vanilla extract
Instructions
In a medium bowl, whisk together the gluten free flour, xanthan gum, baking powder, and salt. Set aside.
In a large bowl, whisk together the eggs, milk, oil, maple syrup, and vanilla extract.
Add the dry ingredients to the wet ingredients and stir until completely combined. NOTE: Pancake batter will be thick and will puff up as it sits.
Heat a griddle on medium-low heat. When the griddle is hot, scoop the batter onto the griddle, about 3 tablespoons-1/4 cup at a time. Use your spoon or scoop to form the round pancakes. Cook in butter (optional) or use cooking spray for dairy free. Or, if your griddle is non-stick, you can cook them dry.
Cook on the first side and then flip when little bubbles start to appear on the top of the pancakes. Cook until the other side is browned and cooked through. Repeat cooking process with the remaining batter/pancakes.
Serve with butter and maple syrup.
Notes
I use a OXO Large Cookie Scoop to portion my pancakes and get about 16 when I made them. The amount this recipe yields will depend on the size of your pancakes.
I use my Nightshade-Free Gluten Free Flour Blend to make these pancakes. I've also successfully tried this with Bob's Red Mill 1:1 Gluten Free Baking Flour, King Arthur's Gluten Free Measure for Measure Flour Blend, and Cup4Cup.
Recommended Products
As an Amazon Associate and member of other affiliate programs, I earn from qualifying purchases.
Nutrition Information:
Amount Per Serving:
Calories:

116
Total Fat:

5g
Saturated Fat:

1g
Cholesterol:

26mg
Sodium:

125mg
Fiber:

2g
Sugar:

3g
Protein:

3g