If you've been dissatisfied with store-bought gluten free hot dog buns, try this recipe for homemade gluten free buns. They're soft, light, and taste great!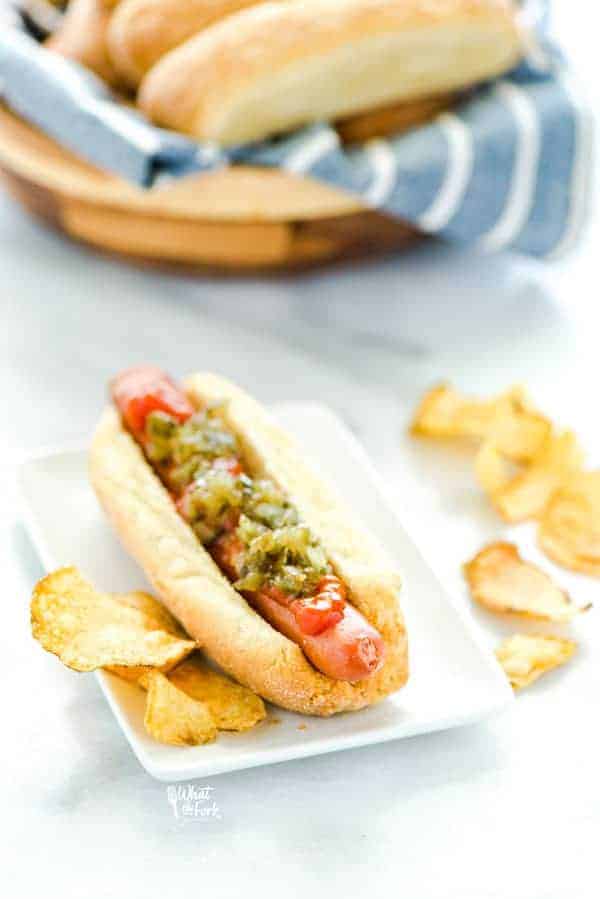 This post contains affiliate links for products and ingredients I use and love. You can read my full disclosure here. Thank you for supporting What The Fork Food Blog ♥
Gluten Free Hot Dog Buns
When's the last time you had a soft gluten free hot dog bun? Oh wait…
And when's the last time you had a gluten free hot dog bun that didn't fall apart as you were trying to eat it 💁🏻‍♀️
Unfortunately, the answer might be never but times are changing, my friends!
Behold – SOFT Gluten Free Hot Dog Buns for your summer grilling pleasure. These rolls stand up to whatever you fill them with and won't crumble and fall apart with each and every bite 🙌🏼
You can load up on your hot dog toppings and not have to worry about them falling into your laps due to shoddy buns (unless you're just a really messy eater, then there's just no hope for you 😉).
For this recipe, I tweaked my original recipe for gluten free rolls into gluten free hot dog buns. The dinner roll recipe made a smaller amount of dough, which wouldn't have been enough to make 8 hot dog buns. If you only want to make 4-6 rolls, go ahead and use the original recipe.
It was worth the experimenting because man, these are good buns!
Did you make this recipe? Leave a star rating and let me know in the comments! You can also leave a photo/comment on this pin for others to see.
While these are side-split hot dog buns, they stand up just fine without falling over. If you want New England Hot Dog Buns, you'll need a New England Hot Dog Bun Pan for that. It's on my recipes to try sometime because there's nothing like a hot buttered and toasted New England Hot Dog Bun!
You guys are going to love these hot dog buns!
---
Can you make Gluten Free Hamburger Buns with this recipe?
While I haven't done it myself, I've had readers make hamburger and sandwich rolls with my regular roll recipe. Since they've had success turning that recipe into hamburger buns, I can say fairly certainly that this recipe will also work since the recipe is essentially the same, it just makes a bit more dough. To shape this dough into hamburger buns, I would use English Muffin Rings, a Hamburger Bun Pan, or shape them and place them on a baking sheet close together like we do with the hot dog buns.
I'll be experimenting with this soon because Adam has requested a good hamburger roll that doesn't fall apart when he's eating it 🍔
---
Can I make Dairy Free Hot Dog Buns?
Yes! Use dairy free milk (I prefer baking with unsweetened coconut milk beverage) in place of the regular milk. Then, brush the the rolls with vegan butter or oil.
---
Can I make these Hot Dog Buns without Yeast?
I haven't tried it, but I had a reader make my dinner rolls without the yeast. If you have a yeast sensitivity, you can try subbing the yeast with 1 1/8 teaspoons baking soda + 1 1/8 teaspoons white vinegar. Add the baking soda to the dry ingredients and the vinegar to the wet ingredients.
---
Can I make these Gluten Free Rolls without Eggs?
Again, I haven't tried this but I have had readers comment that they've successfully make my dinner rolls and cinnamon rolls with a flax egg. Since this dough is very similar, I'm sure a flax egg would work in place of the regular egg here. If you make these gluten free hot dog buns without eggs, please let me know in the comments! It's very helpful for other readers as well.
---
What are the best Gluten Free Hot Dogs?
Now that we've got our bun situation straightened out, we need to fill them! I polled the Gluten Free Baking Club to find out what their favorite gluten free hot dogs are and here's what they said:
Kayem
Boar's Head
Hofmann
Black Bear
Kunzler
Nathan's
Dietz & Watson New York Brand Beef Franks (one of our favorites and pictured in this post)
Hebrew National
And if you're not into hot dogs, you can fill your bun with something else. A few of our favorite ways to eat them are Sausage Grinders, Tuna Boats, and Lobster Rolls.
Since I'm from Connecticut, we eat our lobster rolls with hot, buttered lobsters. It's the best way, IMO. But if you're eating your lobster roll elsewhere, you'll probably get it as lobster salad, also known as cold lobster rolls. They're good but not as good.
---
Key Ingredients for Homemade Hot Dog Buns
---
Special Equipment Needed to Make Hot Dog Buns
Instant Read Thermometer
Ruler or Pastry Mat – you can use a standard ruler to measure the length of your hot dog rolls or roll your rolls out on a pastry mat that has measurements included. I highly suggest a pastry mat, you'll find it very useful especially if you ever make gluten free pie crust.
---
Tips for Making Gluten Free Hot Dog Buns from Scratch:
The dough balls should be pliable like Playdough but they shouldn't be sticky. As you work with the rolls, dust them with flour as needed.
Rolling the dough on floured plastic wrap or on a floured pastry mat is the easiest way to roll them.
Apply gentle even pressure with your whole hand (from palm to finger-tip) to get a roll that is long and uniform. Roll back and forth on the floured plastic wrap then transfer it to the lined baking sheet. Roll it into place or back and forth as necessary to smooth out any lumps.
Place the rolls very close to each other on the baking tray before they rise. I leave about 1/4 inch between rolls. That way, the rolls will use each other as a wall to help them rise high instead of wide.
Melted butter gives the rolls flavor and color but you can use a bit of oil instead.
---
Other Recipes for Gluten Free Yeast Rolls To Try:
---
Be sure to follow me on Instagram and hashtag #whattheforkfoodblog or tag @whattheforkfoodblog – I love seeing what you make!
If you love this gluten free hot dog buns recipe, follow me on social media so you never miss a post:
---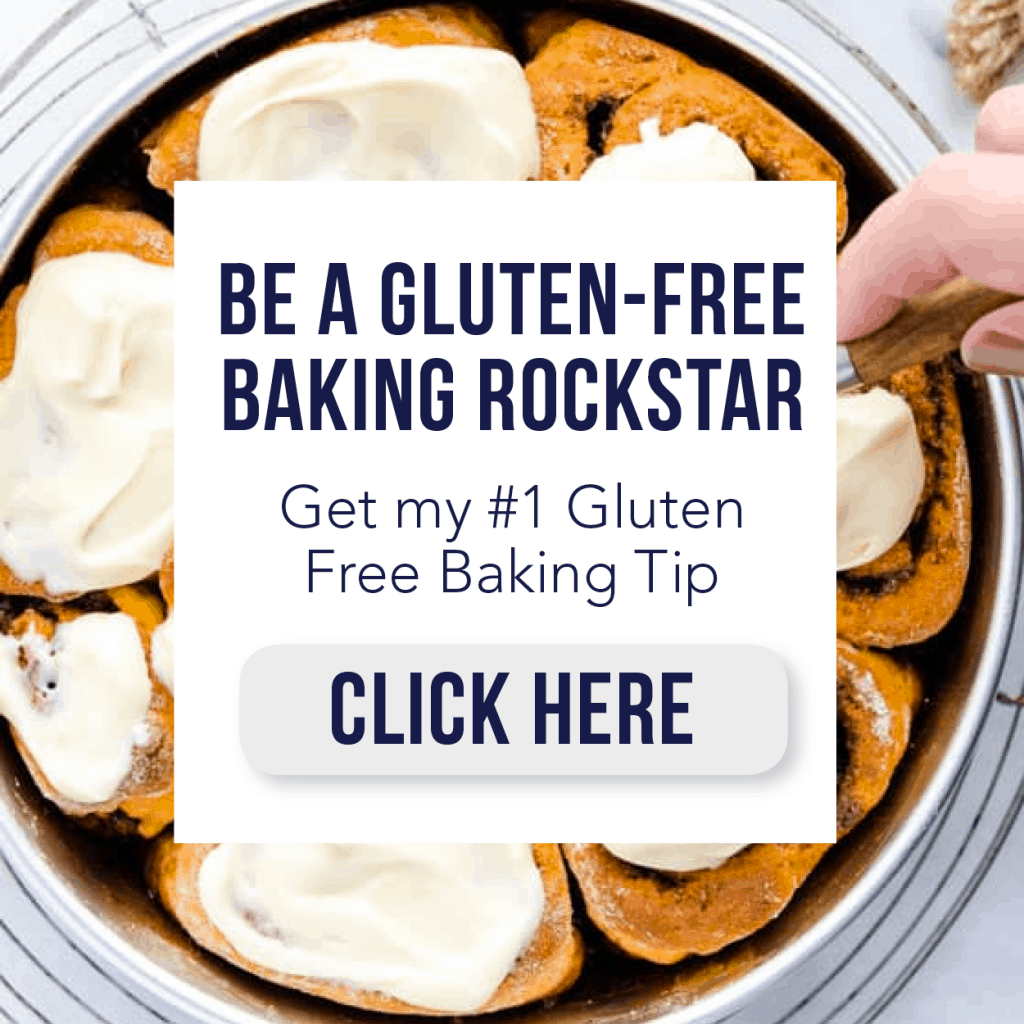 The Best Recipe for Gluten Free Hot Dog Buns
Total Time:
1 hour
48 minutes
If you've been dissatisfied with store-bought gluten free hot dog buns, try this recipe for homemade gluten free buns. They're soft, light, and taste great!
Ingredients
2 1/4 teaspoons Active Dry Yeast
3/4 teaspoon Granulated Sugar
3/4 cup Milk, heated to 100-100ºF
82 grams White Rice Flour
75 grams Brown Rice Flour
97 grams Arrowroot
45 grams Tapioca Flour
24 grams Sorghum Flour
2 teaspoons (6 g) Xanthan Gum
1 1/2 teaspoons (6 g) baking powder
3/4 teaspoon (4 g) fine sea salt
3 tablespoons honey
1 large egg, room temperature
1/3 cup avocado oil (or neutral oil of choice)
3 tablespoons melted butter, divided
Instructions
Line a baking sheet with a silicone mat or parchment paper and set aside.
Add the yeast and granulated sugar to the bowl of a stand mixer. Slowly pour in the milk, making sure the yeast is moistened. Let sit for at least 15 minutes to "bloom" as you prepare the other ingredients.
Add the white rice flour, brown rice flour, Arrowroot, tapioca flour, sorghum flour, xanthan gum, baking powder, and salt to a medium bowl. Whisk well to combine.
When the yeast has bloomed (is super foamy), add the honey, egg, and avocado oil. Use the paddle attachment to mix on medium low speed until combined.
Add the flour mixture and mix on low until just combined. Stop the mixer and scrape down the bowl. Then mix on medium (6 on my KitchenAid Stand Mixer) for 1 minute.
Use a spatula to scrape down the sides of the bowl and form into a ball (dough should easily do this) and turn the dough ball out onto a well floured surface (I usually just flour some plastic wrap and then re-use that to cover the rising rolls). Sprinkle the top of the dough with additional gluten free flour and pat it out into a square then use a knife to cut the dough into 8 equal pieces.
Use well-floured hands to roll each piece of dough into a ball (best results if you squish/flatten the dough in your hands first THEN roll into a small log). Place the roll on the floured surface and gently and evenly roll into a log 5 1/2 inches long and about 1 inch wide (SEE NOTES for shaping).
Gently place the roll on the prepared baking pan and repeat with the remaining rolls - DUST YOUR HANDS WITH FLOUR EACH TIME and lightly sprinkle with flour as needed to prevent the dough from sticking. Place the rolls 1/4 inch apart in a line so when they rise, they will be touching.
Place the dough to rise in a warm spot (I like mine to rise on top of my preheated oven) and cover loosely with plastic wrap or a clean kitchen towel. Let rolls rise for 1 hour. When the rolls are halfway done rising, preheat the oven to 350° F.
After rising, brush the tops of the rolls with 2 tablespoons of melted butter before baking. Then bake for 16-20 minutes (depending on your oven). Mine bake in 18 minutes. After baking, brush with 1 more tablespoon of melted butter and cool on the pan for 10 minutes.
Serve warm or cool completely on a wire rack before serving.
Notes
Shaping: To get smooth rolls, apply as little pressure as possible when rolling out on your floured surface. Then once each rolls is moved onto the baking sheet, gently roll it into place to smooth out any lumps. Smooth out the ends and make sure they're not pointed.
Leftover rolls are best stored in the freezer. To reheat frozen rolls, wrap in aluminum foil and heat in the oven at 400° until warmed through.
Recommended Products
As an Amazon Associate and member of other affiliate programs, I earn from qualifying purchases. Thank you for helping to support What The Fork Food Blog ♥
Nutrition Information:
Yield:

8
Serving Size:

1
Amount Per Serving:
Calories:

329
Total Fat:

17g
Unsaturated Fat:

11g
Protein:

5g
Nutrition information is auto-generated and isn't always accurate.
Did you make this recipe? Leave a star rating and let me know in the comments! You can also leave a photo/comment on this pin for others to see.