Gluten Free Brooklyn Blackout Cake is made with layers of chocolate cake, filled with chocolate pudding, and finished with silky smooth chocolate frosting and chocolate cake crumbs.
This post is sponsored by King Arthur Baking Company. Thank you for supporting the brands that support What The Fork Food Blog. All opinions are my own ♥
Blackout Cake, also known as Brooklyn Blackout Cake, is a moist chocolate cake with a chocolate pudding filling, frosted with chocolate icing, and garnished with chocolate cake crumbs.
The original Brooklyn Blackout cake is from Ebinger's Baking Company in Brooklyn, New York. Unfortunately, it isn't a cake you can buy because the bakery closed in 1972.
The cake wasn't named after the chocolate but after the blackout drills that took place in Brooklyn during WWII. Since the original recipe was never shared, bakers have been trying to recreate it ever since because it was truly a remarkable cake.
AKA a delicious chocolate treasure.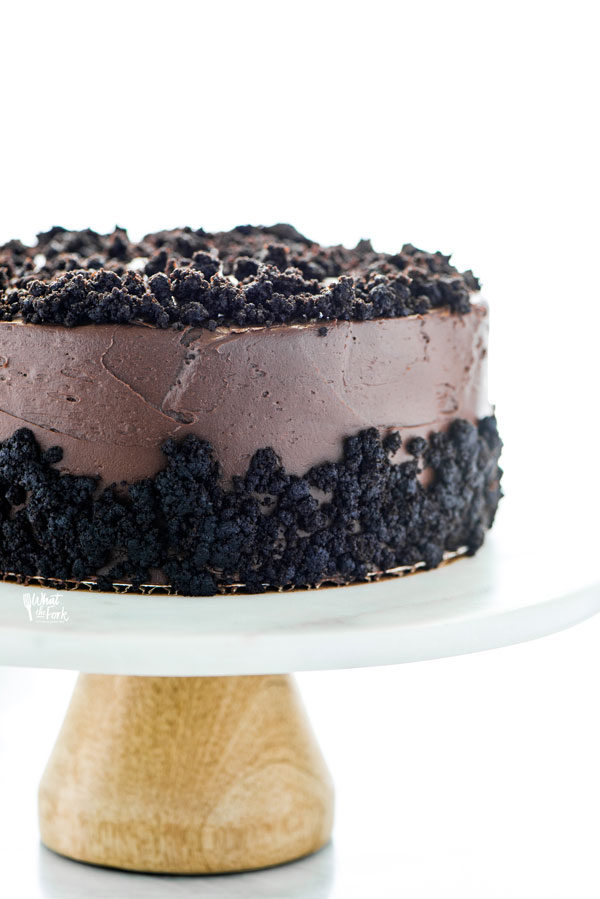 ---
What You Need To Know About This Blackout Cake Recipe
You could make the chocolate cake with my reader-favorite Gluten Free Chocolate Cake recipe OR you can do what I did and take a shortcut. Yes, that's right… I took a shortcut today and used King Arthur's Gluten-Free Chocolate Cake Mix.
I made homemade Chocolate Pudding for this recipe but if you're really short on time, you could take your shortcut even further and use pudding mix.
However, the flavor and richness of homemade pudding just can't be replicated with a powder mix and milk. I highly recommend going the homemade route for the pudding and frosting here.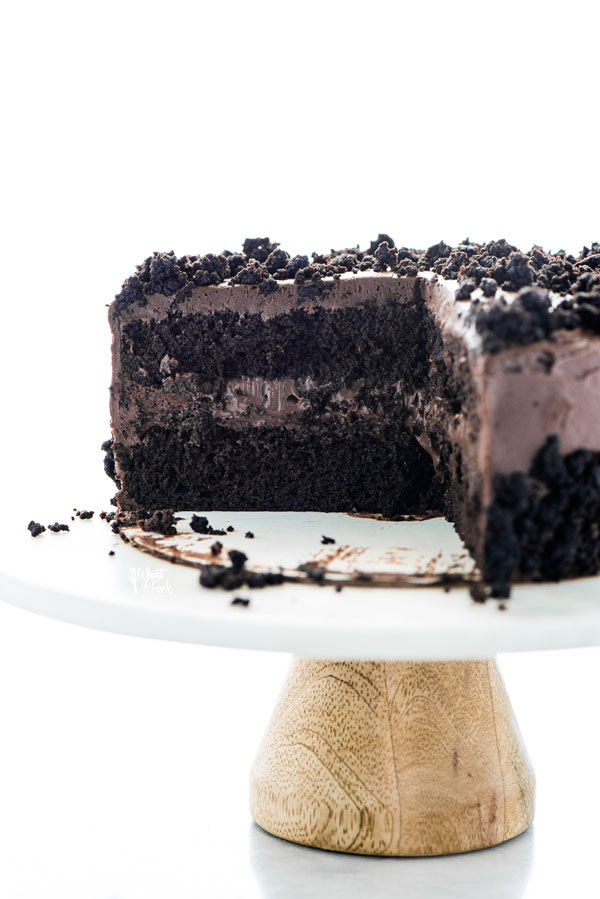 Did you make this recipe? Leave a star rating and let me know in the comments! You can also leave a photo/comment on this pin for others to see.
---
How to Make a Box Cake Better
I've seen it alllll when it comes to suggestions on making boxed cake mix better. Some suggest adding sour cream or Greek yogurt, applesauce, extra eggs, extra oil, pudding mix, etc.
Some of these might be worth experimenting with but good news, King Arthur's Chocolate Cake Mix is top-notch and doesn't need anything extra. It's perfect as is!
This chocolate gluten free cake mix is truly the best I've tried.
As an Amazon Associate I earn from qualifying purchases.
---
Brooklyn Blackout Cake Ingredients
Granulated Sugar
Dutch Processed Cocoa Powder
Cornstarch
Fine Sea Salt
Egg Yolk (from a large egg)
Whole Milk or Half + Half
Unsalted Butter, cubed and room temperature
Espresso Powder (optional)
Semi-Sweet or Dark Chocolate – from bars
Large Eggs
Water
Vegetable Oil – or avocado oil
Chocolate Box Cake Mix – for best results use King Arthur Gluten-Free Chocolate Cake Mix
---
Equipment Needed to Make Gluten Free Cake
Medium Saucepan (non-stick)
Glass Bowl
Plastic Wrap
Parchment Paper
---
How to Make a Brooklyn Blackout Cake
Step 1. Make the chocolate pudding. Then chill the pudding for 2 hours or overnight to set up and thicken.
Step 2. Bake the cake and cool completely. Once cool, the cakes can be wrapped in plastic wrap and frozen, if desired.
Step 3. Make the frosting and assemble the cake. Refrigerate until ready to serve.
Step 4. Bring the cake to room temperature 30-60 minutes before serving.
---
Best Frosting for Blackout Cake
I frosted this cake with a full batch of my Chocolate Cream Cheese Frosting made with dark cocoa powder but black cocoa powder would be great too. The slight tang from the cream cheese keeps this cake from being overly sweet.
You could also frost this cake with Chocolate Buttercream Frosting or even Chocolate Ganache.
---
Tips for Making a Brooklyn Blackout Cake
For best results, make the homemade chocolate pudding from this cake recipe. If you used chocolate pudding from a box, make sure the pudding sets up enough. If your pudding is too thin, the cake won't slice well, and you could have some structural issues.
Use a good quality chocolate bar for the pudding for better flavor. Chopped chocolate will also melt better than chocolate chips.
Make the Pudding/Filling the day before you want to assemble the cake.
For easier assembly, freeze the cakes on a sheet pan for 30 minutes to an hour before assembling the cake.
Save the chocolate cake pieces after leveling off the top of the cakes. Crumble them up and use them to decorate your cake!
---
Other Gluten Free Cake Recipes To Try
---
Be sure to follow me on Instagram and hashtag #whattheforkfoodblog or tag @whattheforkfoodblog – I love seeing what you make!
If you love this Brooklyn Blackout Cake recipe, be sure to follow me on social media so you never miss a post:
---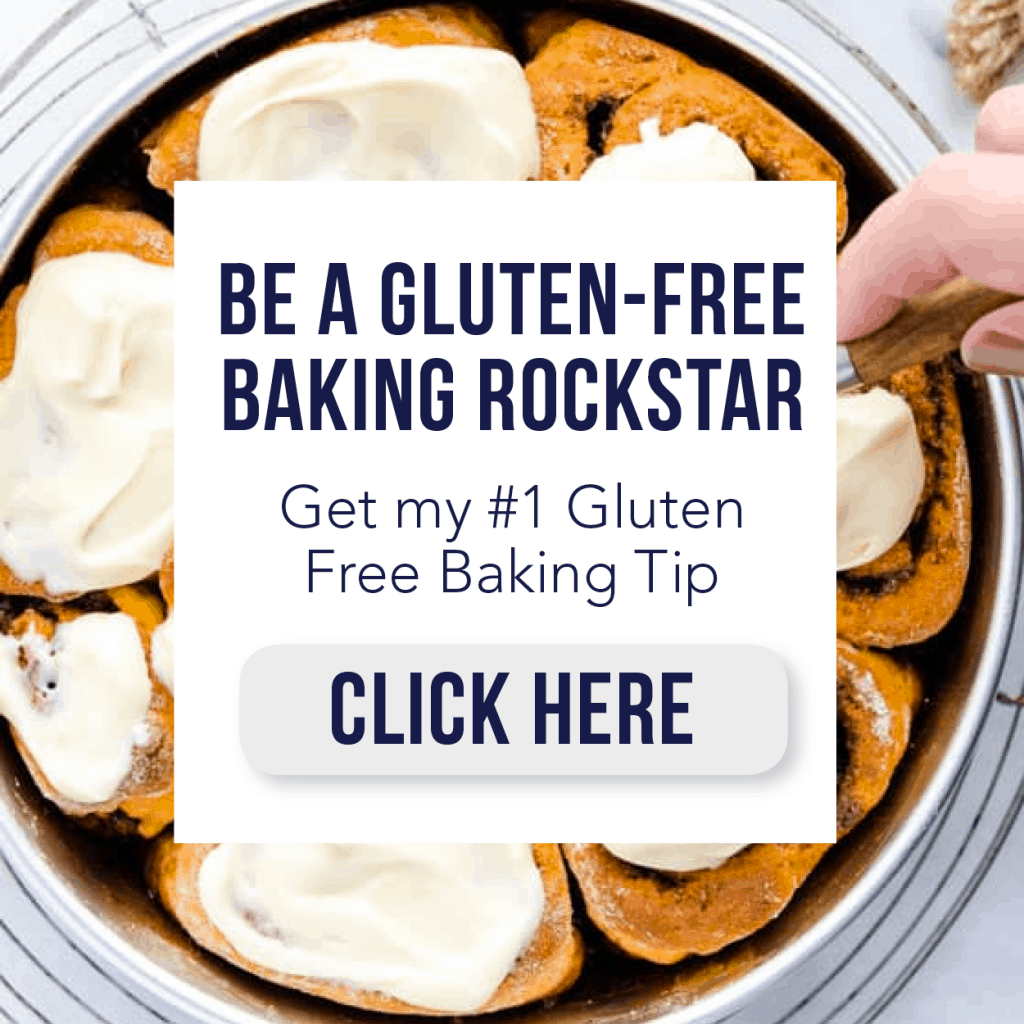 Easy Gluten Free Blackout Cake
Total Time:
4 hours
55 minutes
Gluten Free Chocolate Blackout Cake is made with layers of chocolate cake, filled with chocolate pudding, and finished with silky smooth chocolate frosting and chocolate cake crumbs.
Ingredients
For the Filling
1/4 cup granulated sugar
2 Tablespoons Dutch Processed Cocoa Powder
2 Tablespoons cornstarch
1/8 teaspoon fine sea salt
1 egg yolk (from a large egg)
1 cup whole milk or half + half, room temperature
1 tablespoon unsalted butter, cubed and room temperature
1/4 teaspoon espresso powder
1//2 teaspoon pure vanilla extract
1 1/2 oz. semi-sweet or dark chocolate, finely chopped
For the Cake
4 large eggs, room temperature
1 1/3 cups water
2/3 cup vegetable oil
1 teaspoon espresso powder
1 box King Arthur Gluten Free Chocolate Cake Mix
To Assemble
Instructions
To Make the Pudding/Filling
Add the granulated sugar, cocoa powder, cornstarch, and salt to a medium-sized non-stick pot and whisk to combine. Whist in the egg yolk and milk.
Heat over medium heat, whisking constantly until the mixture comes to a boil and has thickened.
Remove from the heat and whisk in the butter, espresso powder, vanilla extract, and the chopped chocolate. Whisk until the butter and chocolate have melted and the pudding is smooth.
Place a fine-mesh strainer over a glass bowl and pour the pudding over the strainer. Whisk the pudding until it all passes through the strainer and any lumps are left behind.
Place a piece of plastic wrap directly on the pudding surface and cool to room temperature. Then refrigerate the pudding for at least 2 hours or overnight.

To Make the Cake
Preheat oven to 350 degrees. Spray 2 8-inch round cake pans with non-stick spray and line the bottom of the pans with parchment circles.
In a large bowl, whisk together the eggs, water, oil, and espresso powder until combined. Stir in the chocolate cake mix until completely incorporated.
Divide the batter evenly between the 2 cake pans. Bake for 25-35 minutes or until a cake tester comes out clean. When done, the cake will spring back when pressed and will pull away from the sides of the pan.
Cool the cakes in the pan for 10 minutes then remove from the pans and cool completely on a wire rack.

To Assemble
Make the Chocolate Cream Cheese Frosting or Chocolate Buttercream Frosting as directed.
Use a serrated knife to slice the domed top off the cakes to level them. Set the cake tops/pieces aside to use for garnish.
Place one layer of the cake on a cake stand or cake plate. Spread a very thin layer of frosting over the cake, just enough to cover and form a barrier for the pudding.
Add some of the frosting to a piping bag fitted with a large round tip. Pipe a dam/frosting ring around the edge of the cake. Refrigerate or freeze this layer for 10-15 minutes to solidify the frosting.
Once the frosting ring/dam has firmed up, continue assembling the cake. Spoon the chocolate pudding inside the frosting dam and spread evenly to the edges.
Place the second layer of cake on top. Frost the top and sides of the cake with the remaining frosting.
Crumble the reserved cake pieces and press into the sides and top of the cake to garnish.
Refrigerate the cake until ready to serve. Bring the cake to room temperature 30 minutes to 1 hour before serving.
Notes
For best results, use chopped chocolate bars and not chocolate chips in the pudding.
Piping a dam around the bottom layer of the cake will keep the pudding from seeping out the sides of the cake when cutting.
See post for tips and other frosting recomendations.
Recommended Products
As an Amazon Associate and member of other affiliate programs, I earn from qualifying purchases.
Did you make this recipe? Leave a star rating and let me know in the comments! You can also leave a photo/comment on this pin for others to see.