These soft gluten free peanut butter cookies are a classic! They're easy to make, freeze well, and are incredibly delicious!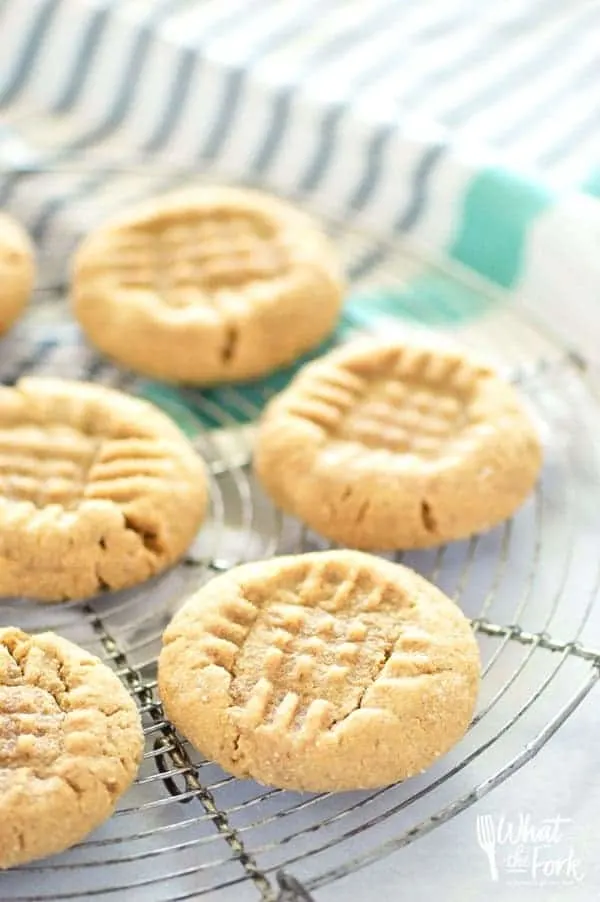 Gluten Free Peanut Butter Cookies
It's been a little while since I've shared a cookie recipe with you. Not since January when I shared my gluten free cherry pinwheel cookies. January! That's a really long time to go without a new cookie recipe! Although, I know it's summer and people don't really want to turn on their ovens right now so maybe cookie recipes in July don't make the most sense.
I'm ok with that though because I absolutely know this is a recipe that will sway you. You're going to want to crank that oven on because these gluten free peanut butter blossoms are too good to resist.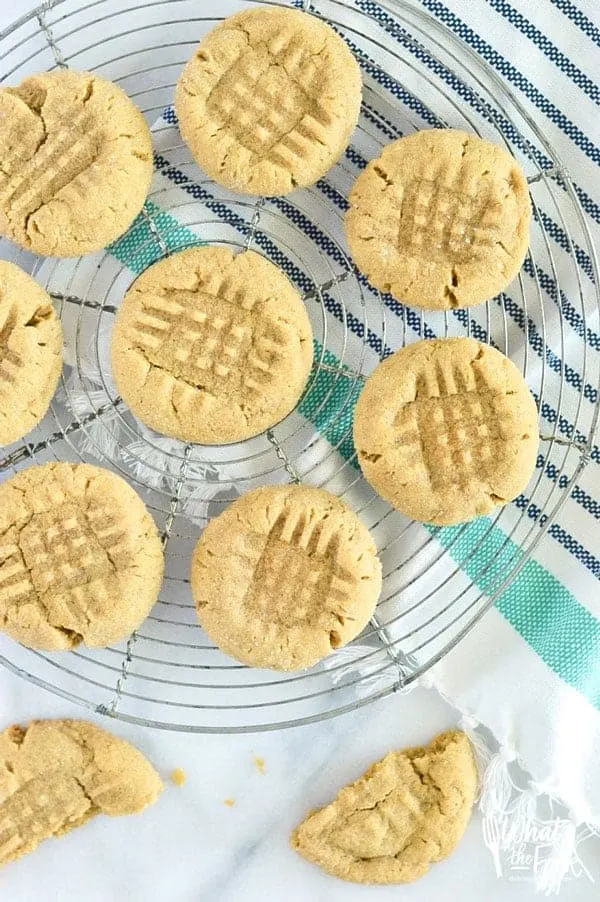 These cookies are pretty much the same as my gluten free peanut butter blossoms, just baked a little differently and without the Hershey's Kisses. I rolled these gluten free peanut butter cookies in sugar because classic peanut butter cookies should be rolled in sugar and then flattened a bit with a fork to get that look everyone knows and loves. They're also just sooo good with that little bit of crunch from the sugar!
If you like to freeze cookies, you're in luck! These cookies freeze beautifully. I find that the best way to keep gluten free cookies fresh for longer than two days is to freeze them after they're baked (as long as you're not keeping them in the freezer for longer than a few months).
You can also freeze the dough. If you freeze the dough, I recommend letting the dough chill in the fridge for 24 hours before scooping. That way the flavors can fully develop and you'll have a more flavorful cookie in the end. Once you're ready to freeze the dough, scoop the dough out, roll it in the sugar, flatten with the fork, then freeze the cookies on a sheet pan. Once they're fully frozen, you can transfer them to a freezer bag and then pull them out and bake them as needed.
You'll need to bake the frozen dough a couple minutes longer than the recipe calls for. But if you're not feeding a big family or if your family won't eat all the cookies within 2 days, freezing is the way to go.
This dough is super versatile. Not only is it almost the same dough as my gluten free peanut butter blossoms, but it's the same exact dough I used in my Reese's Peanut Butter Cookie Cups AND my Reese's Peanut Butter Cup Cookie Pie (Pizookie) – just with varying amounts of vanilla extract.
This is a really great base recipe for peanut butter cookies. You can do so many things with it. And if you want even more of a crunch, this would be really fun to try with crunchy peanut butter instead of smooth or even add some chopped peanuts like I did in my peanut butter blondies recipe.
I'm sure it's one recipe you'll turn to again and again, just as my family has. It's definitely a staple recipe that every family needs. Enjoy!

be sure to follow me on instagram and hashtag #whattheforkfoodblog or tag @whattheforkfoodblog – i love seeing what you make!
if you love this recipe for gluten free peanut butter cookies, be sure to follow me on social media so you never miss a post:
---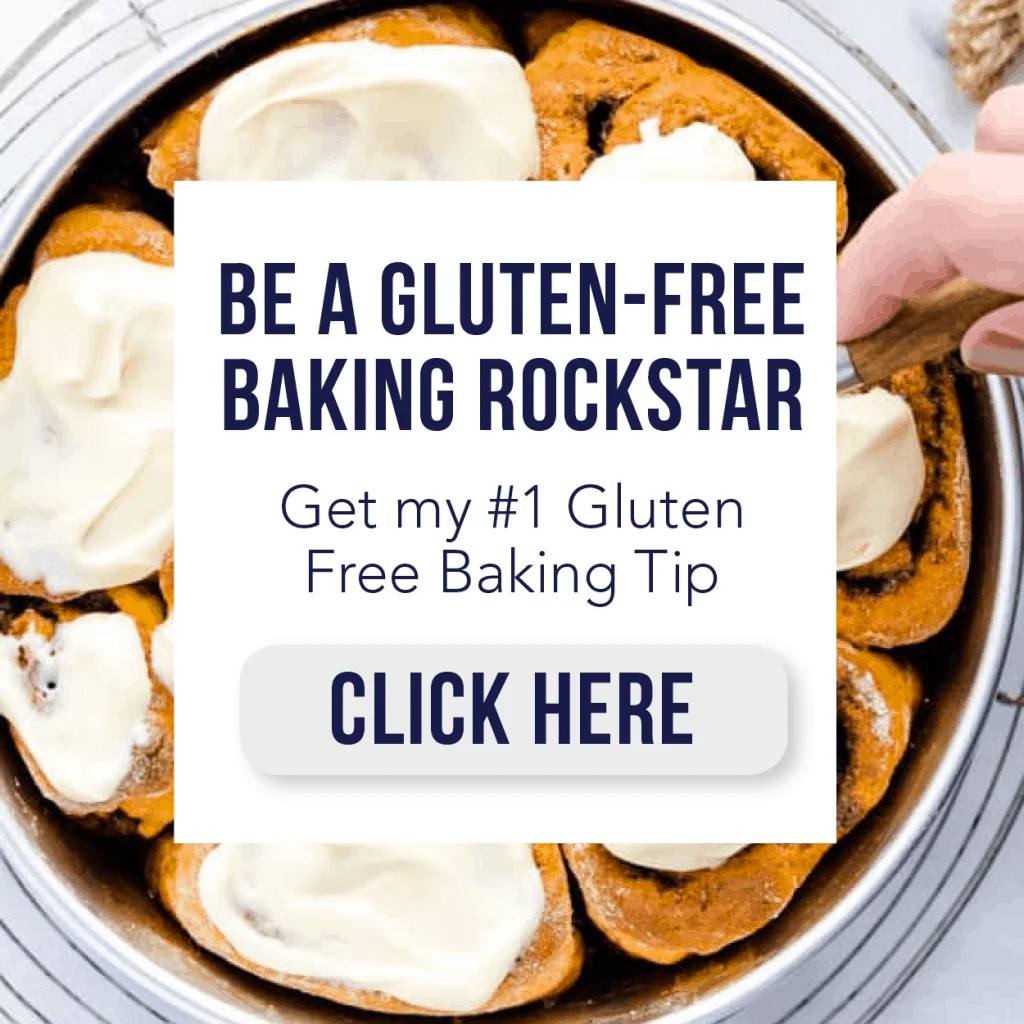 Gluten Free Peanut Butter Cookies
These soft gluten free peanut butter cookies are a classic! They're easy to make, freeze well, and are incredibly delicious!
Print
Rate
Pin
Ingredients
2

cups

gluten free all-purpose flour

1/2

teaspoon

xanthan gum

1

teaspoon

baking soda

1/2

teaspoon

fine sea salt

1 1/4

cups

light brown sugar

1

cup

peanut butter*

1/2

cup

butter

softened

2

large eggs

room temperature

1/4

granulated sugar

for rolling
Instructions
Please see recipe notes for chilling time to make sure you allow yourself enough time to make this recipe.

In a medium bowl, add the gluten free flour, xanthan gum, baking soda, and salt and whisk together to combine. Set aside.

Add the brown sugar, peanut butter, and butter to a bowl of a stand mixer and beat until smooth and creamy. Add the eggs, one at a time, beating after each addition until completely combined.

Add the dry ingredients and mix on low until combined, scraping the bowl as needed.

Cover and chill the dough for 2 hours or overnight (can be refrigerated up to 3 days).

When ready to bake, preheat the oven to 375 degrees and line baking sheets with silicon mats or parchment paper.

Use a medium-sized scoop to scoop 1 1/2 tablespoons of dough. Roll into a ball and then roll in the granulated sugar to coat. Place the cookie dough balls on the prepared baking sheets and use a fork to press and slightly flatten and form the lines. Bake the cookie dough at 375 degrees for 10 minutes or until done. Cookies will be slightly soft in the middle. Cool on the baking sheets for 5-10 minutes before cooling completely on a wire rack.
Notes
Prep time does not include time for chilling (which is a minimum of 2 hours).
I use my Nightshade Free Flour Mix in this recipe.
Baking the cookies for 8-10 minutes yields a soft peanut butter cookie. If you prefer crunchier cookies, bake a bit longer.
Bake in batches as necessary, keep dough refrigerated until ready to bake. Room temperature dough will spread more while baking.
* I use regular peanut butter like Skippy or Jiff, not the natural kind in this recipe.
Disclaimers
As an Amazon Associate and member of other affiliate programs, I earn from qualifying purchases.
Nutrition Facts are estimated and aren't always accurate. Please consult a doctor or nutritionist if you have special dietary needs.