These simple, no-bake gluten free chocolate peanut butter bars taste like peanut butter cups and are super easy to make. They can also be made dairy free and vegan.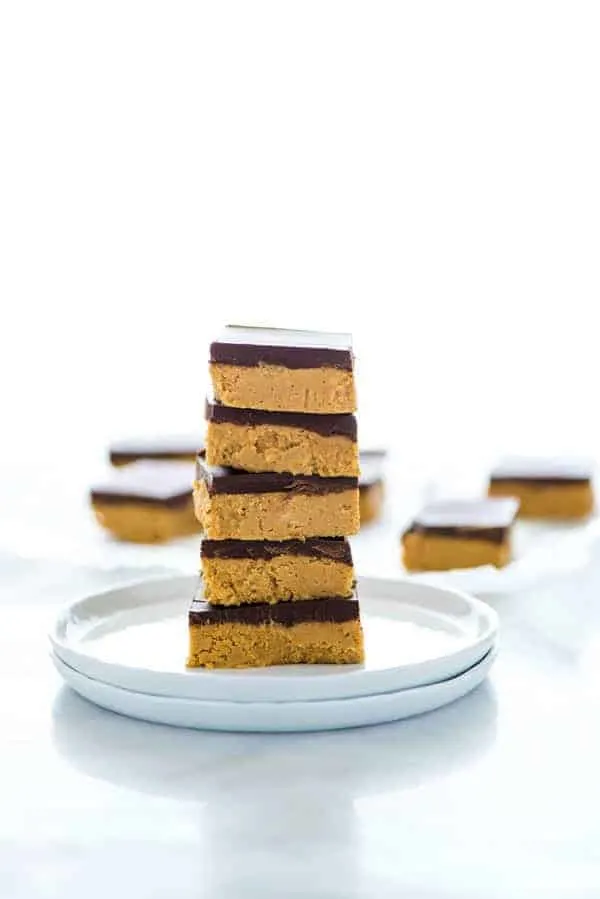 Photos Updated June 2018
Gluten Free Chocolate Peanut Butter Bars
These gluten free bars are one of my husband's favorite things that I've ever made. I always ask him to rate my recipes on a scale of 1-10. For him, desserts and savory dishes have a different rating system. I haven't cracked the savory scale yet, as I'm not 100% sure what it takes to get that perfect 10.
He can be picky, although he doesn't actually think he is. But he's definitely great for critiquing because he has no problem giving a recipe a 6, which pisses me off. The effort I put into something is worth more than a 6! But honesty is the best policy (gag me) so it does actually help me figure out how to tweak a recipe to make it gold.
Recipes that never need tweaking? Desserts with chocolate and peanut butter. The dessert scale is a scale of itself. For Adam, a recipe can ONLY start at a 10 if it has both chocolate and peanut butter. So if I make a dessert like my gluten free strawberry shortcake or blueberry crumb bars, they start out at an 8. You guys, I'm not even joking. I'm dead serious.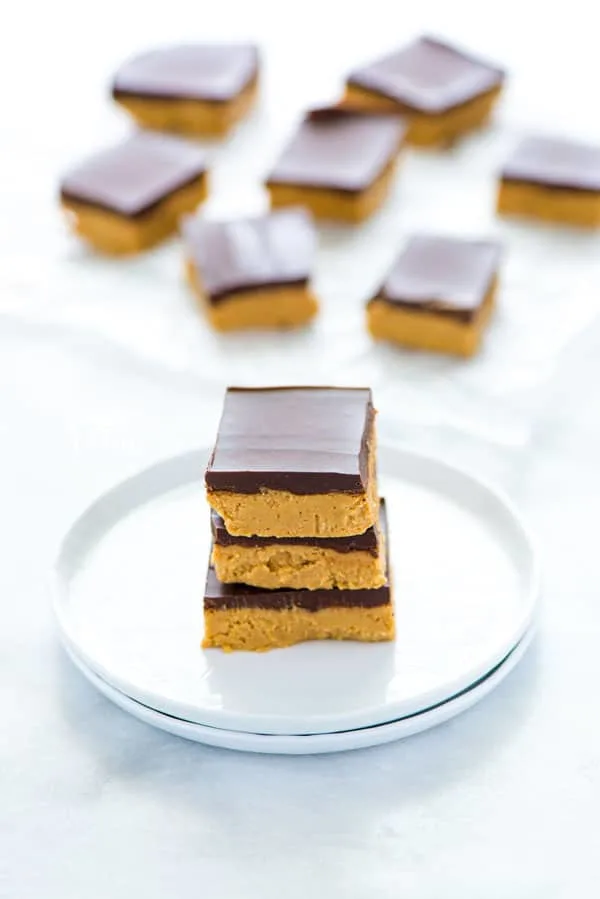 If there's chocolate, it starts at a 9. If there's peanut butter, it starts at a 9. If there's BOTH chocolate AND peanut butter, then it has a start value of 10. Asking him to rate a recipe is like asking him to judge gymnastics.
Wanna know what these gluten free chocolate peanut butter bars got? A 12. TWELVE. Usually, a recipe starts at a 10 (or 8…) and only loses points (too dry, too crumbly, too "I just don't feel like eating this so I'll just give it a 7", etc.). People, these went up in points it was that good. So run, don't walk, to the kitchen and whip yourself up a batch of these gluten free bars ASAP!
PS my mom used to call these E.T. Bars when she made them for us as kids. We don't know why 🤷🏻‍♀️🤣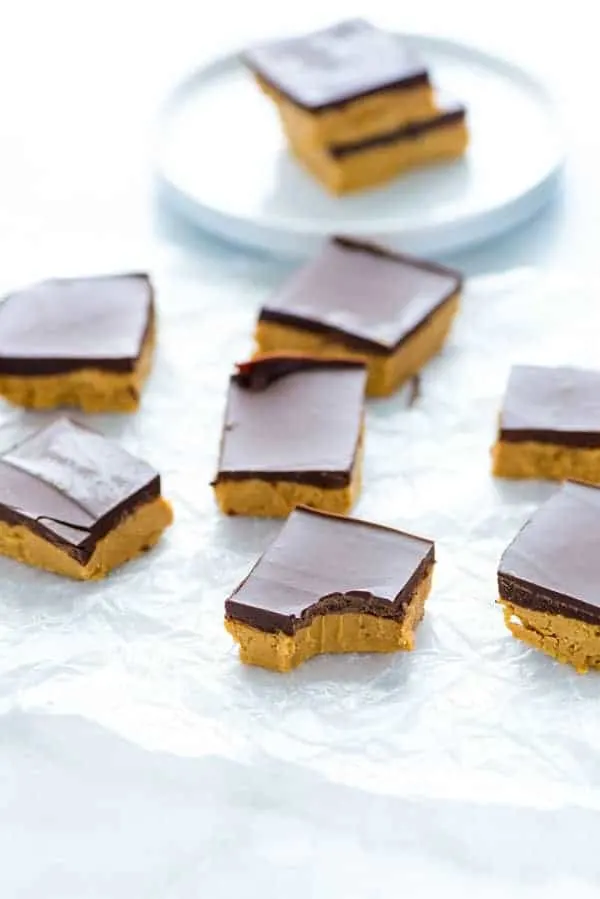 If you want a delicious version that is vegan, paleo AND dairy free, check out these amazing No Bake Paleo Chocolate Almond Butter Bars made by my good friend Demeter at Beaming Baker. She's the queen of easy no-bake dessert recipes!
Or for more chocolate peanut butter recipes, check out my Chocolate Peanut Butter Cup Ice Cream Cake, Chocolate Peanut Butter Oatmeal Smoothies, Reese's Peanut Butter Cup Cookie Pie (Pizookie), Gluten Free Peanut Butter Blossoms, or Reese's Peanut Butter Cookie Cups. I'm also working on a recipe for Gluten Free Brownies with Peanut Butter Frosting. Stay tuned for that one, it's seriously amazing! Enjoy!
BE SURE TO FOLLOW ME ON INSTAGRAM AND HASHTAG #WHATTHEFORKFOODBLOG OR TAG @WHATTHEFORKFOODBLOG – I LOVE SEEING WHAT YOU MAKE!
IF YOU LOVE THIS RECIPE FOR gluten free chocolate peanut butter bars, BE SURE TO FOLLOW ME ON SOCIAL MEDIA SO YOU NEVER MISS A POST:
---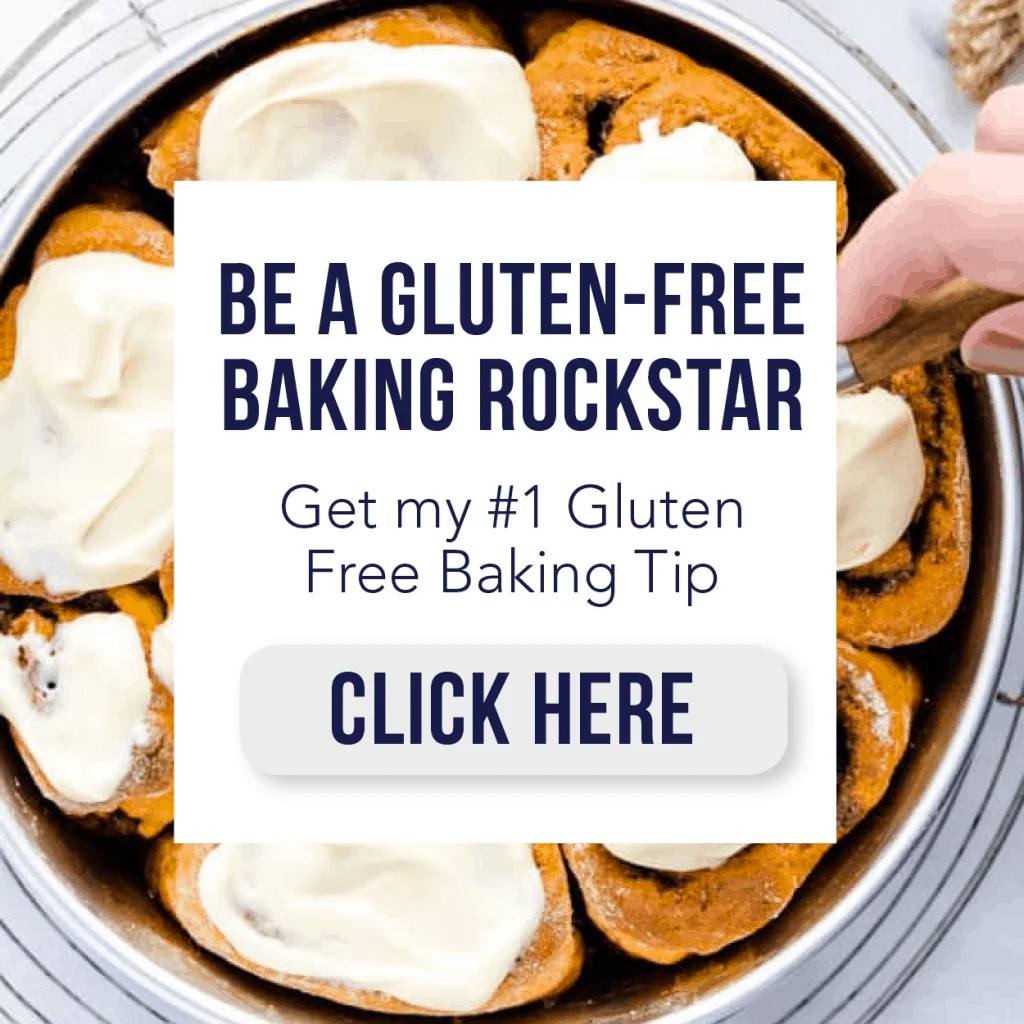 Gluten Free Chocolate Peanut Butter Bars
These simple, no-bake gluten free chocolate peanut butter bars taste like peanut butter cups and are insanely easy to make. Can be made dairy free.
Ingredients
For the Bars:
1/2 C butter (see notes for dairy free)
1 C gluten free graham cracker crumbs
1 C powdered sugar
1/4 tsp fine sea salt
3/4 C peanut butter (I have not used natural in this recipe)
For the Topping:
1 C semi-sweet chocolate chips
2 Tbsp peanut butter
Instructions
Line an 8x8 inch baking pan with parchment paper and set aside.
Add the butter to a large, microwave safe bowl and heat until melted. Stir in the graham cracker crumbs, powdered sugar, and peanut butter.
Press the mixture into the bottom of the prepared pan and set aside.
In a microwave safe bowl, melt the chocolate and 2 tablespoons of peanut butter at 50% power for 1 minute. Stir really well and continue to heat at 50% power for 20 second intervals until the chocolate is completely melted. Pour the melted chocolate mixture over the graham cracker base and evenly spread it across the top.
Refrigerate for until the bars are set, about 2 hours. Slice into squares and serve at room temperature or cold. Store in an airtight container in the refrigerator.
Notes
For dairy free, I use palm shortening and dairy free chocolate chips. The dairy free version is a bit softer than the regular version but are just as delicious!
I have also made this by melting the peanut butter with the butter in step 1. It makes it easier to mix but you need to refrigerate it for about 15-20 minutes before pouring the chocolate over the top.
Adapted from Recipe Tin Eats.
Recommended Products
As an Amazon Associate and member of other affiliate programs, I earn from qualifying purchases.
Nutrition Information:
Serving Size:

1
Amount Per Serving:
Calories:

320
Total Fat:

31g
Carbohydrates:

3g
Protein:

10g