This is a sponsored post written by me on behalf of Folgers for IZEA. All opinions are 100% mine.
This Dairy Free Coffee Creamer is a delicious way to spruce up your coffee. It's so good, you might be finding yourself drinking a little bit more coffee than usual just to have this creamer.
I am a full on coffee fanatic. Like it, love it, gotta have it ALL THE TIME. Lately, I've been experimenting with some different kinds of coffee creamers, all homemade. If you follow me on SnapChat (whattheforkblog), you've seen a couple versions – including this dairy free coffee creamer and a paleo version I've been working on.
Since my daughter Kelsey was diagnosed as lactose intolerant, I've been experimenting with a lot of different dairy free recipes. Since she's too young for coffee, this recipe isn't for her. Just for all of YOU who can't have homemade coffee creamer with real dairy.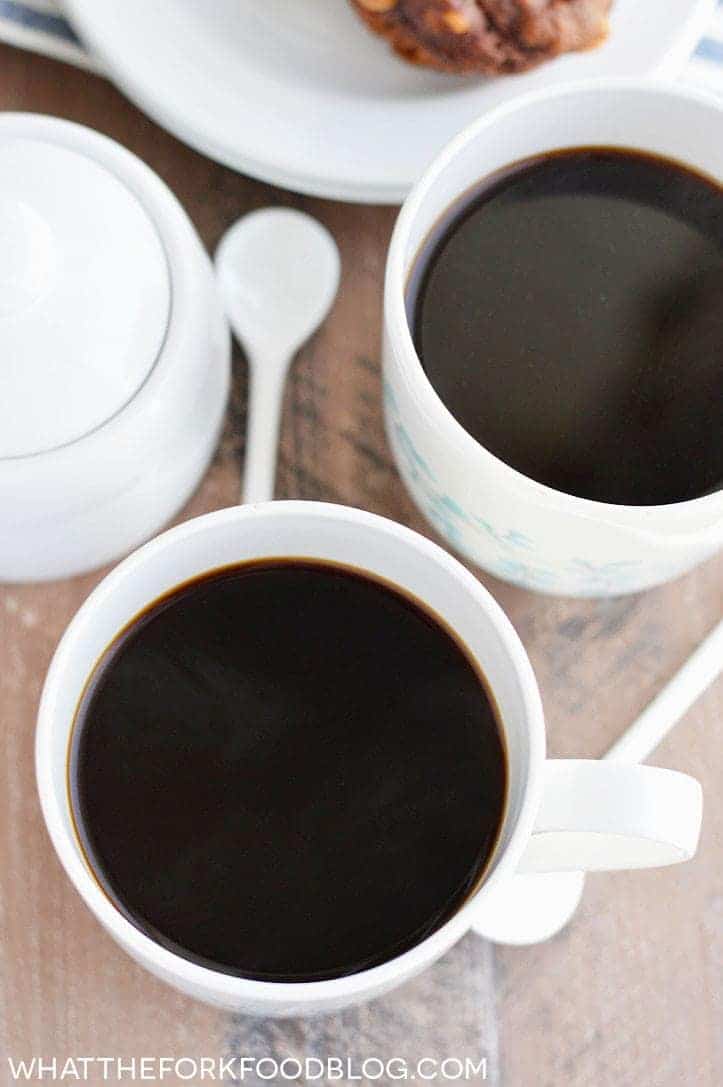 I just want to say, this dairy free coffee creamer is delicious. I could drink it by itself, it's almost like a melted coconut ice cream without a super strong coconut flavor. Even if it was a strong coconut flavor I wouldn't care, I love my coconut!
And since I've mentioned ice cream, I'm going to let you in on a secret – I'm working on a dairy free ice cream with this creamer as the base. Told you it tasted like ice cream ????
Now that I've thoroughly gotten off track, lets get back to the coffee ☕️
Lately, I've been pairing my coffee creamer with Folgers instant coffee. Because Instant coffee is just another way to say instant gratification, amiright? I like that I can just brew myself a cup in a flash AND not have any pods or grinds to clean up.
less mess + brewed in a flash = quick caffeine fix
I always have instant coffee on hand, too, for recipes that call for coffee as an ingredient. My toasted coconut truffles and my flourless chocolate truffle cake are two recipes that use a small amount of coffee where instant coffee would work great.
Also, fellow coffee lovers, I'll be sharing a roundup of ALLTHECOFFEEDRINKS soon. All of which could be made with instant coffee. Mugs up! Enjoy!
PS: Be sure to visit Folgers Recipes to get your caffeine fix.
BE SURE TO FOLLOW ME ON INSTAGRAM AND HASHTAG #WHATTHEFORKFOODBLOG OR TAG @WHATTHEFORKFOODBLOG – I LOVE SEEING WHAT YOU MAKE!
IF YOU LOVE THIS dairy free coffee creamer recipe, BE SURE TO FOLLOW ME ON SOCIAL MEDIA SO YOU NEVER MISS A POST:
3 Ingredient Dairy Free Coffee Creamer
Directions
Add all ingredients to a blender canister and blend for 1 minutes. Store in a glass container (like a mason jar) in the refrigerator.
This post contains affiliate links for ingredients I used in this recipe.