This Coconut Cheesecake is hands down, my favorite dessert to date. Graham cracker coconut crust, creamy coconut cheesecake, whipped cream and toasted coconut – it's the ultimate coconut lovers treat.
Gluten Free Coconut Cheesecake
Hi, friends. It's been a loooong time. I've been super busy doing things like celebrating my birthday and summering (yes I made it a verb) and I am now officially 30. You're probably tired of hearing about my whining about that though so I won't mention it again. Until I'm turning 31.
I wanted to pop in and tell you about this dessert. Ohmygosh this coconut cheesecake. Since coconut is my fav, I decided it wouldn't be right to celebrate a birthday without my favorite flavor. So, hello gorgeous, delicious gluten free coconut cheesecake – so nice to eat meet you! And goodbye because you don't stand a chance against my fork.
I first tested this recipe out over a month ago for my grandmother's birthday party. I'd say it passed the test with flying colors because my cousin asked if the recipe was up on my blog after one bite and the entire cheesecake disappeared faster than I could bring Mackenzie inside and change her diaper. That my friends, is a recipe success!
I also had no idea my family was as crazy for coconut as I am. Thank god because now I can seriously make #allthecoconut recipes I want and have plenty of happy taste testers.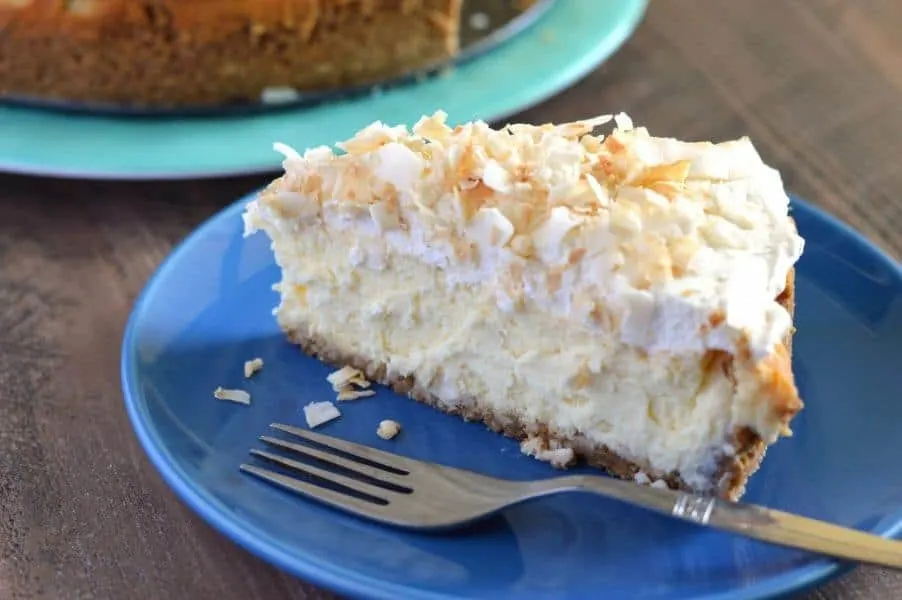 The very first time I made this recipe, I was in a hurry to get out of the house so I completely rushed the cooling process. Instead of leaving the cheesecake in the oven with the door closed, I cracked it open. Not only was the oven door cracked, but a huuuuge (seriously not an exaggeration) crack formed in the cheesecake. The crack was literally an inch deep and went straight through the ENTIRE cheesecake. Nothing a little whipped cream couldn't hide and it definitely did not affect the flavor but I knew it was there.
This time around, I left the cheesecake in the oven with the door closed a full hour and a half before cracking it and then for another hour in the oven with the door cracked and then I cooled it to room temperature on a wire rack before putting it in the refrigerator. This time around, there were no cracks, not one single little line. Perfection.
I am aware that all of the cooling time in the recipe may seem excessive. In my opinion, it's necessary. Cooling a cheesecake slowly will prevent those cracks from forming! And I know, you just want to dive right in. Patience, my friends. Patience. All good things come to those who wait. And by good things, I mean COCONUT CHEESECAKE.
And yes, I am aware that baking a cheesecake in a water bath may help prevent cracking but that's just way too fussy for me. Any fussy step I can skip, I will. And I did. Just don't open that oven!
I almost didn't want to put the whipped cream on top just to show off the beautiful coconut cheesecake without a single crack. I decided that yes, the coconut cheesecake still needed the whipped cream because it really makes this dessert sing. And by sing, I mean taste like heaven. The toasted coconut on top is optional but it does add a nice textural element. Also, if you love coconut as much as I do, try my gluten free coconut cake or coconut cream pie. Enjoy!
be sure to follow me on instagram and hashtag #whattheforkfoodblog or tag @whattheforkfoodblog – i love seeing what you make!
if you love this recipe for coconut cheesecake, be sure to follow me on social media so you never miss a post:
---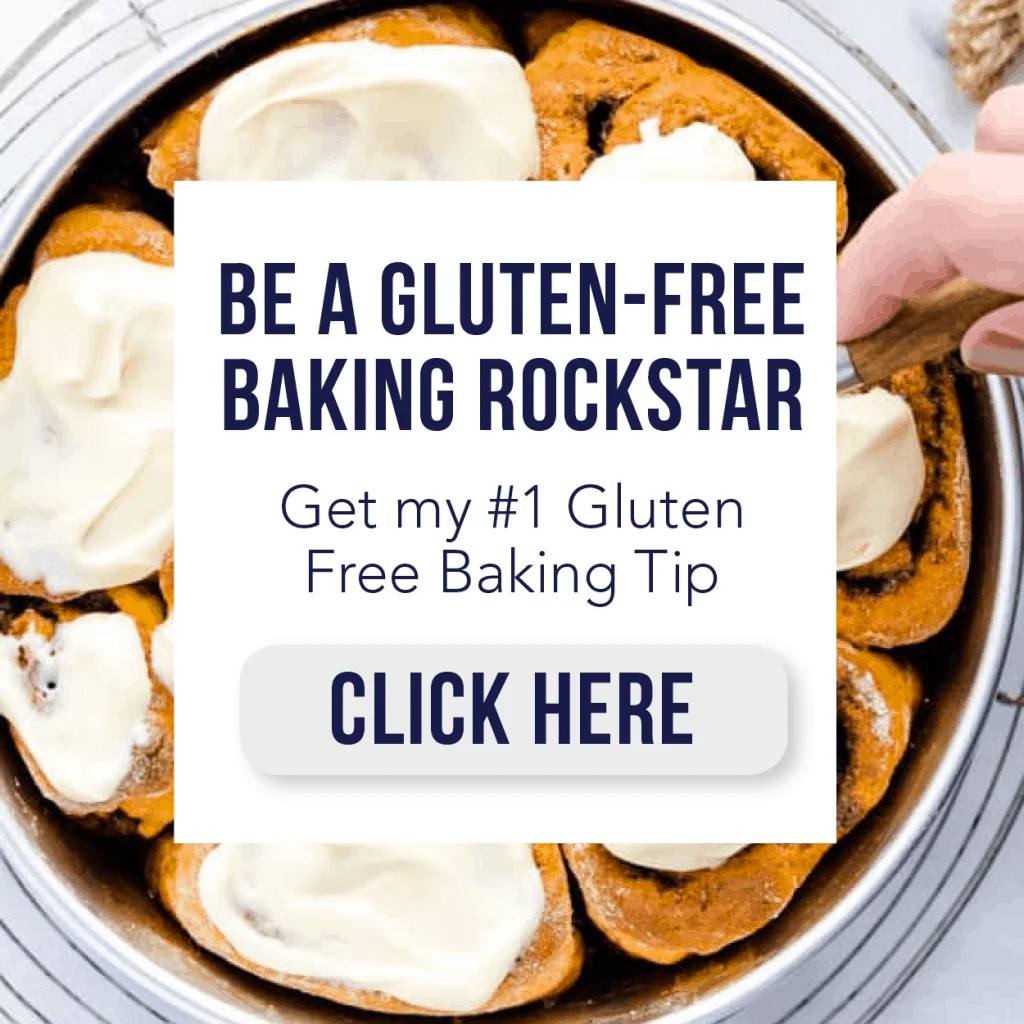 Coconut Cheesecake
This Coconut Cheesecake is hands down, my favorite dessert to date. Graham cracker coconut crust, creamy coconut cheesecake, whipped cream and toasted coconut – it's the ultimate coconut lovers treat.
Print
Rate
Pin
Ingredients
For the Crust
1 1/2

C

gluten free graham cracker crumbs

1/2

C

shredded unsweetened coconut

2

Tbsp

granulated sugar

5

Tbsp

butter

melted
For the Filling
3 8

oz.

packages cream cheese

room temperature

1/2

C

granulated sugar

3

eggs

room temperature

1/2

C

cream of coconut

the sweetened kind used for drinks*

1

Tbsp

cornstarch

1

tsp

vanilla extract

1/2

tsp

coconut extract

1/4

tsp

fine sea salt
For the Whipped Cream Topping:
1

C

heavy whipping cream

1

Tbsp

powdered sugar

1

tsp

unflavored gelatin

4

tsp

water

1/2

C

unsweetened coconut flakes

toasted
Instructions
Preheat oven to 350 degrees and line the outside of a 9 inch springform pan with aluminum foil (to catch any dripping butter).

In a medium bowl, add the graham cracker crumbs, coconut, 2 tbsp sugar and melted butter. Mix well until the crumbs are completely moistened. Transfer the crumb mixture to the prepared pan and press evenly along the bottom and halfway up the sides of the pan. Bake for 12-14 minutes until the crust is set and slightly toasted. Let sit on a wire rack to cool slightly while preparing the filling.

Reduce the oven temperature to 325 degrees.

In the bowl of a stand mixer, beat the cream cheese until smooth. Mix in the eggs one at a time until incorporated, scraping down the sides of the bowl as necessary.

Mix in the sugar, cream of coconut, cornstarch, vanilla, coconut extract and salt. Mix well, about an additional minute.

Pour the batter into the prepared crust and bake at 325 degrees for 60-75 minutes, depending on your oven. Mine took exactly 1 hour. The center will still be jiggly (think jello jigglers) but should not be liquid. Turn the oven off and keep the cheesecake in the oven with the door CLOSED for 1.5 hours. Then crack the oven door and let it cool in the oven with the door cracked for another hour and then remove from the oven and cool to room temperature on a wire rack. Once the cheesecake is room temperature, let it chill in the refrigerator overnight.

To make the topping, add the gelatin and water to a small sauce pan and stir to combine. Heat the gelatin over medium-low heat until the gelatin is dissolved. Remove from heat and cool while preparing the whipped cream - DO NOT LET IT SET.**

In a large bowl, use a handheld mixer to whip the heavy cream and powdered sugar together until soft peeks form. Mix in the gelatin and whip until firm peaks form. Evenly spread the whipped cream over the top of the cheesecake and top with the toasted coconut for garnish. Refrigerate until ready to serve.
Notes
I've used both Coco Lopez and Coco Real in this recipe. I prefer using the Coco Real squeeze bottle since I'm not using a whole can in this recipe.*If the gelatin sets before you are ready to add it to the whipped cream, reheat it on the oven until dissolved and cool a few minutes before adding it to the whipping cream.I recommend placing a baking sheet on the rack beneath the cheesecake while baking to prevent any butter from leaking out of the pan and dripping onto the bottom of your oven.
Disclaimers
As an Amazon Associate and member of other affiliate programs, I earn from qualifying purchases.
Nutrition Facts are estimated and aren't always accurate. Please consult a doctor or nutritionist if you have special dietary needs.
Other cheesecake recipes you'll enjoy:
Chocolate Chip Cookie Dough Mini Cheesecakes – What The Fork Food Blog
Cookie Dough Paleo Cheesecake with a Brownie Crust – Wicked Spatula
Death by Chocolate Cheesecake – Flippin' Delicious
Cherry Cheesecake Bars with Coconutty Shortbread Crust – Heartbeet Kitchen
This post contains affiliate links to products I use and love.