This No-Bake Gluten Free Oreo Icebox Cake comes together quickly and is really easy to prepare. It makes a great make-ahead summer dessert!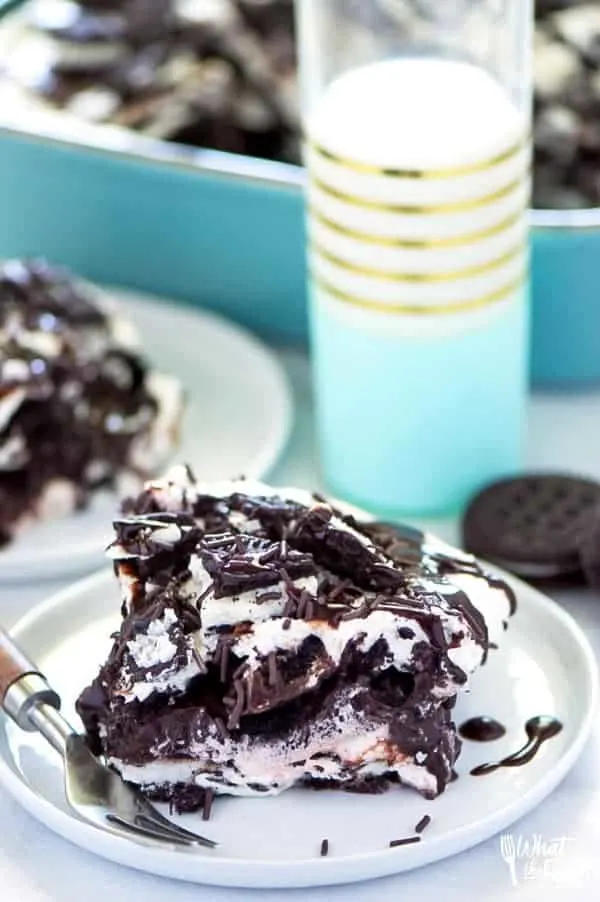 No-Bake Gluten Free Oreo Icebox Cake
Since it's been a while since I've posted a new recipe, maybe some of you have thought I've fallen off the face of the earth. The answer is obviously no because here I am! But really, I had my tonsils out.
I have always heard that getting your tonsils out as an adult is way worse than when you're a kid and it gets even worse as you get older. I've had my tonsils for almost 32 years and I should have gotten them taken out about 20 years ago.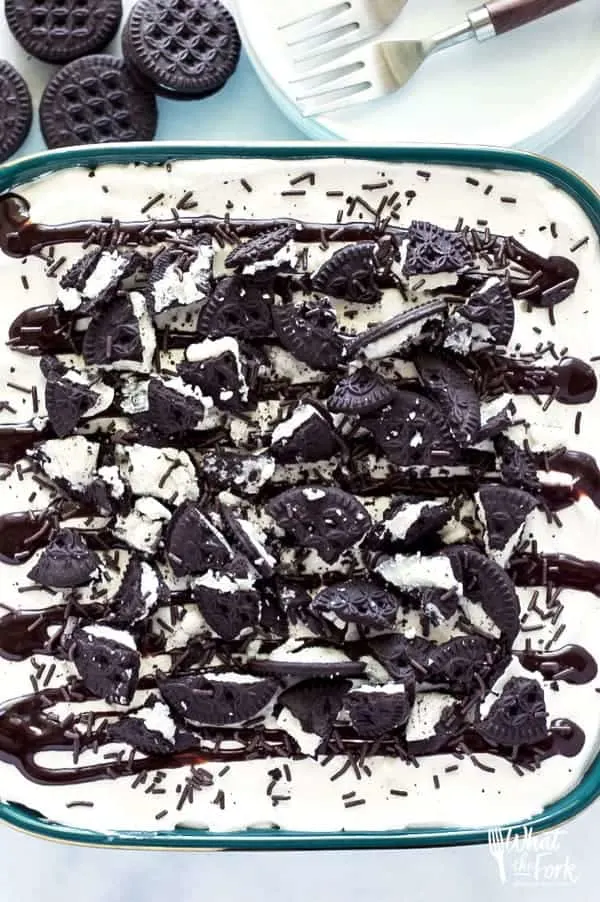 Did it suck? Pretty much. I have a pretty high pain tolerance though (thankfully) so I didn't need anything stronger than Tylenol and I only needed that for the first week. The biggest thing for me was the swelling. OMG the swelling! It made it hard to talk, swallow, and brush my teeth. Plus, I couldn't taste anything which meant recipe testing was 100% out the window.
It's been just over 3 weeks since I had the surgery and my taste is finally back to normal. Not having any taste sensation is soo strange. I could tell when things were salty, sweet, sour, or bitter but over-all flavor was not there at all. It basically made me useless working since you can't develop a recipe if you can't taste it!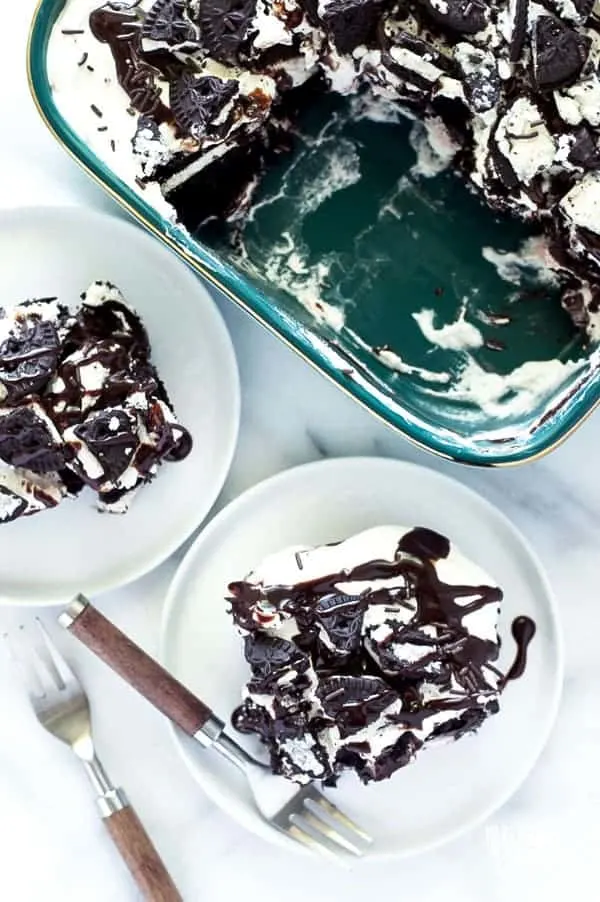 A few words of advice if you ever find yourself needing to have a tonsillectomy:
DRINK sips of water constantly, even drink frequently throughout the night. Don't let your throat dry out! Once your throat starts to dry out, it WILL hurt.
Try and start eating real food as early as possible and when you feel ready. I wasn't able to eat anything but popsicles or pudding for the first 3 days because the swelling made it too difficult to swallow. Not eating made me so cranky and my energy level LOW. I started with cottage cheese, scrambled eggs, and over-cooked pasta – soft foods only! Then I moved on to soup, steamed veggies, and even rotisserie chicken since it was soft and easy enough for me to swallow if I took really small bites. Having some protein and real food helped me get my energy back fairly quickly. Plus, being able to eat will also help your body heal.
Take it easy and let people take care of you. REALLY. Around day 4 or 5 after the surgery, my energy level had returned since I was eating again and I was feeling pretty good. I felt so lazy resting and taking it easy because that's just not something I do, I'm always busy, always doing something. It was hard for me to sit back and watch my husband do everything for our girls, do all the cooking, all the cleaning, and everything else since we're always good at splitting it up or doing it together. But doctors orders were to take it easy for 2 weeks. I lasted about 10 days, until the biggest risk of hemorrhage post-surgery had passed but at least it's better than just 4 ????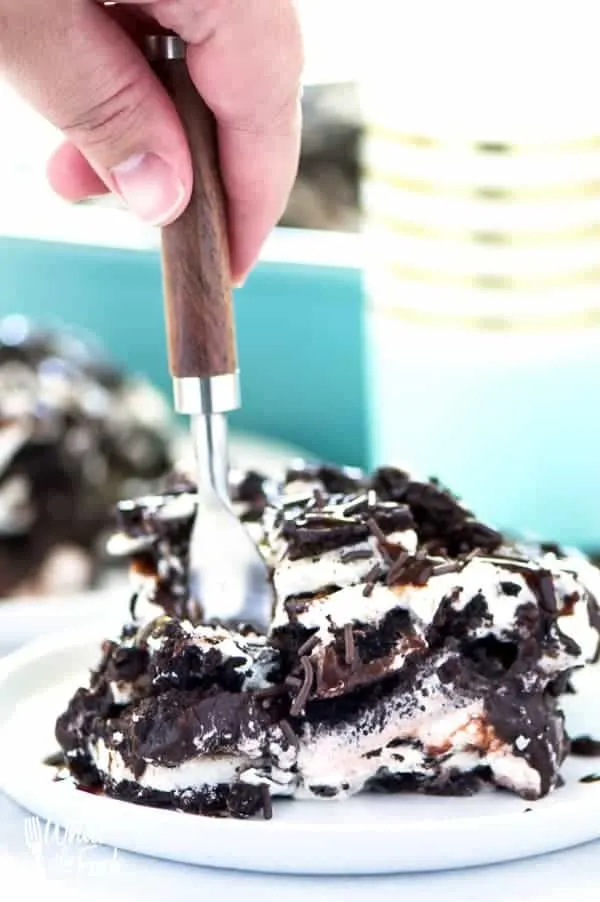 SO, if you're just here for the No-Bake Gluten Free Oreo Icebox Cake recipe – sorry! It's such a great summer recipe because it involves ZERO baking so you don't have to turn on your oven! It also needs a decent amount of time to chill in the fridge (up to 24 hours) so it's perfect if you like to make your desserts up ahead of time long before a party.
Some Oreo Icebox Cake recipes call for pudding, others don't. My family prefers that extra layer of creamy chocolate (who wouldn't?!) so we always opt for the pudding layer. I used my Baileys Chocolate Pudding recipe but replaced the Baileys with milk. You could also make this with instant pudding if you prefer.
I used regular homemade whipped cream with this recipe, but if you want to take a couple extra steps, try it with my White Chocolate Ganache Whipped Cream – it would be heavenly! For the cookie layer, I use gluten free chocolate sandwich cookies in this to make it gluten free.
If you don't need it to be gluten free, feel free to use regular Oreos. And if you're looking for a grain free version, try this with some almond flour chocolate chip cookies for a fun twist. Enjoy!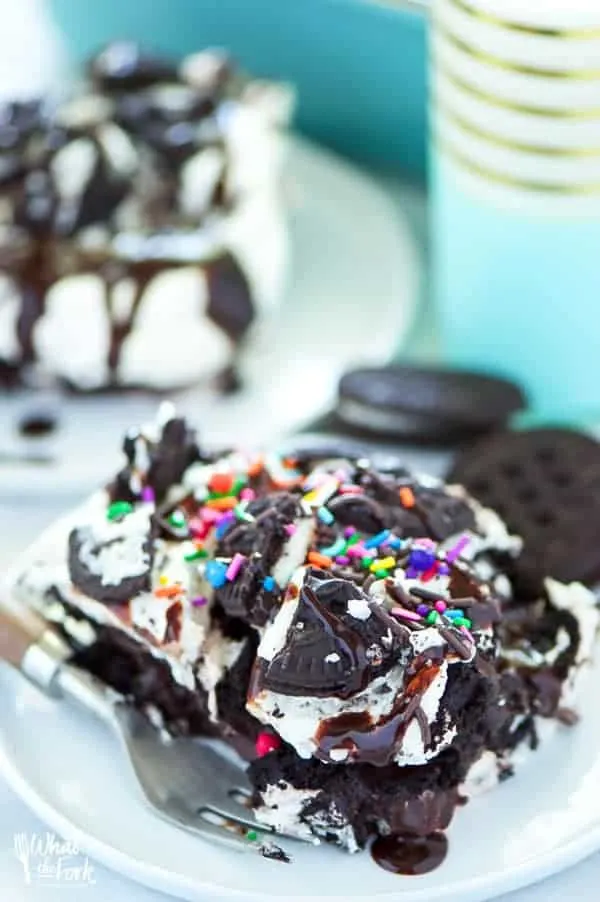 be sure to follow me on instagram and hashtag #whattheforkfoodblog or tag @whattheforkfoodblog – i love seeing what you make!
if you love this no-bake gluten free Oreo Icebox Cake recipe, be sure to follow me on social media so you never miss a post:
---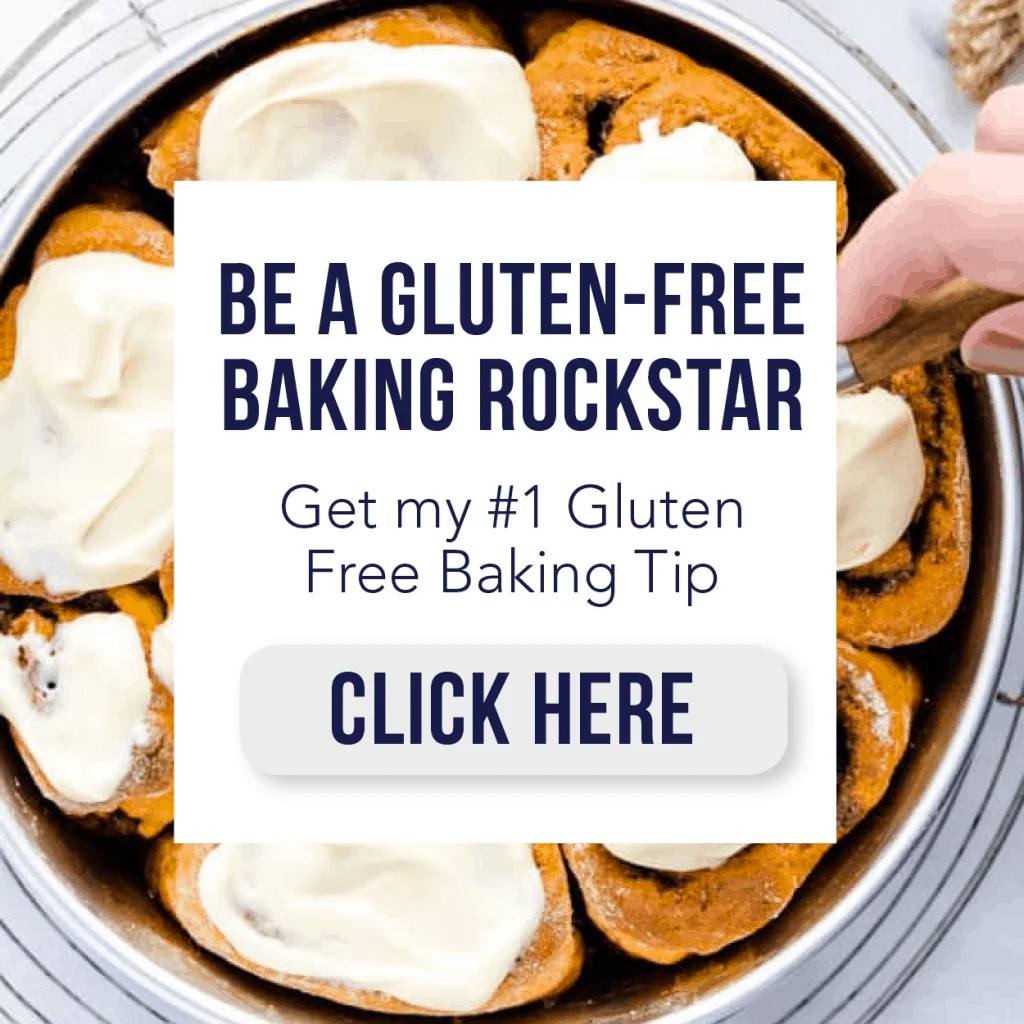 sign up for my free newsletter subscription for new recipes and exclusive giveaways + my free ecookbook – recipes with chocolate

No-Bake Gluten Free Oreo Icebox Cake
This No-Bake Gluten Free Oreo Icebox Cake comes together quickly and is really easy to prepare. It makes a great make-ahead summer dessert!
Print
Rate
Pin
Ingredients
1 1/2

cups

heavy whipping cream

3

Tablespoons

powdered sugar

1

teaspoon

pure vanilla extract

44

gluten free chocolate sandwich cookies

see note 1

2

cups

chocolate pudding

see note 2

fudge sauce

for garnish

crushed gluten free chocolate sandwich cookies

for garnish

1

cup

milk

for dipping (optional - see note 3)
Instructions
Add the heavy whipping cream, powdered sugar, and vanilla extract to a large bowl. Use the whisk attachment on an electric mixer and whisk until the whipping cream has formed stiff peaks. Set aside.

Dip each chocolate sandwich cookie in the milk before placing half of them in an even layer across the bottom of a 9x9 inch pan. (If you're skipping the dipping step, just place the cookies in the pan, forming an even layer to cover the bottom.)

Spread half of the whipped cream evenly over the layer of chocolate sandwich cookies. Carefully add the chocolate pudding layer and spread it evenly over the whipped cream.

Dip the remaining cookies in the milk and then layer them over the chocolate pudding. Top with the remaining whipped cream and spread it evenly over the chocolate sandwich cookies. Cover with plastic wrap and refrigerate at least 6 hours, preferably overnight.

Before serving, drizzle with chocolate fudge sauce and crushed chocolate sandwich cookie pieces (optional). This should be kept refrigerated until ready to serve and leftovers should be stored in the refrigerator up to 5 days.
Notes
Regular Oreos can be used in place of the gluten free chocolate sandwich cookies if you don't need it to be gluten free.
I used my Baileys Chocolate Pudding recipe but replaced the Baileys with additional milk to keep it kid-friendly.
Dipping the chocolate sandwich cookies in milk before placing them in the pan will give them a softer, more cake-like texture. If you choose not to dip them in the cake, the cookies will still have a bit of a "bite".
Nutrition Information
Serving:
1
g
|
Calories:
393
kcal
|
Carbohydrates:
47
g
|
Protein:
4
g
|
Fat:
23
g
|
Saturated Fat:
10
g
|
Polyunsaturated Fat:
1
g
|
Monounsaturated Fat:
3
g
|
Cholesterol:
36
mg
|
Sodium:
262
mg
|
Potassium:
69
mg
|
Fiber:
2
g
|
Sugar:
28
g
|
Vitamin A:
470
IU
|
Vitamin C:
0.2
mg
|
Calcium:
45
mg
|
Iron:
1
mg
Disclaimers
As an Amazon Associate and member of other affiliate programs, I earn from qualifying purchases.
Nutrition Facts are estimated and aren't always accurate. Please consult a doctor or nutritionist if you have special dietary needs.