These Easy Avocado Truffles are a great way to satisfy your sweet tooth without having to indulge in unhealthy desserts. Plus they're gluten free, dairy free, paleo, and vegan.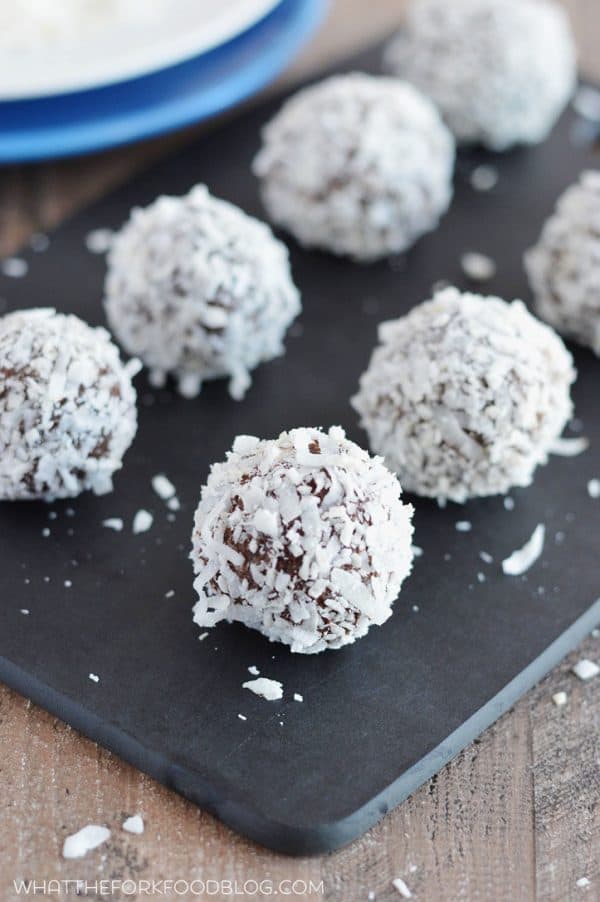 If I told you my kids LOVE these avocado truffles would you believe me? Because it's totally true. They pretty much devour them as fast as they can, especially Mackenzie. The girl can NOT get enough of them. And I don't blame them, they're really good. They also don't know they're full of healthy avocado fat so it's pretty much a mom-win for me.
These avocado truffles were inspired by my trip to PMA's Fresh Summit back in October. Avocados from Mexico had them as a favor on the tables at one of our breakfasts. I still need to re-create their avocado ice cream, which was spectacular.
Anyways.
Happy New Year! Some of you might be on a little "diet" right now so I thought it would be a good time to share these avocado truffles with you. These bad boys are made with avocado as the base and they're mixed with some dairy free chocolate to make them oh, so tasty. I'm not going to call these a health food per say, I'm not a nutritionist. But I will say these are a much better choice for you than traditional truffles since there isn't any butter or cream used here.
So if you have a little hankering for something sweet, these would be a good swap-out. They might even become your new bff. Enjoy!
be sure to follow me on instagram and hashtag #whattheforkfoodblog or tag @whattheforkfoodblog – i love seeing what you make!
if you love this recipe for easy avocado truffles, be sure to follow me on social media so you never miss a post:
sign up for my free newsletter subscription for new recipes and exclusive giveaways + my free ecookbook – recipes with chocolate
Yield: 24
Avocado Truffles
Instructions
Remove the avocado from the skins and remove the pits. Place the avocado in a food processor and pulse until the avocado is completely smooth. Set aside.
Add the chocolate chips to a large microwave safe bowl and melt at 50% power for 1 minute. Stir the chocolate chips really well. If they're not completely melted, continue to melt the chocolate chips at 50% power for 15 seconds, stirring after each heating.
When the chocolate is melted, stir in the avocado, vanilla extract, and salt. Mix until completely combined then refrigerate for 2 hours or overnight.
When the mixture is chilled, use a tablespoon to scoop and then roll into round truffles and immediately roll the truffles in the coconut. Store truffles in an airtight container in the refrigerator up to two weeks.
Notes
Use sweetened or unsweetened coconut, your choice. Unsweetened is the healthier choice 😉
Other recipes you might enjoy:
7 Healthy Weeknight Dinners (Ready in 30 Minutes or Less) – Mode Foodie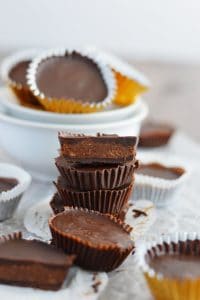 Chocolate Hazelnut PaleoNutbutter Cups
Chocolate Coconut Energy Bites