This Paleo hot fudge sauce is a sweet treat that pairs perfectly with ice cream, Paleo ice cream, or even Nice cream to take it to the next level.
<< click here to pin this recipe >>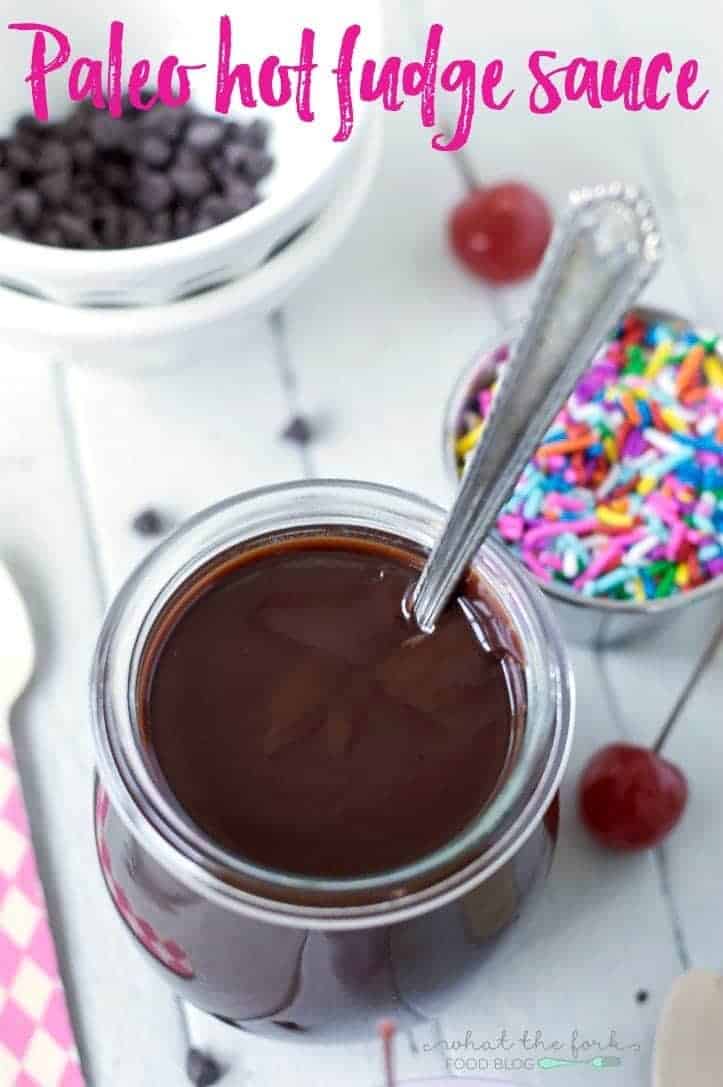 You guys, we have had SUCH a hot summer ☀️☀️ And no, I'm not complaining. I'm soaking up that hot sun like it's going out of style because I'll be the first to start complaining about the cold and snow come winter. But since it's been so hot, we've kind of been going a little overboard on the ice cream 🍦
I mean, we're not eating it every day but it has definitely become a weekly occurrence. Especially since So Delicious recently sent me the most incredible little care package. And by incredible, I mean TASTY. They've got my ice cream needs covered for a while 🍨
While I have made quite a few ice creams in the past, I just haven't gotten around to it yet this summer since making my Vegan Avocado Ice Cream. Mainly because I haven't had to. Last summer, we indulged in some Homemade Peach Ice Cream, Andes Mint Chip Ice Cream, and No-Churn Chocolate Ice Cream.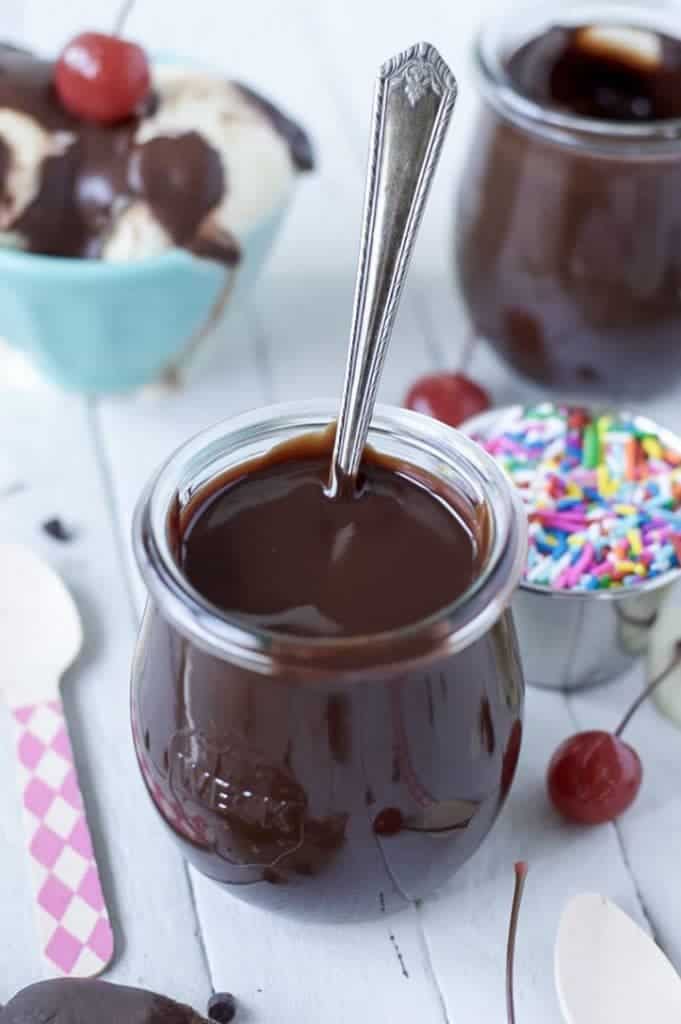 I've also got recipes for Cherry Vanilla Ice Cream that's included in my Cherry Vanilla Baked Alaska recipe, and Chocolate Peanut Butter Cup Ice Cream that's part of my Chocolate Peanut Butter Cup Ice Cream Cake recipe. And if you're looking for an ice cream cake, I've got you covered with my Frozen Mint Chip Pie and Dairy Free Freezer Cake.
Just for clarification, the Paleo hot fudge sauce would be excellent on top of every single one of those ice creams!
ALSO — GIVEAWAY. I realize that many homemade ice creams call for using an ice cream maker to churn it. Almost all of my recipes do. I just prefer churned ice cream over no-churn ice cream since no-churn ice cream is basically frozen sweetened whipped cream (truth).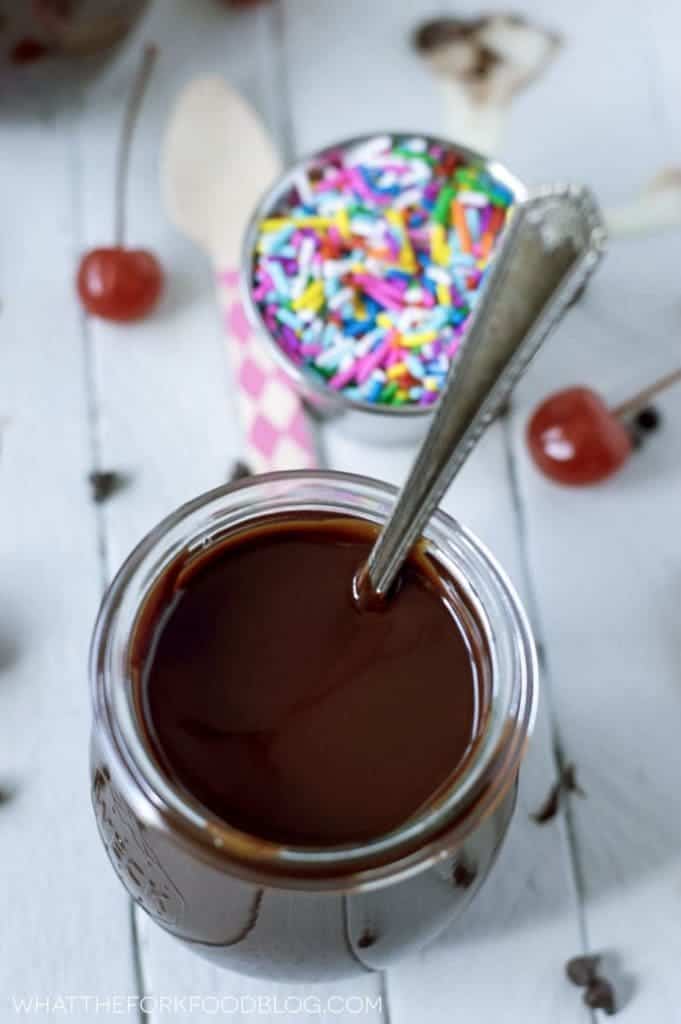 Since I know some of you might not have an ice cream maker of your own, I've decided to give one away so you can join in on the homemade ice cream fun! The ice cream maker that I'm giving away is a Cuisinart 2-quart ice cream maker. It's the same exact one that I use and I love it! You can enter the giveaway via the Rafflecopter form after the recipe.
I've also teamed up with some of my blogging friends to beat this heat with an ice cream social. They've all made their own ice cream themed treats and they're also all hosting their own giveaways. Be sure to check them all out below to see what they've made and what they're giving away!
Ice Cream Crunch Bars by Meaningful Eats
Gluten-Free Vegan Mug Brownie Sundae by Gluten Free Palate
Peanut Butter Ice Cream Topping by My Gluten Free Kitchen
Peaches & Cream Protein Ice Cream by Making It Milk Free
No Churn Dairy Free Honey Vanilla Ice Cream by Flippin Delicious
Allergy Friendly Ice Cream Sandwiches by Vegetarian Mamma
Strawberry Rhubarb Sherbet by Cafe Johnsonia
GF, Vegan Waffle Cones by Gluten-Free Homemaker
Gluten Free Vegan Chocolate Fudge Waffle Sundaes by Sarah Bakes Gluten Free
Granola Bar "Fried" Ice cream w/ Creme' Anglaise by Gluten Free Frenzy
BE SURE TO FOLLOW ME ON INSTAGRAM AND HASHTAG #WHATTHEFORKFOODBLOG OR TAG @WHATTHEFORKFOODBLOG – I LOVE SEEING WHAT YOU MAKE!
IF YOU LOVE THIS RECIPE FOR paleo hot fudge sauce, BE SURE TO FOLLOW ME ON SOCIAL MEDIA SO YOU NEVER MISS A POST:
| SNAPCHAT – WHATTHEFORKBLOG |
Paleo Hot Fudge Sauce
This Paleo hot fudge sauce is a sweet treat that pairs perfectly with ice cream, Paleo ice cream, or even Nice cream to take it to the next level.
print
Instructions
Add the chocolate chips, coconut milk, ghee, and sugar to a medium pot. Heat on low heat, stirring frequently, until the chocolate has completely melted.
Once the mixture is melted and smooth, remove from heat and stir in the vanilla extract. Serve immediately or room temperature.
Store leftovers in a glass container. To reheat, heat in a small pot until melted or reheat in the microwave on 50% power for 1 minute. Stir and then then reheat on 50% power for 20 second intervals until pourable.
by Sharon
Recipe Notes
*Coconut oil can be used in place of the ghee for a dairy free version.
Pictured are gluten free sprinkles and naturally dyed maraschino cherries which are not Paleo.
This post contains affiliate links for products and ingredients that I used for this recipe and giveaway. Thank you for supporting What The Fork Food Blog ♥