These gluten free oatmeal sandwich cookies are easy, simple to make, and truly and delicious! Perfect from when you want to switch it up and try something new.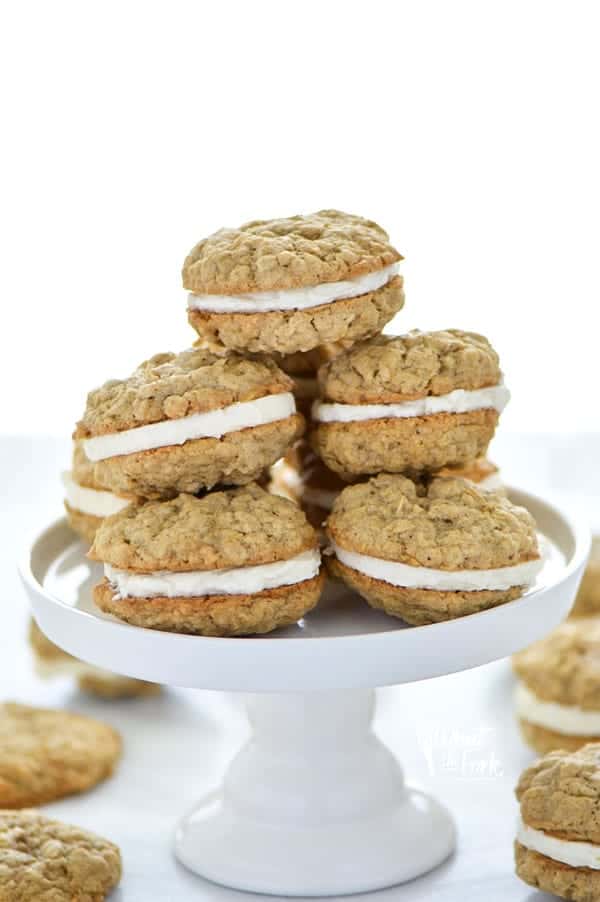 This post is sponsored by Bob's Red Mill. As always, opinions are 100% my own.
Since May is Celiac Disease Awareness month, I decided to make an awesome dessert featuring two of my favorite gluten free products. That dessert? These amazing gluten free oatmeal sandwich cookies! While my husband doesn't have Celiac Disease and is only gluten intolerant, I know many of you do and I want you to know that I am so happy to be here sharing recipes and helping you along in your journey.
I was going to call these oatmeal cream pies but I decided on Oatmeal Sandwich Cookies because they're really not a true copycat of the store-bought variety you are used to. The oatmeal cookie is adapted from my Oatmeal Raisinete Cookies and they're a sturdier, thicker cookie than you would have in an oatmeal cream pie.
The two Bob's Red Mill products I used in these oatmeal sandwich cookies today are their Gluten Free 1:1 Baking Flour and their Gluten Free Old Fashioned Oats. Both of these have been featured before, I almost always use the 1:1 blend in my cookies and most recently, I used it to make my Gluten Free Lemon Squares. Their old fashioned oats are the main ingredient in my oatmeal smoothies and overnight oats.
If you're new to eating gluten free, be sure to check out my favorite gluten free pantry staples. I give an in-depth look at the products I use in my kitchen and which ones I prefer for baking. There are many Bob's Red Mill products featured there because I truly love their gluten free products.
But lets get down to these cookies. They're amazing! The cookies themselves have such great flavor, they even get two thumbs up from my chocolate peanut butter loving husband. Usually, if it doesn't have chocolate or peanut butter, they're not a winner in his eyes. He made an exception for these because they're just that good!
The frosting really makes them too. I just used my regular vanilla buttercream frosting that I used in my gingerbread sandwich cookies. It's nice and sweet and pairs so nicely with the cinnamon in the cookies. Plus, it's such an easy frosting recipe, one that you'll want to use as your usual vanilla buttercream.
You guys are going to love these cookies! Enjoy!
be sure to follow me on instagram and hashtag #whattheforkfoodblog or tag @whattheforkfoodblog – i love seeing what you make!
if you love this recipe for gluten free oatmeal sandwich cookies, be sure to follow me on social media so you never miss a post:
sign up for my free newsletter subscription for new recipes and exclusive giveaways + my free ecookbook – recipes with chocolate
Gluten Free Oatmeal Cream Pies
Ingredients
For the Cookies
1 1/2 cups Bob's Red Mill Gluten Free 1:1 Baking Flour
1 teaspoon baking soda
1/2 teaspoon fine sea salt
1 teaspoon cinnamon
3 cups Bob's Red Mill Gluten Free Old Fashioned Oats
3/4 cup butter, melted (12 tablespoons)
1/2 cup granulated sugar
3/4 cup light brown sugar
1 teaspoon pure vanilla extract
2 large eggs
For the Frosting
1 cup butter, softened (2 sticks or 8 oz.)
1/3 cup marshmallow fluff
3 cups powdered sugar
1 teaspoon pure vanilla extract
2-3 tablespoons heavy whipping cream (or milk)
Directions
Preheat oven to 350 degrees and line 2 baking sheets with parchment paper or silicon mats.
In a medium bowl, whisk together the flour, baking soda, salt, and cinnamon. Mix in the oats until well combined. Set aside.
Add the melted butter, granulated sugar, and brown sugar to the bowl of a stand mixer. Mix on medium-low speed until well combined. Add the vanilla extract and eggs and mix until light and airy, about 1 minute on medium speed - scrape down the bowl as necessary.
Add the dry ingredient to the wet ingredients and mix on medium-low speed until completely combined. Scoop the dough into 1 tablespoon balls and drop on the prepared cookie sheets, baking 10 per sheet. Bake at 350 degrees for 8-10 minutes or until done. Bake in batches as needed. Cool on the baking sheet for 5 minutes then cool on a wire rack until completely cooled.
To make the frosting, add the butter, powdered sugar, and marshmallow fluff to the bowl of a stand mixer and mix on medium-low speed. Add the cream and vanilla extract and mix until combined. Beat on medium speed for 3 minutes, until light and fluffy.
Spread the frosting on one cookie then top with a second. Repeat for all cookies. Serve immediately or store at room temperature in an airtight container until ready to serve. Cookies will stay fresh for 3-4 days.
Recipe Notes
This recipe makes 18 sandwiches or 36 cookies.