This simple recipe for gluten free blueberry muffins is one you'll reach for frequently. They're easy to make and come together quickly! Perfect for weekend family breakfasts!
If you follow me on Instagram, you've probably seen in my stories that I've been doing a lot of muffin recipe testing. I've been on a quest to create the perfect recipe for gluten free blueberry muffins and gluten free lemon poppy seed muffins.
Blueberry muffins are kind of my thing. I love all kinds – mini blueberry muffins, blueberry crumb muffins, blueberry almond muffins, and even grain free blueberry muffins. That's a lot of blueberry muffin options I have in my arsenal but none of them are "the one" I've been trying to replicate from my childhood.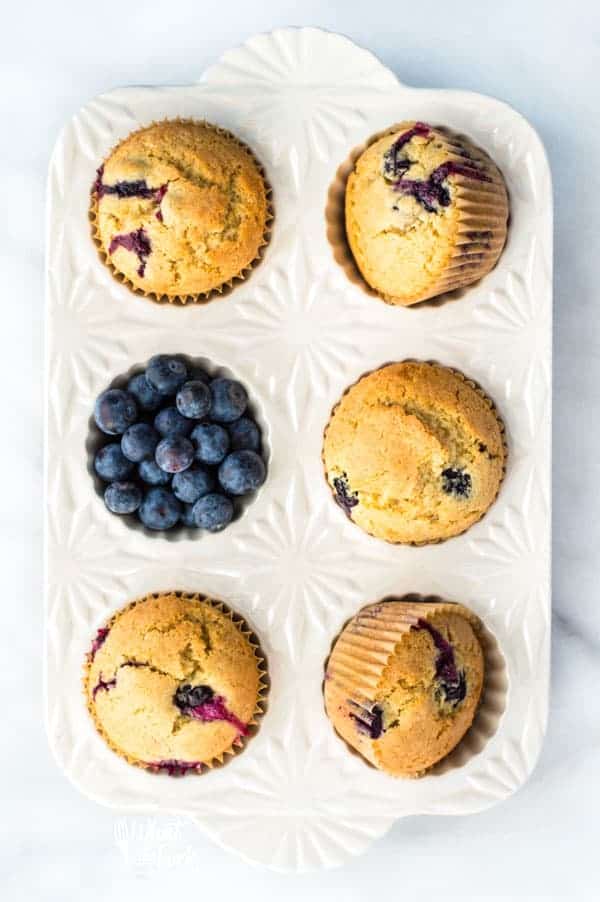 We didn't have muffins very often when I was growing up but occasionally, my dad would make blueberry muffins to have with scrambled eggs. They're probably my favorite muffins ever.
They were slightly crisp on the outside and had this amazing cinnamon flavor and topping. The recipe my dad thought he used to use called for dipping the baked muffins in melted butter and then in sugar.
Since the extra butter and cinnamon step isn't something that he would have done, we both think he maybe sprinkled cinnamon sugar on top before baking. His recipe also called for 1/2 teaspoon of "spice" so for this gluten free blueberry muffin recipe, I added 1/2 teaspoon of cinnamon into the batter. My gluten free mini blueberry muffins also have some ground cinnamon in the batter – it's such a great flavor with blueberries 💙
Cinnamon sugar or turbinado sugar would be a nice addition to the top of the muffins if you prefer that little bit of crunch or extra burst of cinnamon flavor. Just add it before popping them into the oven!
As far as recreating my favorite childhood muffin recipe, I think I came pretty close. It doesn't quite have that "crunch" factor that I remember from the crispy exterior but I don't want to bake my muffins too long so I don't dry them out.
Other than that, we can go ahead and say #nailedit and then dive right into these muffins. They're great warm right out of the oven or at room temp. You can even freeze them for later if you want to make a double batch. Enjoy!
be sure to follow me on instagram and hashtag #whattheforkfoodblog or tag @whattheforkfoodblog – I love seeing what you make!
if you love this easy recipe for gluten free blueberry muffins, be sure to follow me on social media so you never miss a post:
sign up for my free newsletter subscription for new recipes and exclusive giveaways + my free ecookbook – recipes with chocolate
Yield: 12
Gluten Free Blueberry Muffins
This simple recipe for gluten free blueberry muffins is one you'll reach for frequently. They're easy to make and come together quickly! Perfect for weekend family breakfasts!

Prep Time 15 minutes

Cook Time 18 minutes

Total Time 33 minutes
Ingredients
2 cups gluten free all-purpose flour blend 
1/2 teaspoon xanthan gum
2 teaspoons baking powder
1/2 teaspoon fine sea salt
1/2 teaspoon ground cinnamon
1/2 cup granulated sugar
2 large eggs, room temperature
1/2 cup milk, room temperature (see notes for dairy free)
1/4 cup light brown sugar
1/3 cup avocado oil
1/2 teaspoon vanilla extract
1 1/2 cups blueberries (fresh or frozen)
Instructions
Preheat oven to 400 degrees and line a 12 cup muffin tin with paper liners or spray with non-stick spray.
In a large bowl, whisk together the flour, xanthan gum, baking powder, salt, cinnamon, and granulated sugar. Set aside.
In a medium bowl, whisk together the eggs, milk, brown sugar, oil, and vanilla. Pour into the dry ingredients and stir until just combined.
Gently fold in the blueberries.
Distribute the batter evenly among the 12 muffin cups. Bake at 400 degrees for 15-18 minutes or until baked all the way through. Cool a couple minutes in the pan before removing to a wire rack. Serve warm or room temperature.
Store muffins in an air-tight container at room temperature up to 2 days. Muffins can also be frozen.