These gluten free Rice Krispies Treats are a classic dessert with an easy gluten free makeover. They're great for parties, snacks, and lunch boxes!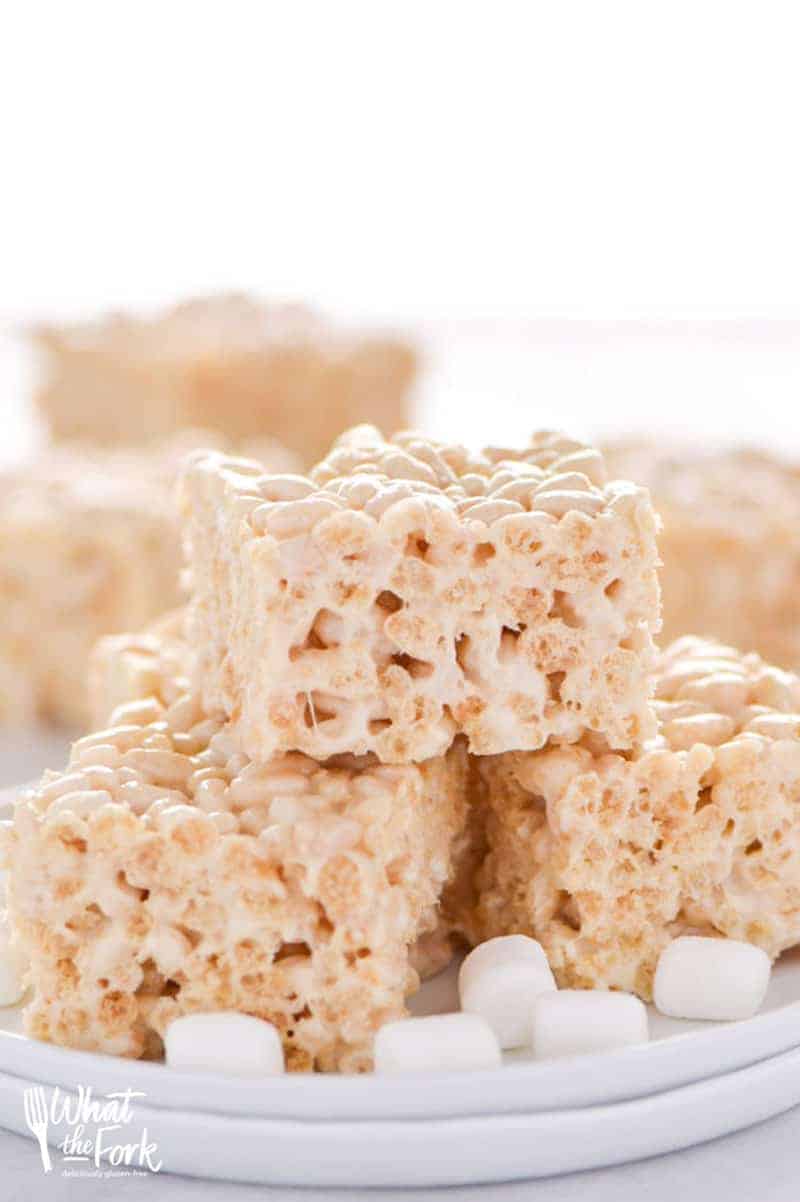 There are some foods the people just struggle with making. For me, those foods are toast, fried eggs, and Rice Krispies Treats. Weird, right?
A gluten free chocolate cake is no problem for me. Neither is a homemade dairy free and gluten free funfetti cake complete with sprinkle-covered sides and piped buttercream. And I've pretty much nailed the most perfect gluten free banana bread recipe you could ever ask for.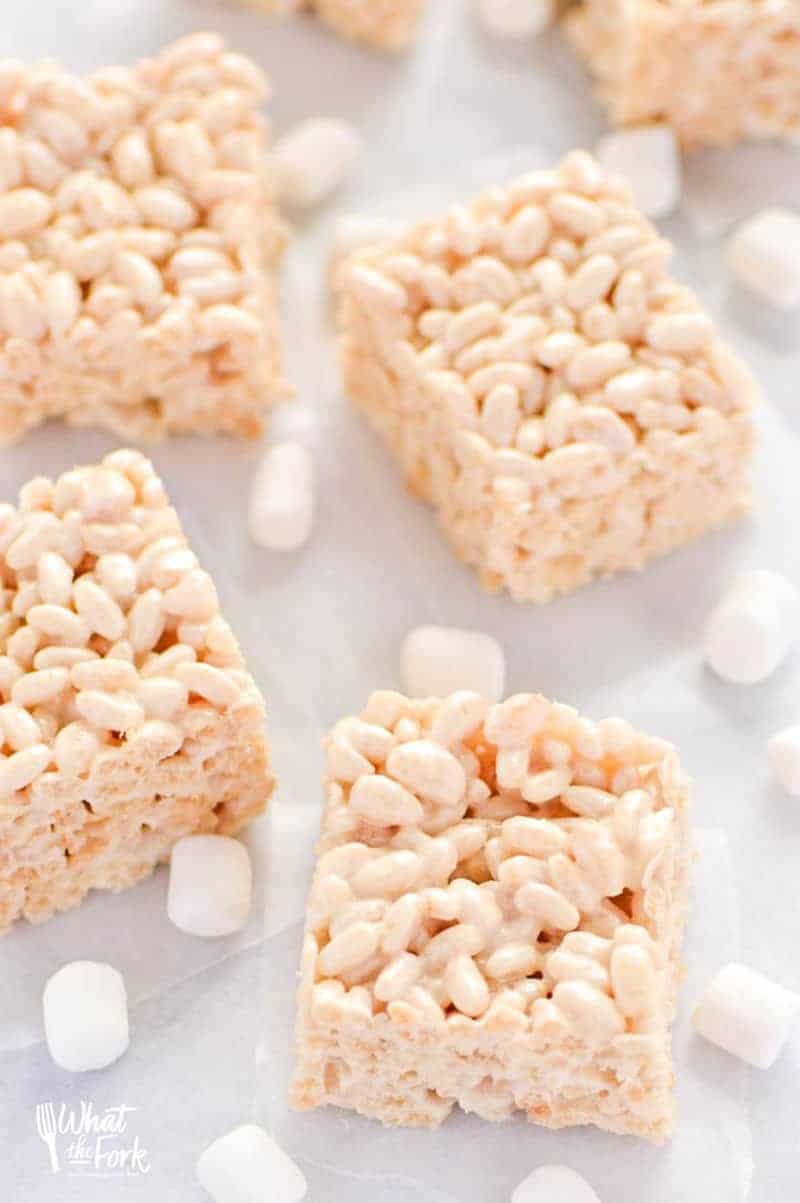 But Rice Krispies Treats were the bane of my existence. The struggle was real. It took me batch after batch after batch to finally get it right. WHY ARE THESE SO HARD TO MAKE.
My first ever batch came out so rock solid that you couldn't even bite them without worrying you'd break a tooth. I'm not even exaggerating.
In my defense, it's not a food I grew up eating. You know in those commercials where families are gathered around the kitchen making Rice Krispies Treats around the holidays? That wasn't us.
We gathered around the kitchen making things like clam chowder or chili. My grandfather would sit at the table cutting up the vegetables and we'd sit around and chat. Sure, we would make cookies, pies, and bread but my mom was always the one to do the baking. That was more of a solo effort; it was her thing.
When I finally got the cooking process down, the resulting batch had the taste and the perfect amount of melty marshmallow that I was after BUT the cereal was stale. I can't win here people.
FINALLY I got the results I was after and these Gluten Free Rice Krispies Treats are the delicious result. It was worth all the trial and error. And swearing. I'm not going to lie, there was a lot of that too. Enjoy!
PS there's a Pumpkin Spice version of these coming soon!
be sure to follow me on instagram and hashtag #whattheforkfoodblog or tag @whattheforkfoodblog – i love seeing what you make!
if you love this gluten free rice krispies treats recipe, be sure to follow me on social media so you never miss a post:

This post contains affiliate links for products or ingredients used to create this recipe. You can read the full disclosure here. Thank you for helping to support What The Fork Food Blog ♥
Gluten Free Rice Krispies Treats
These gluten free Rice Krispies Treats are a classic dessert with an easy gluten free makeover. They're great for parties, snacks, and lunch boxes!
Ingredients
4 Tablespoons salted butter
6 cups mini marshmallows, divided
1 teaspoon pure vanilla extract
6 cups gluten free crispy rice cereal
Instructions
Line a 9x9 inch pan with aluminum foil and spray with non-stick spray (I use Spectrum Coconut Spray Oil).
In a medium pot, melt the butter over medium-low heat. When the butter is melted, reduce the heat to low and add 5 cups of the mini marshmallows. Stir frequently until the marshmallow are melted.
Remove from the heat and stir in the vanilla extract and the remaining 1 cup of marshmallows. Stir to melt the marshmallows a bit (chunks of marshmallow are ok) then stir in the gluten free crispy rice cereal.
When all of the cereal is coated with the marshmallow, transfer to the prepared pan. Let it sit in the pan to cool for a minute or two then use a spatula or your hands to press into the pan. (I find that spraying my clean hands with non-stick works best).)
Cool completely then cut into 16-20 squares.
Notes
Store leftovers in an air-tight container up to 2 days.
Recommended Products
As an Amazon Associate and member of other affiliate programs, I earn from qualifying purchases.
Nutrition Information:
Amount Per Serving:
Calories:

107
Total Fat:

3g
Saturated Fat:

2g
Cholesterol:

8mg
Sodium:

38mg
Fiber:

0g
Sugar:

11g
Protein:

1g
Nutrition Facts are estimated and aren't always accurate. Please consult a doctor or nutritionist if you have special dietary needs.