These Gluten Free Cake Batter Rice Krispie Treats are an easy no-bake dessert that can be enjoyed any time of the year. They're gooey, full of fun sprinkles, and have that deliciously distinct cake batter flavor!
Gluten Free Cake Batter Rice Krispie Treats
It's sprinkle'o'clock around here these days. Not only am I sharing this recipe for Gluten Free Cake Batter Rice Krispie Treats, I've also been working on a recipe for Gluten Free Funfetti Cupcakes and a Birthday Cake Quick Bread.
The Birthday Cake Quick Bread will be for my cookbook though so you're going to have to wait a little while for that one. 😉
I know it's been a couple weeks since I've posted. I've been so incredibly busy developing recipes for the cookbook, writing the manuscript, trying to keep up with social media, photo shoots, updating the photos for some of the older recipes on the blog (Gluten Free Strawberry Shortcake, No-Bake Gluten Free Chocolate Peanut Butter Bars, and Gluten Free Double Chocolate Zucchini Bread to name a few), that a new post has been on the back burner.
And did I mention I injured my LCL last month? I can't have an MRI done to confirm a partial tear (because of my pacemaker) but my physical therapist thinks it is. Thank God for a high pain tolerance!
But on top of everything work-related and life-related (birthdays, holidays, anniversaries, recitals, sports, etc), I've added physical therapy 2-3 times a week for my knee recovery.
My friend Demeter, from Beaming Baker, asked me how I was doing and how I was handling it all. I told her I don't even know. I just get through the day and black out at night and start it all over again the next day. 😬😅
I've had some hard days too where I've gotten some really mean/rude comments or emails from people because they used the wrong ingredients and a recipe didn't turn out right because of it and some people just really hate the name of my blog and love to tell me about how awful it is.
It's days like those that sometimes, it makes it hard to fight through physical pain, mental exhaustion, and work through everything like the tough times recipe testing. Like when I'm using tons of gluten free baking ingredients only to have a recipe fail over and over. It makes me think, why am I doing this when it often brings extra negative energy into my life that I don't need.
But then I'm reminded why. I vented a bit on Facebook and Instagram the other day and man, you guys came through for me. So many of you took the time out of your day to send me some encouragement and kindness.
THAT is why I am doing this. THAT is why I spend so much of my time and money to develop these recipes. So many of you need these recipes.
I do it for you (and my husband) so you guys don't have to go to yet another birthday party or event with sub-par gluten free desserts (if there even is a gluten free dessert). I do it for you so you don't have to sit through another holiday meal with dry, barely-edible gluten free dinner rolls. And so you can learn to bake confidently with gluten free ingredients.
It truly makes me happy when you guys enjoy these recipes and are able to make gluten free baked goods (and no-bake desserts) that nobody would know were gluten free. That is why I do it. I'm spreading happiness one cup of sugar at a time.
So thank you for your continued support and encouragement. I truly appreciate it and I appreciate you trying my recipes and sharing them with your friends and loved ones ❤
PS These are adapted from my Classic Gluten Free Rice Krispies Treats, I hope you enjoy the Cake Batter Rice Krispie Treats version as much as my family did!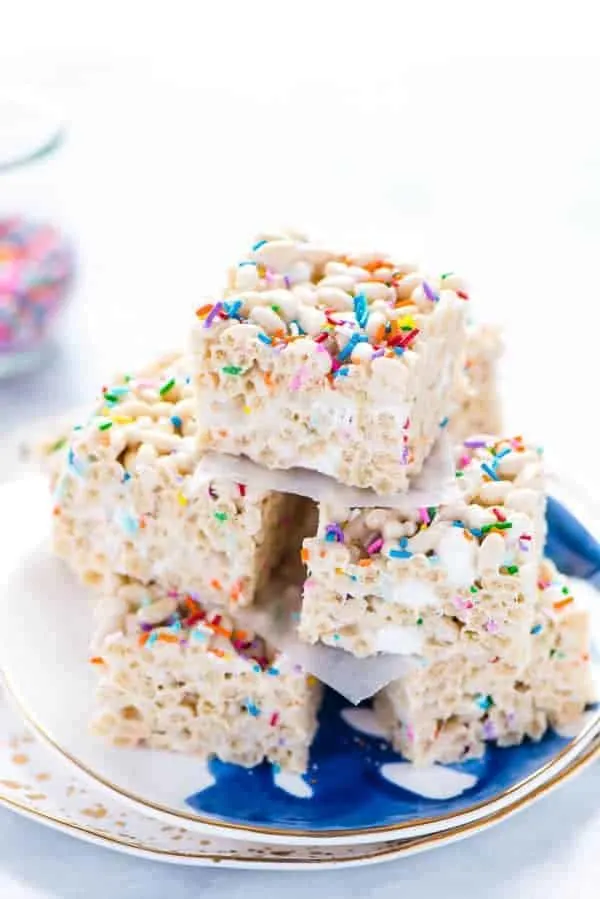 be sure to follow me on instagram and hashtag #whattheforkfoodblog or tag @whattheforkfoodblog – I love seeing what you make!
if you love this recipe for Gluten Free Cake Batter Rice Krispie Treats, be sure to follow me on social media so you never miss a post:
---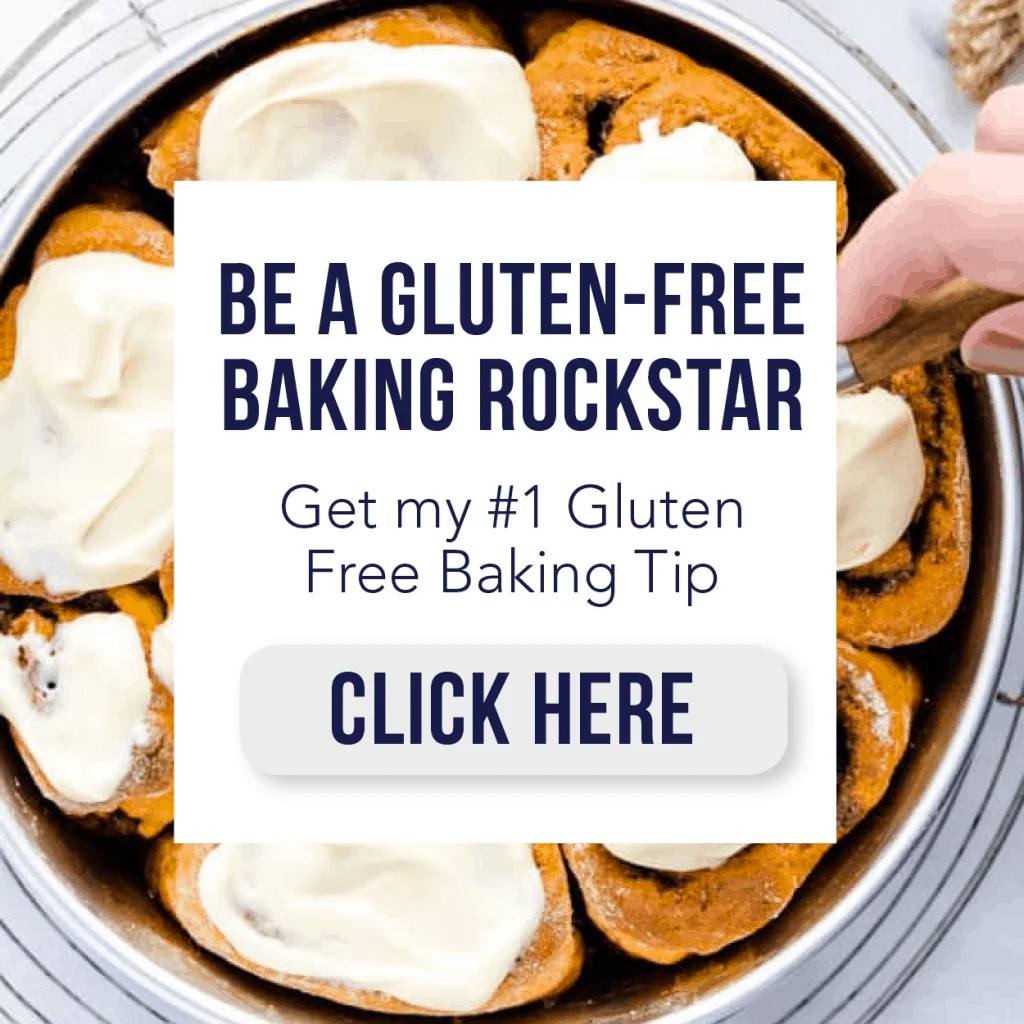 Gluten Free Cake Batter Rice Krispie Treats
Gluten Free Cake Batter Rice Krispie Treats are an easy no-bake dessert. They're gooey, full of sprinkles, and taste like cake batter!
Print
Rate
Pin
Ingredients
5

Tablespoons

salted butter

6

cups

mini marshmallows

divided

1/4

cup

gluten free Funfetti Cake Mix

see notes

3

Tablespoons

gluten free sprinkles

1

tsp

pure vanilla extract
Instructions
In a medium-large pot, melt the butter over medium-low heat. When the butter is melted, reduce the heat to low and add 5 cups of the mini marshmallows.

When the marshmallows start to melt, stir in the gluten free cake mix. Stir frequently until the marshmallow are completely melted.

Remove from the heat and stir in the vanilla extract and the remaining 1 cup of marshmallows. Stir to melt the marshmallows a bit (chunks of marshmallow are perfectly ok) then stir in the gluten free crispy rice cereal and sprinkles.

When all of the cereal is coated with the marshmallow, transfer to the prepared pan. Let it sit in the pan to cool for a minute or two then use a spatula or your hands to press into the pan. (I find that spraying my clean hands with non-stick works best).)

Cool completely then cut into 16-20 squares.
Notes
If Gluten Free Funfetti Cake Mix is not available, use a white or yellow cake mix and add an extra tablespoon of sprinkles.
Store leftovers in an air-tight container up to 2 days.
I use One Degree Organic Foods Sprouted Brown Rice Crisps, be sure that your cereal isn't stale before using.
This recipe works best with new marshmallows.
Disclaimers
As an Amazon Associate and member of other affiliate programs, I earn from qualifying purchases.
Nutrition Facts are estimated and aren't always accurate. Please consult a doctor or nutritionist if you have special dietary needs.
Looking for other ways to use the leftover Funfetti cake batter? Try my 1-minute Funfetti Mug Cake or Gluten Free Cake Batter Fudge. Both recipes are so, so easy!
This post contains affiliate links for tools/equipment or ingredients used to make this recipe. Thank you for supporting What The Fork Food Blog ♥